The New England Patriots lost!!!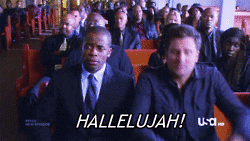 Even if no one cares about the Philadelphia Eagles, Super Bowl Lil' was a very entertaining game. The teams combined for 1,151 yards, 74 points, and one punt, and averaged over eight yards a play!
HAH! You can imagine my schadenfreude when Tom Brady dropped that pass … little did I know!
I thought for

sure

the Eagles' missed extra point and failed two-point conversion would come back to haunt them. It would have been just so … Patrioty of Tom Brady to lead some improbable, last-second comeback and win because the Eagles screwed up a PAT. Luckily, the Patriots themselves missed a PAT of their own, and Philadelphia's little rookie kicker came back to make a HUGE, pressure-laden, 46-yard field goal with a minute left in the game to extend Philly's lead to eight.
The playcalling by head coach Doug Pederson and the Eagles was impressively aggressive all game. But how about that fourth-and-goal conversion that led to the Nick Foles' touchdown

reception

right before the half?
I mean, going for it on fourth down instead of kicking a field goal is pretty gutsy, but to

dial up a trick play

, too? And to dial up the same trick play that your opponents' five-time Super Bowl champion quarterback just messed up?? I mean….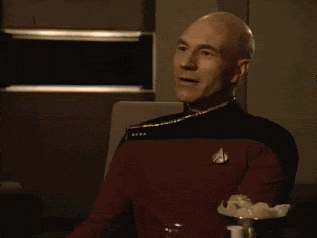 How cool for undrafted tight end Trey Burton to have a Super Bowl touchdown throw on his resume! Foles also is now the only player to have both a passing and receiving touchdown in the Super Bowl.
And for you Patriots fans crying about the refs missing a

supposed illegal formation

call on the Nick Foles' touchdown reception, sorry, no. Alshon Jeffery checks with the official when he lines up to get the okay. Deal with it.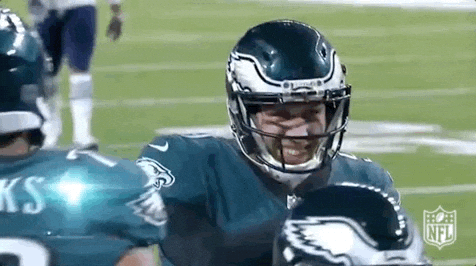 I do feel for the Patriots (well, not really, but I'm sorta trying) in that they played very, very well and still lost. They had more yards, more average yards per play, more first downs, fewer penalties, the same number of turnovers, no punts, and were 50% on third- and fourth-down conversions. But it's still way more fun to watch a team win its first-ever Super Bowl than to watch the nefarious New Englanders win yet another.
Nick Foles really did win me over. I did not have any faith in him going into the postseason, but he was crazy impressive as far as not ever appearing to get rattled or caring that no one thought Philadelphia had a chance after Wentz went down. Plus, he's had

an interesting road

from having one of the best seasons with Philadelphia, then getting traded, then being released, then thinking about retirement, before making his way back to Philadelphia. And he seems very sweet and got all

choked up about talking about his wife and daughter

earlier in the week.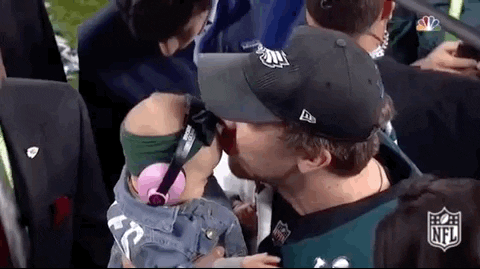 Awwwww!
Also, I really appreciate a starting quarterback showing up to Super Bowl Media Day like this:
If I were a thin-skinned Eagles fan and prone to paranoia about being underrated, this

article from Bill Barnwell

would tick me off! Barnwell drools over the Patriots' amazing game, citing stat after stat as "the best ever," then spends a portion of the article tacitly acknowledging that the Eagles played well, but Foles sure got a lot of help from his receivers and the system, but also Pederson shouldn't get too much credit. Barnwell also finds time to backhandedly suggest that Zach Ertz's touchdown (where he was

clearly

a runner) should have been called an incomplete catch, and to point out that the Eagles were lucky to even be in the Super Bowl because they squeaked out a tight win in the divisional round.
The Eagles should be used to it, though. The #1 seed in the NFC was an underdog in every one of their postseason games. I guess that's fair considering they were playing their backup QB. As happy as I am for Foles, I feel so sad for Carson Wentz! I hope he comes back as good as before.
I'm happy for Foles winning the MVP, but I would have given it to Brandon Graham. Late in the fourth. The Eagles with a fragile five-point lead. Tom Brady with 2:16, a timeout and the two-minute warning, and 67 yards to go to his sixth ring. His offensive line has kept him clean all game. Brady takes the snap, drops back, spots his running back open along the sideline, steps up, and….
Now, do I feel a little bad for Tom Brady? No. Not at all. I was trying to explain to my sister why he's so vastly unlikable, when my mom jumped in and pointed out that Tom Brady is the male version of Gwyneth Paltrow.

Exactly

. And a note to media: telling stories in which people refer to Tom Brady as "Tommy" does not make him any more likable. Everyone still finds him, his hair, his diet, his weird way of talking, and his outerwear choices insufferable.
Something weird was going on with Patriots cornerback Malcolm Butler. Despite being a starter, he did not play a single defensive snap in the Super Bowl (and only one snap on special teams). The Patriots' coaches say it was simply an issue of matchups and not disciplinary, but that's a guy who played

98% of regular season snaps

and then suddenly is riding the bench in the Super Bowl?? It must have been a decision made on short notice -- Butler could be seen crying before the game, and his backup said starting "

wasn't the plan

." Butler was obviously bitterly disappointed, and said after the game that he "could have changed the game," and that the Patriots "gave up" on him.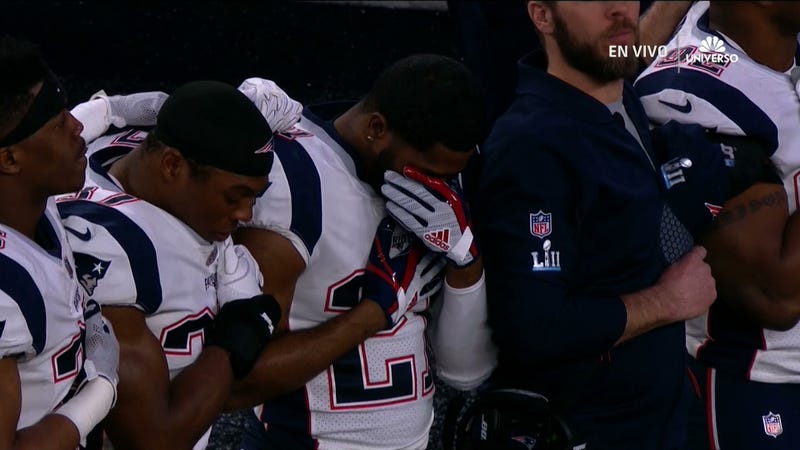 Hey, I found a single, solitary reason to like JT.
I said I would watch the Pro Bowl, but it turns out that I didn't even know when it was on, so I missed it, and I'm not sorry. The highlight appears to have been Drew Brees' kids getting into fights on the sideline.
Normally I think it's weird how much men pay attention to athletes' shoes, but in the case of Delanie Walker's

custom Pro Bowl cleats

, I'll allow for a lot of fascination.
Sooo the Washington Redskins

traded

for a 34-year-old Alex Smith who was going to be leaving Kansas City in the offseason anyway, and gave up a third-round draft pick and their best up-and-coming defender? And then promptly signed Smith to a four-year deal with $71 million guaranteed? Okay. Kinda

feel for Kirk Cousins

, who couldn't manage to pry a long-term deal out of them the last couple of seasons.
I don't want to end on a down-note, but it just struck me that we've probably truly seen the last Jay Cutler interception and the last Jay Cutler sack. This year was just a small bonus, a short reprieve that we all enjoyed immensely. We'll always have Jay Cutler in the Wildcat:
— Mike Tunison (@xmasape) October 1, 2017
And the most disinterested introductory press conference ever:
One more time, everybody; say it with me: Jay! Cutler! Sucks!
See you and Aaron Rodgers' shiny, strong, healthy collarbone next season!!