Argghh! Winning games is stupid! Yes, Aaron Rodgers is the best quarterback to ever play the game, but he is just one man! Even IF Rodgers is cleared to play next week and stays healthy for the rest of the season, there's only so much he can do to carry a team that needed overtime to beat a team that was 1-30 coming into the game. One win in the last 31 games, and the Packers barely squeaked out the victory. Rodgers can't tackle or defend for the defense. He can't make the special teams better on coverage. If we need OT to beat the lowly Buccaneers and lowliest Browns, Rodgers isn't going to be able to take us to the Super Bowl single-handedly. Why risk his health?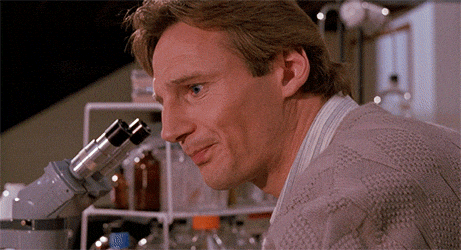 After scoring on the opening drive, the Packers gained 29 yards THE ENTIRE REST OF THE FIRST HALF OF A PROFESSIONAL FOOTBALL GAME.
To win against the Browns, Green Bay needed decisions like this from Cleveland's DeShone Kizer:
Since the Packers seem determined to end up with a middling record and a middling draft pick, I can only pray that the tests on Rodgers' collarbone indicate that he needs more time. I'm counting on those x-rays and scans!!
Ugh they're getting Aaron's hopes up!
To fully understand how depressing Cleveland is, read this Bleacher Report article on the Browns' never-ending QB carousel, aptly titled, "

Last Stop to Nowhere.

"
Alright, alright, fine, grumble, grumble, I'll stop. Now for the fun part: the (literal) walkoff win.
Davante Adams has had some really incredible plays this season, especially in supporting Brett Hundley. One touchdown to get them to overtime and another to win the game. The one at the end of regulation I especially liked because I love when teams are in an obvious spike-to-stop-the-clock situation, but run a play anyway. The previous play was originally ruled a touchdown, but was overturned on review as just short of the goal line. Since it was under two minutes and the Packers were out of timeouts, that required a 10-second runoff, and with a new set of downs, it seemed likely that the Pack was going to spike the ball, but ran this play instead.
Things were going my way when Trevor Davis struck. He has the speed, and Packers fans have been anxiously waiting for him to get things going more consistently, so (in spite of everything) it was fun to see him break off a 65-yard return with the game on the line.
I always love hearing the "Go Pack Go" chants on the road. Listen to how loud the crowd is for Davis' return!
Jamaal Williams had 118 all-purpose yards and two touchdowns. He's been pretty solid as a receiver, as well as a strong rusher.
Make no apologies, Jamaal.
The Packers rarely, rarely engage in trickery, so it was a shock to see a fake punt on the opening drive! (Again, you shouldn't need trick plays to beat the Browns, but whatever.) The Cleveland coach at the end seems to be cheering the Packers player on. I guess he was impressed, too.
Davon House came into the game with a serious shoulder injury and left with a more serious-looking back injury. I hope he's okay!
I want you all to know how much I love Brett Hundley and how much I want him to do well -- I really do!! But he is not a good quarterback. His reads are slow; he stares down receivers; he doesn't manage the pocket well (why won't he ever step up in the pocket??); breaks the pocket too quickly; and, since he can't throw on the run, his breaking the pocket just results in him running to the right sideline and throwing it away before he gets sacked, but still taking the hit.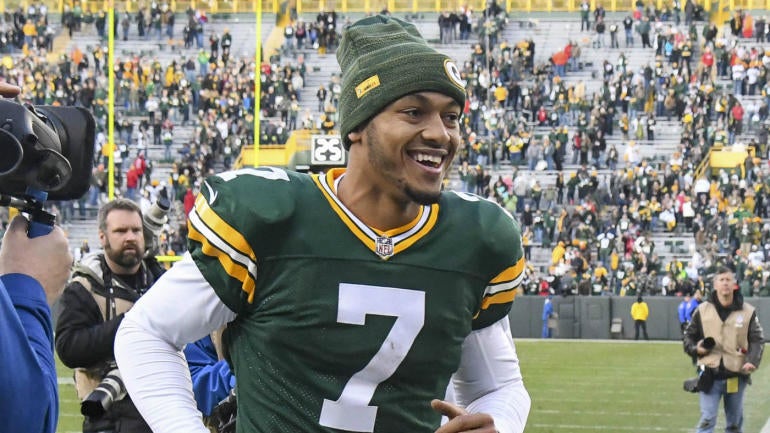 I like him too much to give up on him, but he's going to need
to develop a little faster if he wants to stick around in the NFL.
Poor, poor Eagles. In the same game where they clinched their division, they lost the quarterback who got them there. On Sunday, Carson Wentz set the Eagles' franchise record for most passing touchdowns in a season with 33 (and with three games remaining in the season), but tore his ACL in the third quarter. This not only ends his season, but could likely take a chunk out of his next season, too. I'm no Philly fan, but Wentz is hard not to like and this totally stinks.
The Eagles-Rams game was apparently the first matchup from the top-two scoring offenses since 1970 or something. It did not disappoint. The teams combined for 78 points, five lead changes, and some fun highlights. My favorite of the game was this Alshon Jeffery fourth-down touchdown catch.
Aww, the Giants fans missed their Eli (why, I don't know), and gave him a

standing ovation

on his first snap.
Fantastic job by whoever's in charge up putting up those stat graphics.
Ummm Jay Cutler looked like Tom Brady and Tom Brady looked like Jay Cutler on Monday night. Cutler completed 66% of his passes for three touchdowns and no interceptions in Miami's 27-20 win over New England. Brady had one touchdown and two interceptions, and the Patriots were held without a third down conversion (0-for-11!) all night.
The Buffalo Bills and Indianapolis Colts played in an absolute blizzard. I just adore snow games, so we're going to have a lot of clips from a game no one would care about otherwise, like this punt. Snow days must be fun for punters. (One thing I am very stuck on is

how

is the ref not wearing gloves??)
Here's the octogenarian kicker Adam Vinatieri missing a 33-yard field goal in the snow, which is important because…
...when Indianapolis scored with 1:16 left in the game, they elected to try for the two-point conversion and the win, surely in part because of the difficulties of kicking in the snow and Vinatieri's earlier miss. They got the conversion -- but it was called back for offensive pass interference on the Colts. Because of the penalty, they had to kick the extra point from 43 yards. Out came Vinatieri again and:
Greatest extra point ever!!
The California Chargers have won their last four while averaging 33 points a game. They even have a good chance at winning the AFC West with the Kansas City Chiefs flailing and the Oakland Raiders below .500. And yet, it doesn't matter. Because one thing I know that is even more true than the axiom that one should never believe in the Atlanta Falcons is that one should never, ever believe in the Chargers. They

always

will let you down. Always.
This week in The NFL Cares About Its Players, we have Houston QB Tom Savage concussed on the field after hitting his head on the ground and showing textbook symptoms that could

only be from a concussion

. Good news, though! Turns out he was

totally

fine -- I mean, who hasn't had the odd in-game seizure here and there?? -- and returned to the game just minutes later! He was pulled for good a drive later, but what's the point of the NFL crowing about having

independent neurologists

on each game if they're missing what everyone else watching on TV can clearly see?
This is "fencing response" which is when the arms are frozen in a certain position following a concussion, yet Tom Savage was put right back in the game. Disgusting.

pic.twitter.com/L2nH0dS4gt

— Brody Logan (@BrodyLogan) December 10, 2017
I can't say enough how much I hate the dirty, filthy, petty, execrable, ill-intentioned, opprobrious, sore-losing, unscrupulous, base, dishonorable, reprehensible Seattle Seahawks. Like clockwork, as soon as Jacksonville sealed the game, the Seahawks started taking cheap shots. Here's Michael Bennett rolling into a Jaguars' player's knees -- and this is while Jacksonville is in victory formation.
— The 617 Report (@617Report) December 11, 2017
Bennett got an unsportsmanlike conduct penalty, and the Seahawks' Sheldon Richardson threw a punch and was ejected. On the next play -- another kneeldown from Jacksonville -- coach Pete Carroll received an unsportsmanlike conduct penalty and Quinton Jefferson was ejected. Seriously, what is wrong with the Seahawks?? What sort of tough guys

habitually try to injure opponents

as soon as they realize the game is lost?
Things actually got worse off the field. As

Jefferson was exiting the field after his ejection, a fan threw something at him (this was not the first time in the game that Jacksonville fans threw things at the Seahawks, which is a horrible thing to do, even to the Seahawks), and Jefferson tried to charge the stands.
— Jordan Heck (@JordanHeckFF) December 11, 2017
It's kinda cute how Dallas Cowboys fans still think they're going to make the playoffs. I keep hearing things like, "Once we get Zeke back….!!" and "We can definitely win out with Zeke…" Lolz.
The results of Aaron Rodgers' scan are imminent, but I'm bracing myself. That guy is the best at everything he does; he probably is the best at healing too. =( Let's summon up the strength to root for one more loss next week at Carolina.
If they win next week, I'll give up my campaign
and go back to cheering for them.