When it was announced shortly before kickoff that neither the Green Bay Packers starting left tackle nor their starting right tackle would be playing against the Atlanta Falcons, the goal of the game shifted to just hoping Aaron Rodgers survived. He did. He's been sacked seven times in the last two weeks, but he's alive. So there's that.
The same cannot be said for the rest of the team. Already down two starting tackles, the Packers almost immediately lost star defensive lineman Mike Daniels (hamstring). Then Jordy Nelson (quad). Then safety Kentrell Brice (groin). Then Randall Cobb (shoulder). Then cornerback Davon House (quad).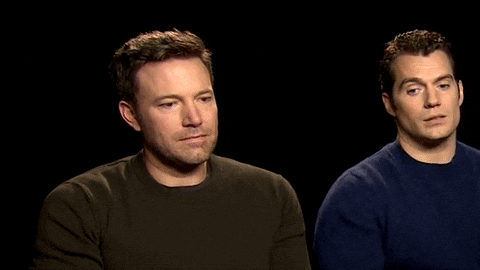 Given that the line was a patchwork quilt, I'm trying to be nice, but 10 penalties really didn't help the cause.
One play wouldn't have changed how badly the Falcons were beating the Packers, but the alleged "pick" on Martellus Bennett really screwed the Packers over. The call negated a 36-yard gain by Cobb and backed the Packers up against their own goal line. Two plays later, Rodgers was intercepted and Atlanta scored almost immediately. Bennett claimed that it wasn't a pick play and the defender ran into him, but regardless, the play happened within one yard of the line of scrimmage, where picks are legal. I'm glad

I'm not the only one

who doesn't understand the pick play rules, though.
Look! A Green Bay highlight! Enjoy the beautiful touchdown to Davante Adams because that's just about all the happy there was to be had.
Sunday night witnessed the 300th touchdown pass of Aaron Rodgers' career. Rodgers is just the 11th player to reach the milestone and did it in fewer games (144) than anyone. Congrats, A-A-Ron!
As we touched on last week, Rodgers has only thrown one pick-six in his career. Brett Favre threw three pick-sixes … in a game. And a playoff game no less! (He actually threw

six

interceptions that game.)
Sunday's game wasn't great, it's true, but I'm coming around to a brighter outlook. As Rodgers said in his post-game press conference, the Falcons got 14 points off of Green Bay's uncharacteristic turnovers and they ended up winning by 11 points. Taking into consideration the injuries, the game wasn't as terrible as it felt.
Obviously not football, but the Miami Marlins were

forced to play

their home games against the Milwaukee Brewers in Milwaukee because of the hurricane. The Brewers did their best to make Miller Park feel like home for the Marlins by adding "Florida decorations" of palm trees, fish, and flamingos.
Aww, good ol' Milwaukee.
Green Bay wide receiver Trevor Davis'

twins

are the CUTEST!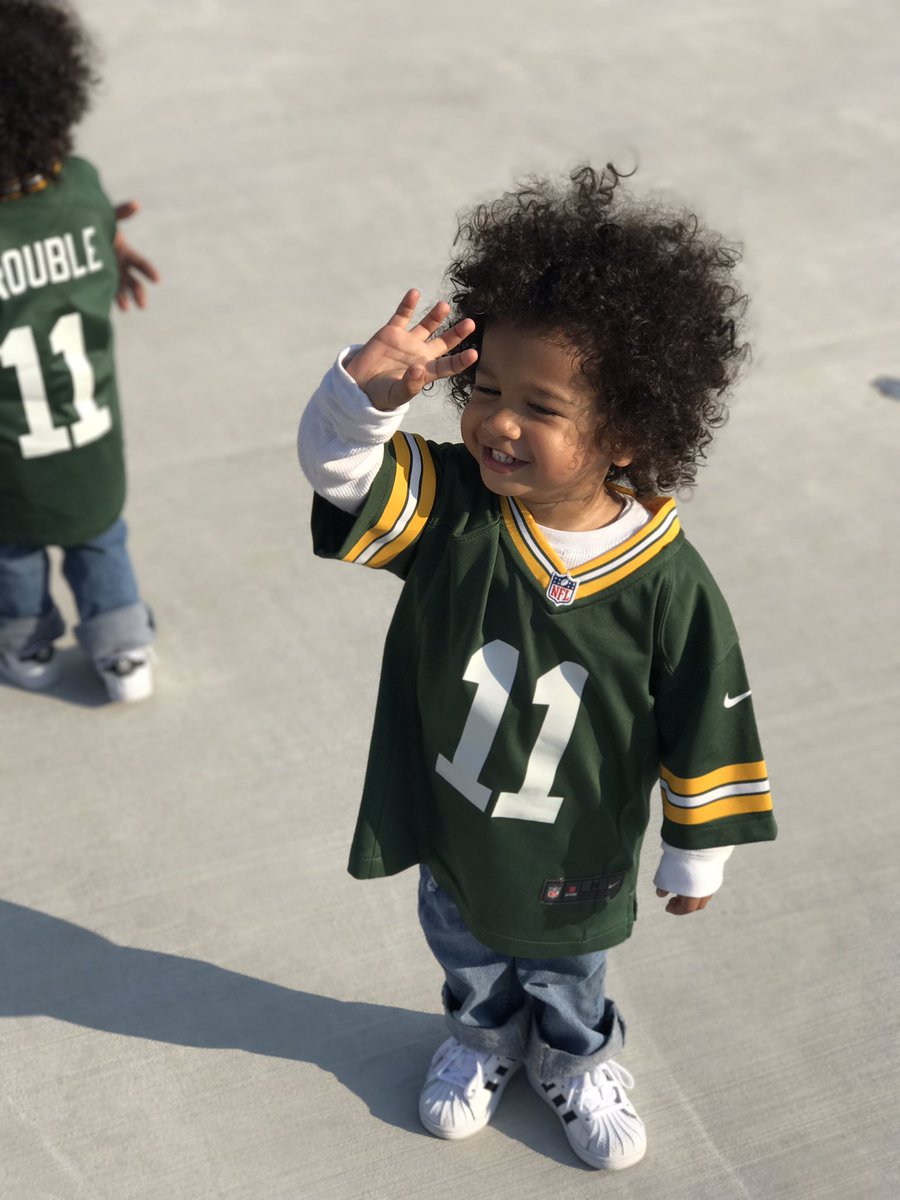 And they have little jerseys that say "Double" and Trouble"!
As we touched on last week, Rodgers has only thrown one pick-six in his career. Brett Favre threw three pick-sixes … in one game. And a playoff game no less! (He actually threw

six

interceptions that game.)
Though it was a sad Sunday, there were some redeeming factors: the Chicago Bears got stomped, the Minnesota Vikings got stomped, and the Dallas Cowboys really got stomped.

That did cheer me up a little.
Jay Cutler won his debut with the Miami Dolphins, unfortunately, but we still got to see him make this dismal throw to end the first half.

Same ol' Jay

.
— Jon Martin (@JonWritesStuff) September 17, 2017
And who needs Cutler in the Windy City when they've got Mike Glennon? Glennon threw for one touchdown and two interceptions, and fumbled the ball away, too, in Chicago's 29-7 loss to the Tampa Bay Buccaneers.
It almost seems unfair to rejoice over each and every Eli Manning sack when his offensive line is as bad as it is. Oh well!
Miami's victory came on the

San Diego

Los Angeles Chargers' missed last-minute field goal. Someone on the Chargers' stadium crew, however, didn't realize that the kick was no good and set off the celebratory fireworks in a situation that sadly seemed very fitting to the

San Diego

Los Angeles team in general.
"Los Angeles Chargers" sounds stupid, so I'll probably
just keep calling them San Diego.
A nice heads-up play by Philadelphia's Zach Ertz, not missing a beat on this deflected pass.
Dak Prescott threw two interceptions in the Dallas Cowboys' 42-17 loss to the Denver Broncos, one of which was

returned 103 yards for a touchdown.
Ezekiel Elliott had a pretty rough game, too.

Eight

total yards on nine carries.
Oh, and this great highlight of him doing nothing while a defender near him intercepts the ball and runs it back.
Ezekiel Elliott has decided to accept his suspension from Cowboys effective immediately after this interception pic.twitter.com/fCYOk6XoBD

— Mr. Beastly (@inbeastitrust) September 18, 2017
Said Denver defender Derek Wolfe, "The idea was to make Prescott beat us because we knew he couldn't." Daaaaaaaaang!
Todd Gurley is quite athletic.
Cleveland Browns offensive tackle Joe Thomas played his 10,000

consecutive

snap on Sunday. I can't get over that! Consecutive game streaks are cool and all, but consecutive snaps are crazy. He never, ever needed even a single play off!
Speaking of streaks, an interesting one was snapped out in LA. Miami Dolphins linebacker Lawrence Timmons, who just joined the team after a decade with the Pittsburgh Steelers decided to not show up to the game, apparently because

something had "angered" him

, though it's not clear that the issue was football-related. Since Miami didn't play last week due to the hurricane, this was Miami's first game of the season, and would have been Timmons' 102nd consecutive game.
Last week everyone was cheersing the Jacksonville Jaguars for their resounding victory over the Houston Texans. This week, the Texans managed a win over the Cincinnati Bengals and the Jaguars lost to the Tennessee Titans 37-16. Houston's victory came on newly-appointed starting quarterback Deshaun Watson's 22nd birthday, and I'll give him props for knowing how to dress to impress for your first NFL start.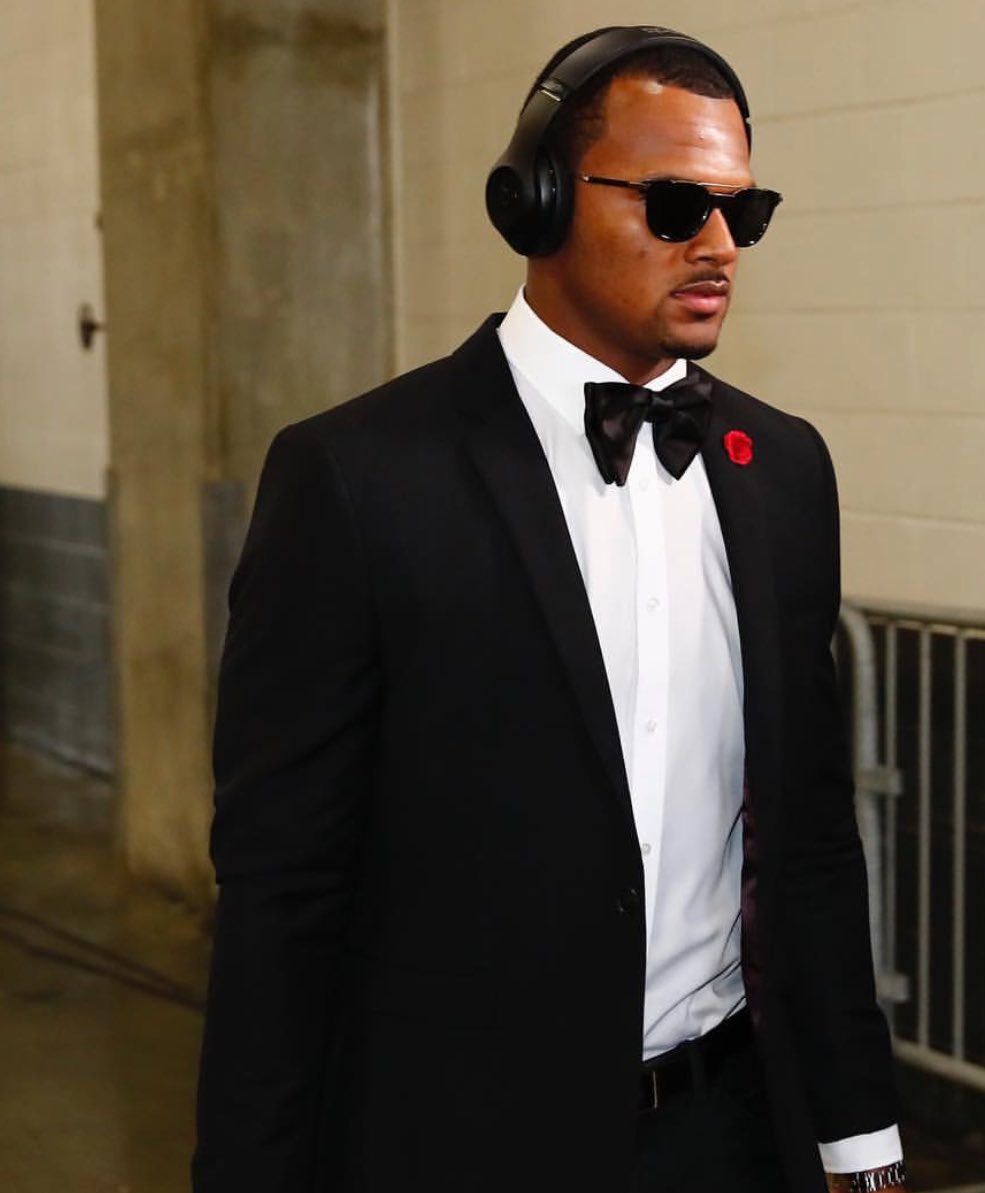 So Eddie Lacy was a

healthy scratch

in Seattle. He had a unimpressive debut last week, but that's on his miserable o-line, not him. It sounds like the Seahawks just had a lot of running backs available, but that makes you wonder why they went out and signed a running back in free agency then.
I'm not criticizing Antonio Brown, but I find this video hilarious. I've watched it a dozen times at least. Brown walks up to the kid who's holding out a football, ignores the football, grabs the unprepared kid and pulls him in for an unexpected hug, knocks his cap off, gives a thumbs up to the cameras, and walks away all in about three seconds.
— Pittsburgh Steelers (@steelers) September 17, 2017
The Cincinnati Bengals haven't scored a touchdown yet this season. Let's hope they don't start next week against Green Bay. They look

really

bad, but I'm also always wary of playing down-and-out teams.
It sounds like most of the Packers injuries are not too serious. I'm just going to stare at this picture of Green Eyes for a little while and hope his shoulder (and Jordy's quad and Daniels' hammy and House's quad and Brice's groin and Bryan Bulaga's ankle and David Bakhtiari's hammy) all heal up sooner rather than later.
*Adoring heart-eyes emoji*