Well, Green Bay's offense looked pretty good against the Chicago Bears, so finally we can all go back to griping about the defense, which was pretty terrible.
Jordy Nelson continued to be incredible, hauling in ten passes for 108 yards and two touchdowns. With 459 yards on the season, he accounts for half of all of Green Bay's receiving yards.
Randall Cobb also had 100+ yards. I'm happy for Ol' Green Eyes. He got off to a bit of a rough start this season, but put together a nice game on Sunday, including this awesome NBA-level juke.
Aaron Rodgers hit the 25,000 yard mark on Sunday and did so in spectacular fashion. He was 22-of-28 for 302 yards and four touchdowns. His QBR (a quarterback rating metric that ESPN uses) was a 99 out of 100. The

lowest Rodgers' QBR got

on Sunday was 98.8.
Those stats don't even include his best play on Sunday, which was negated by a penalty, but you can help but marvel over how Rodgers is able to make this throw while being dragged down.
Green Bay sportswriters really got a kick out of Rodgers' message to fans earlier in the week: "R-E-L-A-X," but ESPN's John Clayton is hilariously accurately when he

writes

, "In truth, the Packers use these letters to spell relax: C-U-T-L-E-R." Ah, yes,

Same Old Jay

came through with two interceptions in the third quarter
I don't mean to be Debbie Downer here, but don't let Sunday's performance fool you into overrating Green Bay. It was a case of a very good offense going up against a bad, injured defense. The Packers' own defense was terrible, giving up 500 yards, but they were saved by the fact that they were playing against a turnover-prone quarterback. The run defense gave up 235 yards. Eddie Lacy managed just 48 yards against last season's league-worst run defense. Why McCarthy refuses to give James Starks or DuJuan Harris an opportunity to mix things up, I don't know, but until the offensive line and Lacy can get something going, the Packers are going to see all Cover-2 defenses, like they did in 2012, since there's absolutely no need to respect the Packers' run game. Sunday's win was great and all, but it's not just going to be smooth sailing from here.
Crazily enough, neither team punted!
Chicago didn't punt either; just turned it over a bunch of times.
I know there's no use crying over spilled milk, but

Waaaaaaaaaaaaah! I want BJ Raji back!!!!!!!!!!!!!
The play of the first half might have been Micah Hyde blocking the camera on the goal line, making it impossible to rule that Martellus Bennett scored as time expired in the first half.
I've complained about this before, but AJ Hawk needs a new helmet. It pops off after literally three-quarters of the plays. He's obviously going to end up with brain trauma and he doesn't exactly seem like the sharpest crayon in the box as it is. Whom should I call about this?? (Apparently, I'm not the only one who's noticed; his helmet has

its own Twitter account

.)
The officiating in the game was some of the worst I've ever seen. Those refs should seriously be suspended for next week. It was embarrassing. Among the terrible calls: a Bears offensive lineman facemasks Julius Peppers on a third down; an illegal hands to the face call against Peppers. Sam Shields hand accidentally brushes Jay Cutler's helmet as Cutler slides; illegal hit to the head. Jordy Nelson comes up half a yard short of a first down; ruled a first down, no measurement. Ryan Mundy has a clean, textbook hit on Nelson; called for unnecessary roughness. Phantom holding call on Chicago on a Green Bay field goal attempt; new set of downs for the Packers inside the 10, easy touchdown. Let's just put it this way: even that smarmy Mike Pereria who thinks the officials can do know wrong was forced to call out several of the bogus penalties.
"The officials are always right. Except for all the calls they got wrong."
Jay Cutler is 1-9 against the Green Bay Packers. That's why whenever the Packers play the Bears, I'm like:
I know that JJ Watt gets a lot of attention that maybe other deserving defensive players don't get, but he is absolutely ridiculous. He had nine quarterback hits in Houston's win, and when the Buffalo Bills were in the redzone, he intercepted a pass and ran it back 79 yards for a touchdown, making the score 10-7 rather than 17-0. And then he made sure that his teammates got credit for blocking for him during the return. I love JJ Watt so much that I'm totally willing to move to Houston, the armpit of America, when we get married.
The Houston Texans have won more games four weeks into this season than they did all of last season.
"I know! I've been making millions for years and nobody's noticed!"
The Cowboys had only 7 more total yards than the Saints, yet won by 21 points. I'm not buying Jerry Jones' eternal optimism that the Cowboys are a contender, but they do deserve credit for starting 3-1 with a defense that was considered the worst in the league. Creepy Jerry approves.
Not a good week for Morris Claiborne. The Dallas cornerback lost his starting spot during the week, which he handled maturely by

storming out of the facility

and not showing up to practice. Then, in the first quarter of Sunday night's game, he suffered a season-ending knee injury.
Making the first signal is a pretty standard way of celebrating, but don't try it in front of Tampa Bay's Danny Lansanah. He does not appreciate it.
Minnesota Vikings new quarterbackTeddy Bridgewater injured his ankle, which could affect his availability for Thursday's game against the Packers [insert angry rant about the unfairness of Thursday Night Football], but the real point of

this article

is that the Vikings' athletic trainer's name is Mr. Sugarman.
I won't lie. I'm disappointed that this is what he looks like.
Here are Andrew Luck's numbers the last two weeks: 763 yards, 75% completion rate, and eight touchdowns.
Ryan Fitzgerald has grown impressive Civil War-style facial hair.
"I do declare we done whoop those scoundrel Yanks from Buffalo!"
Redskins owner Dan Snyder decided to cut corners by

selling expired beer

. I'm sure no one will noticed that you're selling beer that still has World Cup labels.
From college football: I don't know why this needs to be repeated, but

do not

run onto the field if you are not a player.
Washington got destroyed by the floundering New York Giants 45-14. Perhaps the most telling stat was third down efficiency: the Giants were 11-for-16 while the Redskins were just 1-for-8.
"Mommy! Mommy! I did a good job!"
Baltimore's Steve Smith faced his old team on Sunday. Having promised "blood and guts," he had a pretty impressive day, notching two touchdowns. As always with Smith, the real show comes in the press conference. Of his own performance, Smith said, "That film is a coaching session. I'm 35 years old and I ran around those boys like they were schoolyard kids." Here's what really sums up Smith remarkable maturity, though:
I can't believe the Tampa Bay Buccaneers won! I really thought they had a good chance at 0-16. After they turned the ball over on downs with 1:44 left, I assumed it was over and turned the channel, missing an incredible comeback capped with a last-second touchdown from Mike Glennon to Vincent Jackson.
I've said this before, but I need to say it again:
this man is a starting NFL quarterback.
In a division that has the Carolina Panthers, the Atlanta Falcons, the New Orleans Saints, and the Tampa Bay Buccaneers, only the Bucs won on Sunday.
I love how NBC tries pretends that Carrie Underwood is part of their production team or something just because she sings the Sunday Night Football theme song. "And now to Al Michaels, Cris Collinsworth, and Michele Tafoya, along with Carrie Underwood." Somehow I doubt Carrie Underwood's sitting in the production booth with a headset directing camera angles.
"Get me Camera Two! Now!"
This week in No Fun League penalties: Antonio Brown's touchdown celebration.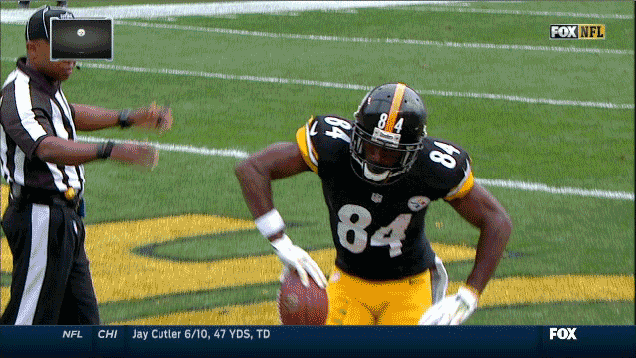 The New York Jets have really let me down in consecutive weeks. They had a chance to win against both Chicago and Detroit late in their games, but weren't able to. Serves me right for putting any faith in the Jets.
If you took away Cowboys' running back DeMarco Murray's yards from this week's game (149), he'd still lead the league in rushing. But Tony Romo still schools him in how adults are supposed to wear baseball caps.
Stephen Tulloch, of last week's season-ending-injury-by-sack-celebration fame says he's he'd

"do it again"

? Perhaps it's best he's on the IR for the rest of the season, then.
Minnesota's quarterback Teddy Bridgewater had a nice debut as a starter, but suffered an ankle injury late in the game. Good for him and all, but he kinda really creeps me out.
He looks like a doll that would come to life in a horror movie.
Stevie Johnson's toe-tapping touchdown is incredible. If he were literally an inch over or forward, he would have been out!
I barely have enough time to gloat over the Chicago Bears win since now I have to start trash talking about the Minnesota Vikings before Thursday night. I hate these short weeks.