It's great that Green Bay was able to come back from down 13 to force overtime and a tie, but they really blew a huge opportunity. Both Chicago and Detroit lost in big upsets and, had the Packers managed a victory, they would have been in a three-way tie for a division lead. Now, they're a half game behind with a game against Detroit on Thursday and pretty much no chance to win unless Rodgers plays. Alas, what could have been!
I blame the creepy mustache. The broken collarbone, too,
but mostly the mustache.
Of course, it wouldn't be a Packers game without some major injuries. Backup running back Johnathan Franklin, whom Coach McCarthy wanted to get involved, went out on the very first play of the game with a concussion. CJ Wilson, who was playing for an injured Johnny Jolly, left the game. Eddie Lacy, who had a fantastic game and kept the Packers in it, left the field late in the game. He returned for one play before sitting again. Green Bay's next game is on Thursday, which doesn't bode well for these injured players' chances (Franklin won't even have a chance, given the concussion protocol).
After the game, Lacy said his asthma forced him to leave the game. Wait, a starting NFL running back has asthma??
But isn't running fast while being able to breathe in your job description?
Lacy had 158 all-purpose yards on the day. More than half those yards came after contact. BEAST.
Cornerback Casey Hayward officially went on the IR on Saturday, ending his season, as did cornerback James Nixon. Cornerback Sam Shields also did not suit up on Sunday. This should be fun trying to guard Calvin Johnson.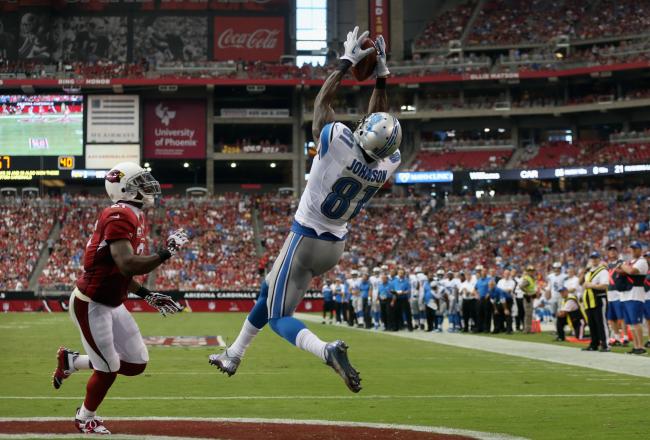 So which of our third-string defensive backs would like to cover this guy?
Will someone PLEASE tell me why the Vikings continue to start Christian Ponder over Matt Cassel? Ponder didn't have a bad game on Sunday, but Cassel played two games this season, winning one. That's half of Minnesota's win total; that should count for something!
Scott Tolzien was pulled in favor of Matt Flynn. Both played pretty unremarkably, but how awesome was Tolzien's 6-yard rushing touchdown? What a spin move, Scoots!
I guess I don't really have any feelings about whether Tolzien or Flynn starts on Thursday. Seems sorta six of one, half-dozen of the other.
But hey, last time Flynn played the Lions, he threw for 480 yards and 6 TDs.
The Green Bay run defense was pretty bad. I understand they were pretty gassed at the end, but dig deep, boys! I mean, Toby Gerhart? You're letting someone named "Toby" run all over you?? Where's your

pride

?
Come on, there's no way this guy is even
old enough to play in the NFL!
The offense really didn't do themselves any favor with their inability to play hurry up. They were dawdling the whole last drive in regulation, as well all of overtime. It was the slowest no-huddle offense I've ever seen.
UGH. Certain reporters won't shut up about how

the Packers made a mistake by going for two

too early in the game. Because they failed at the two-point conversion, this guy keeps crowing that a team should never go for two when there are more than eight minutes left in the game. Why? Why eight minutes? What about nine minutes? The Packers were down by 16 points, then they scored a touchdown, leaving them down by 10. If they kick an extra point, it's a 9-point lead and a two-score game. If they convert a two-point conversion, it's an 8-point lead and a one-score game. It's a no-brainer to go for two. It's easy to do the math in retrospect and say, "Hey if they had that extra point, they would have won in regulation!" but it would have been a stupid move to pass up the chance to make it a one-score game. There's absolutely no guarantee -- especially the way the Packers were playing on both offense and defense -- that Green Bay would have gotten the ball three times in the fourth quarter.
It's hard to get over Green Bay getting the ball on the 5-yard line with a new set of downs in overtime and having to settle for a field goal.
Oof. The Packers were 3-for-16 on third-down conversions, and 3-for-5 in the redzone.
Apparently, not many Packers realize that there wasn't a second overtime. The overtime rules are kind of screwy, but when it's your job, that's probably something you should know.
The Ram's Tavon Austin is very, very fast.
There was a scuffle after the whistle in the Chicago-St. Louis game, resulting in three penalties -- all of them were on the Bears.
Chicago played St. Louis, Detroit played Tampa Bay, and Green Bay played Minnesota, and yet it was a winless Sunday for the NFC North. Didn't see that coming.
Though, when you hear that the Lions turned it over five times and that the Bears racked up 84 yards in penalties and 3 turnovers, it makes a little more sense. Here's Detroit's final turnover, right on the goal line with a chance for the lead!
Turns out that Boomer Esaison feels the same way about Shannon Sharpe as we all do.
Houston

lost to

Jacksonville

. At

home.

The Texans and the Jaguars now have the same record.
Aww, Browns fans are as inept as their team - they couldn't even hold their banner right side up.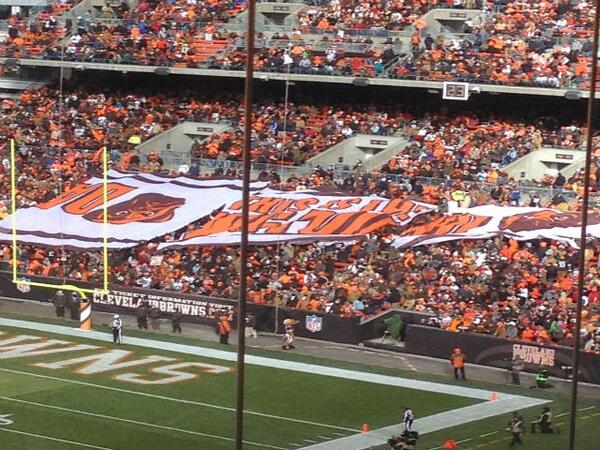 Maybe they're trying to encourage the fans above them, not the team.
Oh my gosh. Arizona is ahead of Green Bay in the playoff hunt. PANIC!
Trent Richardson has averaged 2.8 yards per carry since being traded from the Cleveland Browns to the Indianapolis Colts, but

he's not frustrated at all

. "I think I've been playing good," he said, despite all evidence to the contrary.
"And my mother still loves me."
Speaking of delusional, Jerry Jones thinks he's been "doing his best work" of late. He at least has the dec

ency t

o qualify it: "The facts are I really do think, the way things have rolled out, I'm getting to do some of the best work that I've done, relatively speaking in my career, over these last several years." The Cowboys have won one playoff game since 1997 and are projected to be $31 million over the salary cap next year.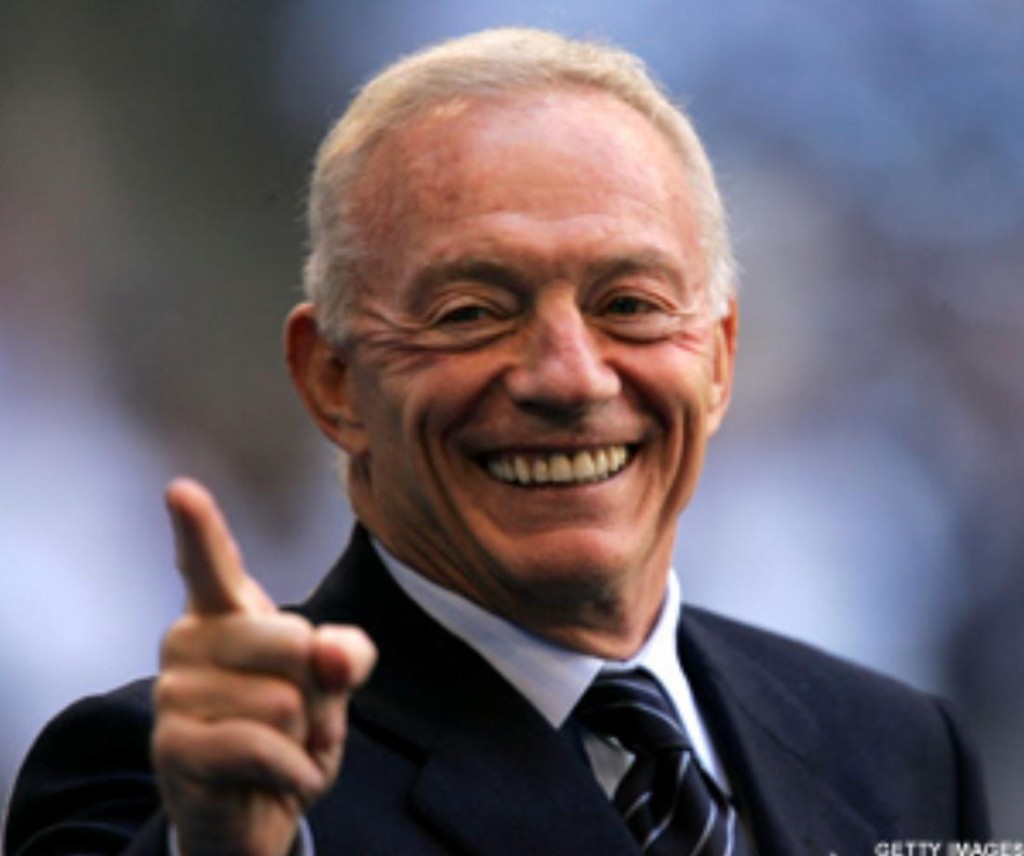 Keep up the good work, Jer!
The Saints beat the Falcons in the Georgia Dome, and freak tight end Jimmy Graham wanted to leave his mark on the stadium.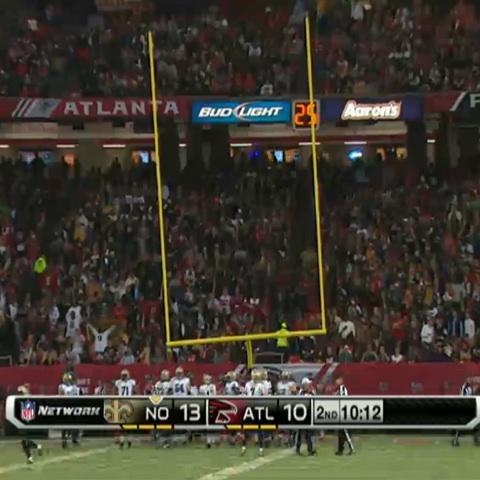 This is what happens when Jimmy Graham dunks on your goal post.
Remember when we were all wondering what on earth Mark Sanchez was doing growing out his h

air?
On or off the field, Sanchez makes bad decisions.
I'm not a fan of these ticky-tack, fraction-of-a-second late hit calls, especially when they're faked, such as Cam Newton's

here

.
The Steelers really had the Browns confused when they lined up to go for it on 4th-and-18 while up 17 points. Things got weirder when quarterback Ben Roethlisberger took the snap and then punted the ball - right to the one-yard line.
I guess drunk co-eds aren't the only ones Roethlisberger can back into corners.
New York Giants' tight end Brandon Myers caught the ball at the 10-yard line and went to the ground. The Dallas Cowboys were already headed back to the huddle when Myers, who wasn't touched by the Cowboys, got up and ran into the endzone. Ladies and gentlemen, the Dallas Cowboys defense!
The San Diego Chargers overcame 97 yards in penalties (!!) to beat the Kansas City Chiefs in a game that featured eight lead changes and came down to the wire.
Philip Rivers remained his usual, even-keeled self.
Except for the fact that they play in the NFC East, I would say the wheels are coming off for the Washington Redskins. After a loss to the Philadelphia Eagles last week, quarterback Robert Griffin III made some passive aggressive comments about the scheme his team was running, as well as his receivers' inability to get open. Receiver Santana Moss felt the need to call out his quarterback to the media, saying RGIII needs to take more responsibility for the team's losses.
"[If I'm the quarterback,] I don't need to be going back and forth in the media about who didn't do this and who didn't do what. At the end of the day, I was seen with the ball in my hand last. As a quarterback, I'm saying, and if it didn't get done, then I'm going to let you know it was me. Whether it was me or not, it was me. And I'm going to get better. And we're going to get better together."
I'm inclined to agree with Moss' sentiments, but I'm not sure I'd say that on the record. I have to think that makes for a bit of tension around the Gatorade cooler.
Crazy game on Sunday night! I stopped watching at halftime, when the Denver Broncos were up 24-0 on the New England Patriots. Lo and behold, the Pats came storming back and won the game in overtime! The game featured ELEVEN fumbles, including this final one -- an incredibly unlucky bounce on a punt that New England recovered.
The Broncos' loss led to more of the moronic chatter about how Peyton Manning "

can't play in the cold.

" Umm, his team put up 31 points and lost on a field goal in overtime.
The game also gave us our Tom Brady GIF of the week. He was very excited about the win.