Some old gypsy lady has obviously been sticking pins in the hamstring of a Vince Lombardi voodoo doll, but this time she's gone too far in striking down Aaron Rodgers!
"To keep them from winning all the Super Bowl rings,
curse the Green Bay Packers and their weak hamstrings."
Though Rodgers stayed in the game and threw for an impressive 418 yards, he was clearly affected by his hamstring injury, which severely limited his mobility. He finished with one passing touchdown, one rushing touchdown, and two interceptions (one of which came on a tipped pass, the other when the receiver ran the wrong route). The interceptions broke Rodgers' streak of 212 completions without an interception.
Even gimpy Aaron's pretty awesome.
In addition to the Rodgers injury, the team was without their starting safety (Morgan Burnett), a starting cornerback (Sam Shields), and both starting inside linebackers (no injuries; they just don't have starting-caliber inside linebackers), then lost their starting right guard (TJ Lang) to an ankle sprain. Next week's bye is very welcome.
There wasn't a lot to like in the second half, but the first half, prior to Rodgers' injury, was okay for Green Bay, and included this beautiful touchdown to Randall Cobb, which gives Cobb nine for the season, tied for most in the league.
It would have been cool if Julius Peppers had caught the touchdown pass, but I think it's getting a little too cute trusting a linebacker to have good enough hands in that situation. (Though if it had work, I'd be praising the cleverness of the play call!)
Maybe a team that is missing two of its top three running backs, as the New Orleans Saints were, shouldn't be able to gain 193 yards on the ground.
And maybe an offensive line should be able to handle a four-man rush and not allow their receivers to be double-covered for an entire game.
With all the help they were getting from Green Bay's defense, New Orleans hardly needed ridiculously difficult catches like this one:
The Packers are a well-deserved last place in the NFL in rushing yards allowed. The undersized defensive line and the under-talented linebacking crew make quarterback pressure a wistful dream for Packer fans, and put a huge amount of pressure on Green Bay's strong secondary. It's hard to cover a receiver when his quarterback has all day.
I know third-string quarterback Scott Tolzien is still unproven, but I really, really wonder what it is about anything Matt Flynn has done since January 1, 2012, that makes the coaching staff have any faith in him. #ActivateTolzien
Eddie Lacy had a great game in his homecoming (59 yards rushing, 123 yards receiving), including a couple spectacular, sheer-strength runs.
Oops, wrong GIF. They looks pretty similar, though.
Not a great day for the Green Bay Packers, but that's okay. There were two main issues: one, the Saints defense was able to have two safeties deep for pretty much the whole game since they were able to generate a good pass rush with just four defensive linemen. If Aaron Rodgers and TJ Lang can get healthy over the bye, that'll go a long way to helping this issue. There was more pressure on Rodgers than typical because his mobility -- which gets him away from a lot of pressure -- was restricted. Lang's replacement, Lane Taylor, struggled playing his first meaningful time. Hopefully Lang will be ready to go in two weeks.
The second issue is obvs the Packers' inability to stop the run. Honestly, the best cure for this is for the offense to jump out to early leads. The Packers stunning offense in 2011 actually made their run defense look decent in the stats because teams can't really run when they're down three scores.
Well, congrats, New Orleans -- you're still below .500, but are in such an atrocious division that you're barely out of the lead!
"Hahaha we're going to the playoffs no matter what our record!"
Ugh, I'm disgusted with the Atlanta Falcons. They had the game against the Detroit Lions won! They were up 21-0 at halftime! There were so many boneheaded plays. Matt Ryan threw a fourth-quarter interception -- he didn't have a teammate within 10 yards! Julio Jones dropped a pass that would have pretty much sealed the game. They had a stupid defensive holding on the Lions' game-winning drive. ARGH! Here's the interception. See if you can guess who the intended receiver is, because I can't.
That's two weeks in the row when the Lions' opponents have just crumbled and handed them the game! My only hope was that the game came down to a field goal, and Detroit has struggled mightily in that area all season. Kicker Matt Prater lined up for a 42-yard field goal try and … it went wide! Woo hoo! The Lions lose! …but before the kick, the Lions had actually been called for a delay of game. So they had to back it up five yards and re-kick. And they made it. For the win.
Nothing could go wrong for Detroit in the final minutes, including this one-handed, spidey web grab by running back Theo Riddick.
This is soon-to-be-former Atlanta coach Mike Smith.
When I look at that, all I can think of is Gil the Used Car Salesman from The Simpsons.
I was so furious about Detroit's ridiculous win, but I had to smile when I saw that the Chicago Bears lost to New England Patriots 51-23. Tom Brady was on a different level, going 30-for-35 (that includes four drops by his receivers) for 354 yards, five touchdowns, and zero interceptions.
Bears defensive end Lamarr Houston sacked New England's

backup

quarterback, while the Bears were

down 48-23,

and thought that warranted a celebration. That celebration cost Houston the

remainder of his season

, as he tore his ACL doing it. Did he learn from nothing from Detroit's Stephen Tulloch who did the exact same thing earlier this season with the same result?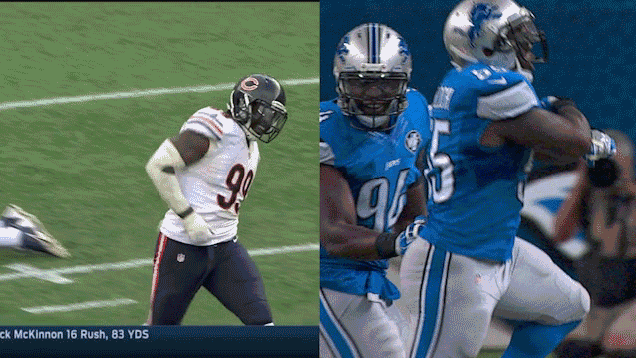 Perhaps the roughest minute in a rough day for the Bears came when the Patriots scored three touchdowns in 57 seconds. After the Patriots scored, the Bears went a quick three-and-out. New England got a great return from Julian Edelman, and scored on the next play. On the very next play after the kickoff, Cutler fumbled and the Patriots returned it for a touchdown. The Bears went from down 17-7 to down 38-7 in 57 seconds right before the half. Head coach Marc Trestman didn't seem too sure how to react.
Whenever a team is losing, reports of drama and discord start to surface. There was the yelling from Chicago's locker room after last week's loss. This week, there was Brandon Marshall taking himself out of the game on a fourth down play. Then there was reportedly a player

rolling his eyes when Marshall

spoke in the locker room and the injured-while-celebrating-a-sack-when-down-25-points Lamarr Houston had to step in and back Marshall.
Then there's Jay Cutler. Whenever I get on Jay Culter, Chicago Bears fans always say, "But his teammates love him!" and I say, "No, they're just good teammates and know not to call out their quarterback publicly." Former linebacker Brian Urlacher was always one of the leaders cited as supporting Cutler, but now that he's no longer on the Bears' payroll, he speaks honestly when he says

the only thing elite about Cutler is his salary

.
According to a Chicago Tribune poll, the fans, uh, tend to agree.
Bear down!
As terrible as the Bears played, I have to give it up for Martellus Bennett on this stunning touchdown catch.
Imagine working really hard to fight and claw your way to a NFL team's roster. You bounce around for a couple of years and land on a team's practice squad. And you get to go to England because the team's playing in London! How fun! But then the day after you land across the pond, you get cut

because the team needs space to sign someone else, and you get to turn right around and fly home alone. That's what happened to

Detroit's William Powell

.
For the record, I don't have a problem with the Steve Smith offensive penalty. It came at the end of the game and cancelled out a game-winning touchdown, but Smith grabbed the defender's collar and jerked him down. I don't really find this controversial.
There wasn't a lot going on in the Minnesota Vikings-Tampa Bay Buccaneers game. It was just kind of dragging on until Minnesota hit a last-second field goal to tie the game. Vikings rookie linebacker Anthony Barr decided the he didn't want to watch two terrible teams struggle through yet another period, so he promptly stripped Bucs tight end Austin Seferian-Jenkins on the very first play of overtime, recovered the fumble, and ran it in for a touchdown to win the game.
Remember Matt Schaub? He was a Pro Bowl quarterback a few years ago before he imploded and was run out of Houston? Then he signed with the Oakland Raiders and almost immediately was beat out by a rookie for the starting job? Yeah, him. The Raiders tried to use him on a fake punt play, and poor Schaub picked up exactly where he left off.
Soooo Denver Broncos

practice squad

player John Boyett reportedly got drunk at a bar, was acting belligerent, took food off of other customers' plates, got in a fight with a cab driver, head-butted the cab driver, stole a shovel from a construction site to try to hit the cab driver, then tried to elude arrest by hiding in a pile of mulch. And then he told the police to

"contact my boss, John Elway."

(Boyett actually tried a similar line last year when he was with Indianapolis and told officers arresting him for public intoxication, "You can't arrest me; I'm a Colts player.")

I doubt the police actually called Elway, but I'm sure he heard about it, as Boyett was cut the next day. (Also,

now

would be the time for Boyett's handlers to step in and try to get him under control.)
Sammy Watkins, who is obviously a rookie, learned the hard way not to celebrate until you're actually

in the endzone.
Rookie quarterbacks of the league, you have been warned! JJ Watt does not approve of you

posting silly selfies

prior to your matchup against the Houston Texans. You should spend your week diligently studying film and quietly shaking in your boots at the thought of JJ Watt chasing you around the field. Watt made Tennessee Titans quarterback Zach Mettenberger, who was making his first career start, aware of his feelings with a selfie sack celebration. Watt, who also had a second sack, a couple of QB hits, and a batted pass, said after the game that he was just trying to

send the message

that "this is the National Football League, not high school."
Kinda ironic since JJ's always mean mugging in his own
photos, but whatevs. Still love you, JJ!
I guess when you can do things like this, you can talk as much trash as you'd like. Don't even think about trying to score a two-point conversion against Watt.
Houston running back Arian Foster had 151 yards against the Titans. If you discount Foster's game against the Buffalo Bills, in which he was dealing with an injury, he's averaged 127 yards per game! I kind of just wrote him off after a disappointing season last year that was marred by injury, but it looks like he's back in a big way! You can almost hear the defenders' brakes screeching as they try to switch direction as fast as Foster does.
I'm confused. Is the Indianapolis Colts defense really good? Or really bad? Last week, they held the Cincinnati Bengals scoreless. This week they gave up 51 points and 639 (!) yards against the Pittsburgh Steelers.
Sunday was quite the day for quarterbacks. For the first time in NFL history (though surely not the last), four quarterbacks threw for over 400 yards. In addition to Aaron Rodgers' 418, Nick Foles threw for 411 yards, Andrew Luck threw for 400 yards, and Ben Roethlisberger threw for 522 yards.
This is Steelers cornerback William Gay celebrating (?) an interception. This is ... odd. Cool shoes, though!
The New York Jets -- oh, the Jets -- tried a terrible and ill-advised trick play on a kickoff that did not go exactly as they had hoped. The Jets' TJ Graham laid down in the endzone, trying to hide from the coverage unit. Percy Harvin then received the kickoff for the Jets, 10 yards deep in the endzone. Instead of calling the whole thing off and taking the touchback, Harvin ran out of the endzone, where he was immediately greeted by the entire Buffalo Bills coverage unit and was not able to throw the ball to the "hidden" receiver, as planned.
Here's what they were going for:
Geno Smith threw three interceptions … in the first quarter. That's one more interception than completion for Smith, who was pulled pretty quickly. He was replaced by Mike Vick who only threw one interception, but fumbled the ball away FOUR times (Jets recovered two of those). All in all, a six turnover day for the J-E-T-S.
Jets head coach Rex Ryan admitted what was already evident during his postgame press conference when he said, "

I have no idea.

" He was talking specifically about who his starting quarterback would be next week, but he really could have been referring to any aspect of his 1-7 team.
"One thing we know is that it can't get a hell
of a lot worse." (Actual quote from Rex.)
I guess when you're that bad, every yard counts.
Man, it cannot be fun to be rookie Jacksonville Jaguars quarterback Blake Bortles (well, the millions of dollars for playing a game part aside, that is). In his first seven NFL starts, he has thrown six touchdowns and 12 interceptions (four of which were pick-sixes). In fact, Bortles has never not thrown an interception in a game as an NFL quarterback.
I was looking up Blake Bortles' stats and was gobsmacked to see his QBR was 2.8 on Sunday (out of 100)!! And last week's was 9.0! A starting NFL quarterback posted back-to-back single-digit QBRs. Ouch. But then I noticed that the Jaguars had won last week, so I had to look up the opposing quarterback's QBR just to compare. Because how can you win, by 18 points no less, when your quarterback posts a 9.0 QBR? The answer is play against a quarterback who has an even lower QBR. In last week's game, Bortles and Cleveland Browns quarterback Brian Hoyer combined for a QBR 16.8. Whatever you think of the validity of these metrics, I think it's pretty clear that there was not exemplary play at the quarterback position in that game.
Moving on to -- no, no, wait. I have to go back. I can't get over the stats in this Cleveland-Jacksonville game last week. How did I miss how awful this was?? Between the quarterbacks, there was one touchdown, four interceptions, and one fumble. There were 39 incompletions. I'm really glad I didn't watch the game, but I'm almost in awe over how bad it must have been.
This Philadelphia Eagles player might want to work on his aim a bit so he doesn't kill a teammate.
The league-leading Dallas Cowboys lost to the Washington Redskins in overtime on Monday night. The Cowboys' offensive line couldn't handle the heavy pressure the Redskins kept up all night, and quarterback Tony Romo was sacked five times. The hits took a toll on Romo's already fragile back, and his availability for next week's game against the Arizona Cardinals is up in the air. The Cardinals will be a tough game, so the Cowboys' mid-season collapse looks to be right on schedule.
This catch by Carolina's Kelvin Benjamin against two defenders is quite impressive.
After the Packers' bye next week, they'll welcome the Chicago Bears to Lambeau Field. That makes me feel a lot better. Playing Jay Cutler can cure a lot of ills.