As much as I enjoy a good beatdown by the Green Bay Packers, I have to admit I started feeling bad for the Vikings about halfway through the second quarter. They were on their third-string quarterback, without their star running back, and playing at Lambeau against a Packers team that was feeling pretty good.
I'm not about to declare that Eddie Lacy's back to last season's form, but it was nice seeing him have 100+ yard game and reassert his style and stamp on the game.
Minnesota as a team had six more rushing yards than Lacy.
Here's how the Vikings' first 11 drives went: punt, punt, punt, punt, punt, interception, interception, fumble, end of half, punt, punt.
Julius Peppers became the first NFL player to have 100+ sacks and 10 interceptions, and punctuated that record by taking his 10th interception to the house. It was adorable when Morgan Burnett had to point Peppers the way to a Lambeau Leap.
Defensive end Luther Robinson, who was promoted from the practice squad the day of the game, had tip that led to Peppers' interception.
I just want to remind everyone that Christian Ponder -- the Vikings' current third-string quarterback -- was the starting quarterback for half of Minnesota's season last year! Their quarterback situation on Thursday night was pretty dire. Not only was Ponder their starter, but had he gotten injured, their backup quarterback was some guy they had signed the morning of the game (and released the day after).
On a separate note, his wife stole my dream life. She's a beautiful sideline
reporter who met and married an NFL quarterback and now is
probably set for life. Where did my life go wrong?
One of my biggest pet peeves is when a player is called for a personal foul and they don't show the replay! Did the player shove someone after the play? Was it a dirty late hit? Was it a bad call by the refs? I need to know if I should be outraged!
The Green Bay running backs coach's name is Coach Gash. It pleases me when a person's name matches his occupation, like when a dentist is named Dr. Smiley, or like when Colt McCoy was the quarterback for the Texas Longhorns. I mean, of course he was the quarterback of Texas -- his name's Colt McCoy, for heaven's sake!
Unfortunately, his name didn't match with the Browns.
Or the Redskins. Or the 49ers.
Why doesn't DuJuan Harris ever get any carries?
Jordy only had one catch, somehow, but didn't seem to mind. When asked if he was okay with that and responded, "As long as it's 66 yards and a touchdown."
So modest! So charming! So very, very handsome.
In the 99th game of his career, Aaron Rodgers threw his 200th touchdown, the fastest player to that milestone, save for Dan Marino. Just like his 100th career touchdown pass, Rodgers was not able to keep this ball as a memento. James Jones, in his excitement, had thrown the 100th TD ball into the stands, and since Davante Adams caught his first NFL touchdown on Rodgers' 200th TD, Rodgers didn't want to deprive Adams of his own memento.
Hold out for that 300th!
I was really glad to see Jamari Lattimore retain his starting position at inside linebacker, despite original starter Brad Jones coming back from injury. Lattimore has shown some potential -- he even had his first career interception on Thursday.
Matt Flynn is one of those not-so-good players that I got really emotionally attached to somewhere along the way, but I have to break that bond and admit that I'd really much rather have Scott Tolzien at number two than Flynn. He's younger, cheaper, slightly better, I think, and has a lot more potential to improve.
Tolzien wasn't even active on Thursday. =/
The game was 42-0 at one point (I was very mad that the Pack didn't pitch the shutout). The average margin of victory in Thursday night games so far this season has been 29! That's FOUR TOUCHDOWNS. Hmmmm,

I wonder why

Thursday Night Football games are so sloppy!! What on earth could be the reason for this?? I mean, players have had THREE WHOLE DAYS to physically recover from playing a very violent game and also to implement a new game plan. Shocking that these games aren't cleaner and more competitive.
LOL the NFL Network doesn't even have the Vikings as an option to win the NFC North.
Ever wonder what King Kong would like like if he wore pleated Sears khakis?
Let's hope New York Giants tight end Larry Donnell learned his lesson and didn't

bench himself

in fantasy football like he did last week when he scored three touchdowns.
Cleveland Browns linebacker Christian Kirksey is not cool. He delivered a big blow right to Tennessee Titans quarterback Jack Locker's head clearly

after

Locker had crossed the goal line.
Whenever your coach has to insist to the media that he's not going to bench you, you're likely going to get benched. Jets' coach Rex Ryan really didn't have a choice when quarterback Geno Smith earned a 7.6 passer rating (that's out of 158.3) in the first half of Sunday's game against the Chargers. Michael Vick was 9-for-20, but that's after Vick made eight of his last nine throws -- he was 1-for-11 at one point!! If you

combined

both Smith and Vick's QBR (another quarterback rating metric, this one out of 100), it'd still be

single digits

!!!
And the Jets get to play Peyton Manning and the Broncos next week.
Hang on, I'm not done with the Jets' yet. The numbers are horrific. The 31-0 score doesn't do their terribleness justice. New York had 151 total yards to San Diego's 439 -- a professional NFL team had 60 passing yards in a game! The Chargers attempted three

fewer

passes, yet had 217 more passing yards. The Jets were 1-of-12 on third down conversions. They averaged 2.8 yards per play!!
I'm very glad that the Detroit Lions lost, but I wish it didn't mean that Jim Schwartz, defensive coordinator for the Buffalo Bills, had won. Schwartz, of course, is the Lions ex-head coach and my nemesis. What sort of coach

tells his players to carry him off the field

??
He always was gracious in victory.
In the past five weeks, the Chargers have lost three centers and three running backs, but they're still 4-1 with a point differential of +70.
Jay Cutler threw two interceptions, lost a fumble and was sacked four times. =)
And the Bears are last in the division. =D
Aaron Rodgers

seemed

to be joking when he said his infamous "smoking signal" is a nod to the brilliant

Smokin' Jay Cutler

Tumblr, but I choose to believe he meant it, since that'd be awesome on multiple levels.
New Orleans lost their free agent prize, safety Jairus Byrd, for the season due to a torn meniscus suffered in practice, then lost tight end extraordinaire Jimmy Graham, their starting center, and a linebacker to injuries during the game. WIth the injuries and Drew Brees' three interceptions, the Saints needed overtime to squeak by the Tampa Bay Buccaneers.
Atlanta running back Antoine Smith's acceleration is out of this world!!
Cleveland quarterback Brian Hoyer threw an interception late in the fourth quarter of Sunday's game against Tennessee. That was the Browns' first turnover

of the season

!
How do you win with Kyle Orton at quarterback? By having your receivers make plays like this.
But this one's more impressive.

Holy Julio!
Peyton Manning got his 500th touchdown pass which is crazy incredible. He's only nine away from breaking Brett Favre's record.
Cowboys won, which I found quite disappointing, but what a catch by Dez Bryant! There's a reason the Cowboys put up with this guy.
I do have to give props to Tony Romo -- he was 28-of-41 for 325 yards and two touchdowns, including this Houdini move here in which he managed to escape a charging JJ Watt:
Despite playing at home, Dallas had to

go to a silent count

because of the number of Houston fans in the stadium. I love how disloyal Cowboys fans are. When I meet a Cowboys' fan, I usually start by taunting them, to which they respond with some sort of "We're awesome" variation. Then I say something like, "Oh yeah? How many times have you all gone to the playoffs in the last two decades?" and then they immediately collapse and start saying how terrible Tony Romo is. At that point, for the sake of reality, I have to interrupt and say that Tony Romo is actually a really, really good quarterback who always gets the blamed even when it's not his fault. So in a matter of minutes, I go from trash talking to having to defend Tony Romo against his own fans. That's the Dallas faithful.
Jerry Jones' secret bastard son survives one more week!
It's always really awkward when OJ Simpson's name comes up in regards to rushing stats and records. It makes me feel so uncomfortable because there's this obvious feeling of something not being said. "DeMarco Murray became the first player since OJ Simpson to rush for more than 100 yards in the first five games of a season ….

and also, he's not a murderer.

"
Seattle left guard James Carpenter owes receiver Percy Harvin big time. Two of Harvin's touchdowns were called back due to penalties on Carpenter. Harvin's third touchdown was called back for a false start penalty on Harvin himself, so Percy finished with zero touchdowns. The Seahawks had 13 penalties called against them for 90 yards, but were still able to pull out the win because a) they were playing the Washington Redskins, and b) quarterback Russell Wilson ran for 122 yards. This is what most of Monday night looked like:
Tom Brady led the New England Patriots to a 43-17 dismantling of the previously undefeated Cincinnati Bengals. Now, can everyone please

shut up

about how

his career

is over

?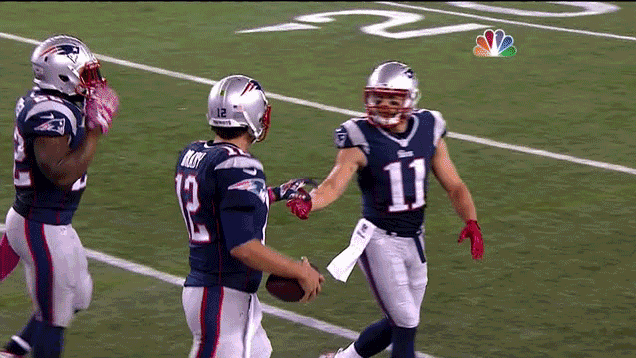 Brandon Lloyd looks like Superman. Seriously, how is suspended in the air like that?!
Rough day for the Arizona Cardinals. They were already without starting QB Carson Palmer, who is having issues with a nerve injury in his shoulder, and then lost backup QB Drew Stanton to a concussion. Then they lost defensive superstar Patrick Peterson to an ankle injury (not believed to be serious), and defensive end Calais Campbell to a knee injury. Things will be rough for Arizona until Palmer or Stanton can get back.
Palmer traveled to Denver, but was inactive for the game, yet stayed in Denver overnight due to his shoulder. That's weird, right? I'm worried for him.
Here's Kansas City's Travis Kelce's touchdown dance. Apparently this is some sort of homage to a wrestler named Ric Flair?? (Men ages 30-45, help me out here.) Oh my gosh, Cam Newton getting his

wisdom teeth removed

makes me feel really, really old. I had mine out over a decade ago!
Check out this touchdown by Arizona's Andre Ellington - what a catch! What a run!
Oof. In a game in which they lost by three points, the Detroit Lions missed all three of their field goals attempt, bringing them to 33% on the season! How have they not already fit

Matt Prater for a jersey

?? (Their kicker was cut Monday, obvs.)
The Jacksonville Jaguars really need someone new to run their marketing and PR.
I don't know why it has to be explained that Ebola jokes
don't go over terribly well at the moment.
Bill Belichick nearly pulled his hood too far back and revealed his true identity!
"Now witness the firepower of this fully armed and operational battle station!"
That was mean, so now I have to say something nice about New England. The Patriot cheerleaders wore the jersey of Cincinnati Bengals defensive tackle Devon Still, whose four-year-old daughter has been fighting cancer. Additionally, Patriots owner Robert Kraft

donated $25,000

to a Cincinnati children's hospital in Still's daughter's name.
Awww, that's a pretty cool move by the Pats.
Sigh. Somebody named their son

Ego

. Of course he would be a Chicago Bear. Maybe his mom was a big Freud fan?
Oh man, I just realized the Packers don't play the New York Giants this year, which is too bad, considering that Eli's Manning Face looks to be in peak form.