Saturday, November 17, 2012
Tuesday, October 9, 2012
The first half looked exactly as I expected it would. The second half … I have no idea what happened. The Packers didn't look focused or sharp or

awake

for almost the entire second half.
The Packers adjusted poorly to the unfortunate injuries they suffered to Cedric Benson, B.J. Raji, and Jermichael Finley.
Benson was having a great first quarter before he went down, and the Packers couldn't find any sort of semblance of a running game in the second half. Alex Green had one good run, but struggled other than that. Isn't that a perfect time to try the screen game? Isn't that time to put Randall Cobb in the backfield? When the Packers are completely lacking a running game, they need to at least mimic one. They need to at least try to pretend that they are going to run. They need to force the defense to consider the possibility of a run/screen/shovel pass/whatever. Even when Rodgers wasn't getting pressure, he had no one to throw it to. Indianapolis didn't have to keep any extra defenders on the line because everyone in the world knew that the Packers were going to throw. The Packers need to figure out something between Alex Green/James Starks/Randall Cobb since Benson is out for at least eight weeks, and possibly the season.
Jermichael Finley, although frustrating beyond belief and the NFL leader in dropped passes the past two years (there has never been a less surprising NFL stat), does draw attention from the defense. With Greg Jennings already out, the Colts were easily able to double Jordy and give extra defenders to James Jones and Randall Cobb. You don't exactly need to put a safety over D.J. Williams. I don't quite get why Donald Driver didn't see more playing time. Yes, he's old and not as good as he thinks he is, but he's still a solid receiver and the Packers re-signed him for a reason, so why not play him?
B.J. Raji is an awesome and very big man who can clog up the middle. With him out, the Packers weren't able to get a lot of inside pressure, which made any outside pass rush less effective since Andrew Luck could just step up into the pocket or run like he's Cam Newton. I really hope Raji isn't out for long.
I don't understand how the Packers don't allow any sacks for 6 quarters of football and then give up 5 in the second half on Sunday. Granted, Aaron Rodgers looked like he had superglue on his hands for several of them, but I just can't figure out if the offensive line is really good or absolutely terrible. Rodgers needs to come to terms with the fact that sometimes you have to throw the ball away - even if it is third down, even if you're sure something will open up in just a second. It's not fair to the offensive line to ask them to block for eight, nine, ten seconds.
Speaking of third down, the Packers are really bad at third downs, both offensively and defensively. They were only 4 of 13 on converting third downs on Sunday. Their stats on stopping third down conversions weren't and haven't been really awful, but it sure feels that whenever the opponent needs a huge, crucial third down conversion, the Packer defense graciously rolls out the red carpet.
"Right this way, sir."
The defense has to be exhausted being on the field that long, especially since the offense couldn't give them much of a rest.
Reggie Wayne is good. He's no spring chicken and should have slowed down, but the Packers defense just wouldn't let him. He had a career-high 212 yards on Sunday. How? Yes, some of his catches were incredible, but where were the defenders? Whom exactly were the Packers defense covering? Donnie Avery? LaVon Brazil?? Nathan Palmer??? THE COLTS DON'T HAVE ANYONE ELSE! How is Reggie Wayne not blanketed every single play?
But c'mon, this catch is just ridiculous.
Even Mason Crosby had a bad game, going 0-for-2 on field goals. And it was in a dome!
Here's another depressing statistic the announcers dropped: the Packers are the only team in the league that has not yet scored on their first possession this season. Really? Oakland, Miami, Kansas City have had more first possession success than Green Bay? Even Jacksonville??

Cleveland

???
And yet, the Browns have scored on a first possession
I'm going to choose to ignore the second half and focus more on the first half, just for my mental and emotional health. There was some good stuff. Erik Walden and Sam Shields had strong games for the defense. The offense was crazy efficient. The Colts actually had more yards in the first half than the Packers, but trailed 21-3.
I thought it was kind of mean for the Packers to tease us with that sharp, fourth-quarter touchdown drive. My nerves were calmed and I told myself, "This is the real Packers team. They've got it covered. They were just messing with us this entire second half." But then the defense stepped onto the field.
"I was just getting your hopes up so we could crush them on the next drive."
Good job by rookie Casey Heyward on grabbing the Packers' only interception. Though I do have to ask - WHY IS A ROOKIE COVERING REGGIE WAYNE? How and why did this happen??
What did Sam Shields ever do to the referees? How come he not only cannot get an offensive pass interference call when opposing receivers shove him in the back with two hands, but he gets called for defensive pass interference?? Did he tick off the football gods? Or worse, Roger Goodell?
Geez, Sam, get off of him.
Also, I totally disagree with the roughing the passer penalty that Nick Perry was flagged for on his beautiful sack of Andrew Luck. He did not launch or lead with the crown of his helmet (the "G" on his helmet is upright) and it should not have been whistled. I will add one sack and one fumble to the imaginary, fair Packers statistics I keep in my head.
Beautiful, legal hit.
Michael Vick has lost five fumbles already this season, including one against the Steelers on the goal line, but he doesn't think he has a problem with fumbles. Said the quarterback, "Everything happens for a reason and if it was meant to be, I wouldn't have fumbled the ball at the goal line." I won't even mention his failure to use the correct subjunctive tense, but how can a professional athlete say this? What does this mean? You could say, "It was meant to be," or you could say, "Oops, I made a huge mistake that cost my team." I'm going to use this line whenever I mess up on anything, ever.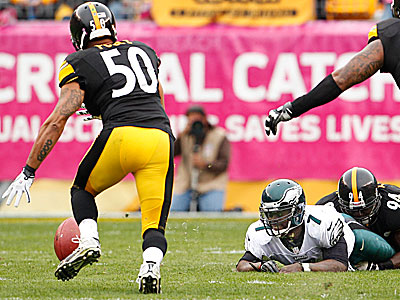 "Eh. I won't go after it. It's meant to be."
Wow, New Orleans got some home cookin' on that final drive of the Sunday Night game. The Chargers were called for offensive pass interference on Antonio Gates (so the league does know that you are allowed to call offensive pass interference, just not when it's against Sam Shields? Got it.) that was just atrocious and undid a huge gain by San Diego. The Chargers came back the next play with another huge pass that was, again, undone by a terrible holding call on the center.
Will you stop complaining about everything now??
Ummm, guess not. Roger Goodell has reissued the suspensions for the Saints players that had previously been put on hold.
Kansas City Chief fans cheered when their own quarterback Matt Cassel got injured. Offensive linemen Eric Winston had some choice words for the fans, saying it was "sickening" and that he was "embarrassed."

Even Philadelphia fans were shaking their heads and saying, "Geez, that's mean."
"Show some class, Kansas City!!"
I really do not like the moving headshots that they use on Sunday Night Football. They creep me out. A headshot with corresponding statistics will pop out and I'm trying to read the information, when I see a picture moving in my periphery. It's weird. How does seeing Drew Brees' picture blink aid my football watching experience?
Well, the Redskins did cut Billy Cundiff, after all. Rough year, Billy, rough year. While other kickers work on their 50+ yard kicks, maybe you should just fine-tune your 30-35 yard range kicks.
The Rams won big on Thursday to hand Arizona its first loss of the season, but suffered a blow themselves when receiver Danny Amendola went out with what appeared to be a broken collarbone. As it turned out, he dislocated his clavicle, which could have been life-threatening.

Poor Amendola missed almost the entire season last year when he dislocated his elbow in the season opener, and early reports suggest he'll miss at least six weeks with this latest injury. As you can see, as we was being led back to the locker room, he was pretty upset about the injury.
(The very clever title of this youtube video is "Danny Amendola reacts to racist Wes Welker comparisons.")
The city of Washington DC broke a record for most people throwing their hands up in unison and saying, "I knew this would happen!" when Robert Griffin III got knocked out with a concussion while on the run.
This is what happens when you play for the Redskins.
The 49ers have won their last two games by a combined score of 79-3.
The Jets lost, but played well against a talented Texans team on Monday night after getting shut out and destroyed by San Francisco last week. The game was entertaining, but I was distracted by my stomach-churning fear at the thought of next week's Packers-Texans game.
Have faith.
Saturday, October 6, 2012
The defense took a step back last week, but they can take a huge leap forward against the Colts. While the Colts have only given up five sacks (3rd best in the league) in the first three games, their offensive line has been shaky and inconsistent. Add Clay Matthews to that, and it could be a rough time for Indianapolis rookie quarterback Andrew Luck.
Problems up front for the Colts could lead to turnovers on the back end, and Charles Woodson loves rookie quarterbacks

. I'm pulling so hard for a Woodson pick-six because he only needs one more to match the interceptions returned for touchdowns record set by Rod Woodson.
Another career record would look good on Charles.
The Colts are coming off a bye week in which they learned that their head coach, Chuck Pagano, has been diagnosed with leukemia. Offensive coordinator Bruce Arians is stepping into the role of interim head coach while Pagano is being treated. While it's tough for a team to go through that kind of transition, they obviously would love to present Coach Pagano with a winning game ball, and they will play with that passion.
With the Colts organization planning different ways to honor Pagano at the stadium, Coach Arians has issued a challenge to the fans,

hoping they'll be able to prevent Green Bay fans from making this week feel like a home game for the Packers
For the Packers offense, the bad news is, again, that Greg Jennings will not play and could be out for extended time. Boo. Things just aren't the same without Greg and his smile.
He just looks so sad when he's not playing.
Colts pass rusher extraordinaire Dwight Freeney should play for the first time since injuring his ankle in Week 1, which is no fun at all for the Packers' offensive line. Considering the severity of Freeney's injury, however, he'll most likely be on a limited snap count. Whew.
The Colts could struggle mightily in the secondary this week. It's not like they had a strong secondary before, but now they've lost two of their starters in that group. Jordy has a lot of catching up to do if he's going to keep pace with his stats from last season

.
These incredible arms just need 14 more TDs to match last year!
Center Jeff Saturday will be returning to a place he called home for 13 seasons and where he clearly still has a lot of friends. "His sweet baby-blue eyes will never be forgotten," said Colts punter Pat McAfee. Maybe Saturday can use his eyes to distract Dwight Freeney and Robert Mathis.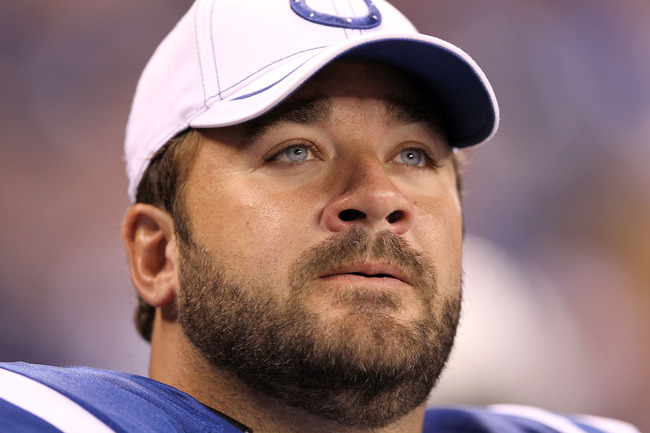 I mean, his eyes are nice and all, but he's no Randall Cobb.
Awww, Mike McCarthy is such a nice guy! He heard that one of the replacement refs who completely botched the Inaccurate Reception and cost the Packers the game was getting a lot of grief from fans and people with eyes, so he called to offer a bit of support.

Even though I'm completely, 100% over that embarrassing travesty of a call that will forever be a blight on the NFL, I don't think I could speak to one of the officials without a lot of very, very unladylike words coming out of my mouth.
That was nice, Mike, especially considering what that &$*%&#% did to you.