The defense took a step back last week, but they can take a huge leap forward against the Colts. While the Colts have only given up five sacks (3rd best in the league) in the first three games, their offensive line has been shaky and inconsistent. Add Clay Matthews to that, and it could be a rough time for Indianapolis rookie quarterback Andrew Luck.
Problems up front for the Colts could lead to turnovers on the back end, and Charles Woodson loves rookie quarterbacks

. I'm pulling so hard for a Woodson pick-six because he only needs one more to match the interceptions returned for touchdowns record set by Rod Woodson.
Another career record would look good on Charles.
The Colts are coming off a bye week in which they learned that their head coach, Chuck Pagano, has been diagnosed with leukemia. Offensive coordinator Bruce Arians is stepping into the role of interim head coach while Pagano is being treated. While it's tough for a team to go through that kind of transition, they obviously would love to present Coach Pagano with a winning game ball, and they will play with that passion.
With the Colts organization planning different ways to honor Pagano at the stadium, Coach Arians has issued a challenge to the fans,

hoping they'll be able to prevent Green Bay fans from making this week feel like a home game for the Packers
For the Packers offense, the bad news is, again, that Greg Jennings will not play and could be out for extended time. Boo. Things just aren't the same without Greg and his smile.
He just looks so sad when he's not playing.
Colts pass rusher extraordinaire Dwight Freeney should play for the first time since injuring his ankle in Week 1, which is no fun at all for the Packers' offensive line. Considering the severity of Freeney's injury, however, he'll most likely be on a limited snap count. Whew.
The Colts could struggle mightily in the secondary this week. It's not like they had a strong secondary before, but now they've lost two of their starters in that group. Jordy has a lot of catching up to do if he's going to keep pace with his stats from last season

.
These incredible arms just need 14 more TDs to match last year!
Center Jeff Saturday will be returning to a place he called home for 13 seasons and where he clearly still has a lot of friends. "His sweet baby-blue eyes will never be forgotten," said Colts punter Pat McAfee. Maybe Saturday can use his eyes to distract Dwight Freeney and Robert Mathis.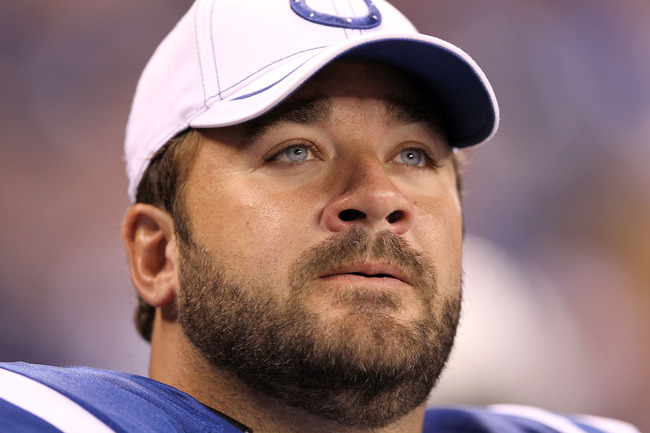 I mean, his eyes are nice and all, but he's no Randall Cobb.
Awww, Mike McCarthy is such a nice guy! He heard that one of the replacement refs who completely botched the Inaccurate Reception and cost the Packers the game was getting a lot of grief from fans and people with eyes, so he called to offer a bit of support.

Even though I'm completely, 100% over that embarrassing travesty of a call that will forever be a blight on the NFL, I don't think I could speak to one of the officials without a lot of very, very unladylike words coming out of my mouth.
That was nice, Mike, especially considering what that &$*%&#% did to you.