So the cheating cheats from Cheatsville won again. How nice for them.
The Atlanta Falcons. The Atlanta Falcons, man. They were up 28-3 late in the third quarter! They allowed three points the entire first half, then allowed 31 straight points to end the game!!! To them, I can only say: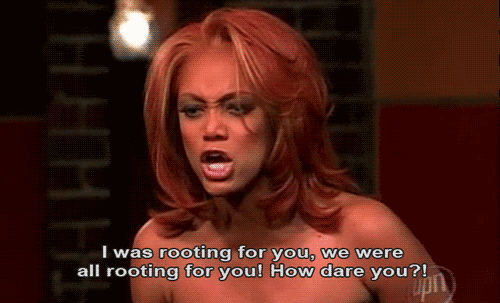 No, no, I really do feel for Falcons fans. That must have hurt

a lot

. Seriously, it

finally

felt like your year! Nine years after taking Matt Ryan with the #3 pick in the draft, five years after trading away almost two drafts' worth of picks for Julio Jones, after years of watching the New Orleans Saints and Carolina Panthers make the playoffs, after years and years of being good but never really doing anything about it, you guys

finally

buckled down and took care of business. You marched through the season, steamrolling other teams to take your division. You earned your Wild Card bye. You dismissed the Seattle Seahawks without ceremony. You stomped on the Green Bay Packers. You made it, at last, to the Super Bowl. The entire country wanted you to win and had your back. You came out and knocked those reviled Patriots right in the mouth. You did this to their defense:
— SB Nation GIF (@SBNationGIF) February 6, 2017
.

..You got the rare Brady pick-six.
...You came out on fire and took

a 25-point second-half lead

. And then -- you -- after all that -- you just -- I'm sorry! I can't!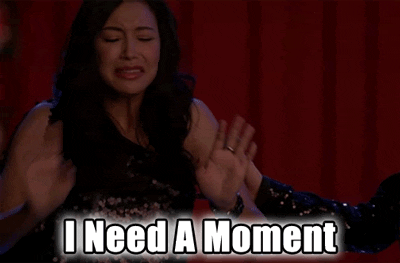 I just want you all to know that it was way worse for me because I KNEW THIS WAS COMING! Before the game, I thought Atlanta was going to win, but with about one minute left in the

first

half, with the Falcons up 21-0, I turned to my brother (he's my witness!) in a panic and told him, "The Patriots are going to win!" He tried to soothe me, saying that Atlanta would score a bunch more points in the second half, but it was too late because

I knew!

I could feel it! I could

feel

the cliched articles being written. I could feel idiots across the country celebrating Brady "sticking it" to Roger Goodell. I could feel the "experience matters" tweets being prepared. I COULD FEEL IT AND THERE WAS NOTHING I COULD DO TO STOP IT.
Even as I cheered this absolutely incredible Julio Jones catch, my heart was ill at ease.
Because, sure enough, the Patriots had to one-up Julio.
There's certainly blame enough to go around in Atlanta, but there were two

HUGE

plays that really cost the Falcons, and both saw a failure in protection. On a third-and-1 in the fourth quarter, Ryan dropped back to pass (even though running back Devonta Freeman had been averaging

8.2 yards a carry

) and Freeman (

maybe?

) failed to pick up a rushing Dont'a Hightower, who sacked Ryan and forced a killer fumble midway through the fourth.
The second absolutely brutal play came with Atlanta up 28-20 with 3:50 left in regulation on the New England 23-yard line. Atlanta could have just kicked a field goal and all but sealed the game right there! Instead, after losing a yard on a first-down run, Ryan was sacked for a loss of 12 yards, pushing the Falcons to the edge of their kicker's range. (Really? 50 yards is his limit? In a dome? Whatever.) A holding penalty on the next snap snuffed out the field goal hopes and Atlanta was forced to punt to New England.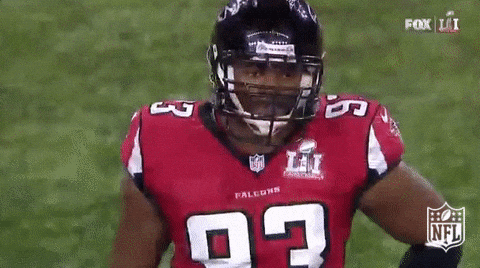 I'm not sure who takes the blame there: the offensive line for allowing the sack? Matt Ryan for not throwing the ball away? The offensive coordinator for not just running the darn ball in a game where Atlanta had been gaining most of their offense on the ground?
The last point is a huge issue the decision to pass got them sacked out of field goal range and the incompletions kept on stopping the clock. Not only did they come away with no points, but they

gifted New England the extra time

it so desperately needed!
That Atlanta found its early success running rather than throwing was actually the biggest surprise to me. (Since I could feel the bile of dread rising in my throat the entire game, the comeback wasn't that much of a surprise.) The box score doesn't really reflect this -- Atlanta and New England somehow both finished with 104 rushing yards??? -- but the Falcons were killing the Patriots in the run game the entire first half.
If I were a New England fan -- well, if I were, I'd kill myself, but for the purpose of this football discussion, I'm going to continue the sentence -- I would have been horribly upset with the time management in the entire second half. Down three scores, the Patriots were still huddling up and moseying to the line. Things ended up working out for them, but they very well could have cost themselves the victory with their completely unhurried approach for the entire third and much of the fourth quarters.
Why is Matt Ryan's face so gaunt? Doesn't he get enough food?
Ugh this is all just so horrible! I'm so unhappy. The Patriots now have the most Super Bowl appearances. Tom Brady has the most Super Bowl wins among quarterbacks. Bill Belichick has the most Super Bowls for a coach. It's all just so devastating. Because you know who are the only bigger ---------s than the New England Patriots players? Every single New England Patriots fan.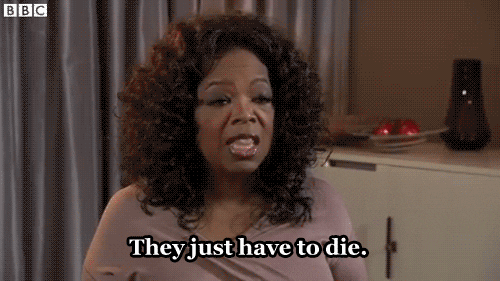 Next year's Super Bowl will be held in Minneapolis. The Vikings have a dome, so lucky for the fans during the actual game, but have any of the people who made this decision ever actually been in Minnesota in February? The high today is 13 degrees. Without the windchill.
This

article

features 51 facts about Super Bowl 51, and it numbers them all in Roman numerals, except for #50. Did they think we'd all get thrown by "L"? Or that we wouldn't be able to piece it together from the 50 other context clues we had?
I am

soooooo

sad about Teddy Bridgewater! The Minnesota Vikings' QB blew out his knee in training camp this season, missing all of the 2016 season. Now, it's being reported that he's going to miss all of 2017 too, since the damage to his knee requires more than a year-and-a-half recovery period. Yes, of course, the Vikings are my mortal enemy, but how do you not feel bad for this kid? It would not be surprising for this injury to turn out to be career-ending, but I really, really hope that he's able to come back in 2018 and play great. (Not too great, though. He is still a Viking.)
Minnesota fans must be extra depressed since that means another season of Sam Bradford. Sam Bradford's probably not too excited about it, either.
"Pleeaaassee! Somebody help me! This isn't about
the game anymore! I don't want to die!"
The Pro Bowl was played, reportedly, though who knows because no one watched it. The final score was 20-13 AFC, which is really, really low considering that no defense was played. On that note, since the players don't play defense, which I totally understand in the Pro Bowl, they should make it two-hand touch or something so that the offensive players have to actually try.
Speaking of trying, one player in the Pro Bowl did try, and I absolutely love him for it. Kirk Cousins, who is a free agent looking for a big payday, threw a pass that was tipped and intercepted. The intecepter returned it a ways, then lateraled it to a teammate, who was headed for the endzone when my man Cousins chased him down and stripped the ball! Now, Cousins' team did not recover the fumble and that was pretty much the end of the game, but STILL! How do you not appreciate that man's effort?
I watched the NFL Honors show so you didn't have to. By far the best line of the night from host Keegan-Michael Key: "Dak and Zeke led the Dallas Cowboys to the NFC's number one seed. And even though they're both rookies, they looked like Cowboys veterans in the way they immediately lost in the playoffs." Hahahahahahaha

it's funny because it's true

.
Key also got a zing in on Green Bay: "The playoffs got really great ratings this year. For instance, the NFC Championship was watched by 46 million people --

and

the Packers' secondary."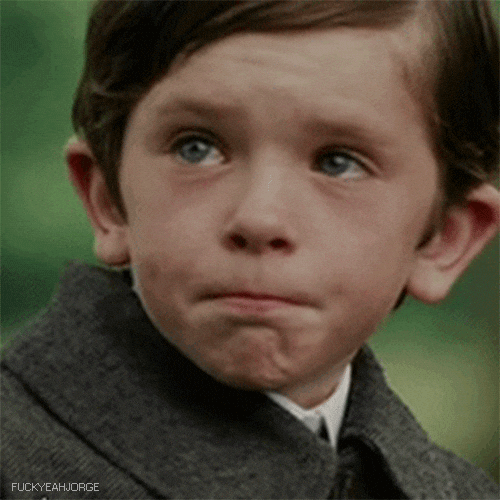 Can someone tell me why the BLEEP Jerral Jones was inducted into the Pro Football Hall of Fame? Saying as, ya know, he never played in the NFL?
Maybe there'd be more room for guys like Terrell Owens if
we didn't include people who weren't in the NFL.
The best part of the NFL Honors was Jordy Nelson winning Comeback Player of the Year

!!
Besides Packers winning, the other best part of these awards shows is getting to see Green Bay players all dressed up and looking dapper.
(I cropped out his fiancee.)
Some clever fans introduced us to Sideline Ninja's non-superhero alter ego: Nerdy Jelson!
It was a roller coaster year for Green Bay. There were a lot of highs, but it eventually ended with disappointment. I feel good about 2017, though. It'll be our year! Till next season, Packers fans.