Well, blech. That was an ugly, stupid game. The Green Bay Packers fall to 1-2 because of their offense, of all things! The offense that has the best quarterback in the league, fantastic receivers, and a bruising running back spent their time of the field managing a measly seven points while giving up 9! If you were to cut out all the time the Detroit Lions offense was on the field, Green Bay still would have lost!!
Starting a game with a fumble on your first possession and overcoming the deficit to win is a great story. Following that up by fumbling away the ball on your first possession the following week is a habit that probably should be discouraged.
But Eddie Lacy never fumbles!!!
The defense, which is usually the big issue, played very well, forcing three turnovers and holding the Lions to 12 points through the first three quarters. They spent so much time on the field (38:13!!!!!!), they were exhausted by the fourth quarter, where they couldn't stop anything. Green Bay's offense only put up 223 total yards, which is pretty putrid for an NFL offense. They managed to run just 51 plays to Detroit's 74, and had nary a 20-plus-yard gain.
Usually Rodgers-Nelson are good for at least one 70-yard play a game!
Even the much maligned (by me) offensive line, thankfully with Bryan Bulaga restored to his rightful place at right tackle, did a pretty decent job against a very, very powerful front seven in pass protection. Two sacks for Aaron Rodgers against a defense like that isn't bad. The run blocking, however, was a huuuuuuge problem. I'm not smart enough to know if that's on the running backs, the offensive line, the playcalling, or all three, but the inability to run the ball made it a long day.
It's shocking to say, but the brunt of the blame falls on Rodgers and the receivers not named Jordy. Rodgers had one of his worst lines with 162 yards and one touchdown. He's won enough games for the Packers single-handedly that I don't think he deserves much flak for losing one, but it's shocking for fans to witness the last three games. Is this how teams with average quarterbacks feel

all

the time?? Even though Week 3 was the worst, it never felt like Rodgers got into his normal groove in Weeks 1 or 2 either. Rodgers' spent a lot of time in his press conference implying that the failure to adjust was a prominent role in the loss, perhaps pointing to a coaching issue.
I blame Clay Matthews' gross beard. Nothing's been right since it showed up.
One thing to keep in mind to help you from panicking, Packer fans, is to keep in mind that Green Bay got very unlucky on that second interception. Studly Tramon Williams intercepted Matthew Stafford at the one-yard line and slid into the endzone. The refs ruled him down at the one (even though he wasn't touched until the endzone, so I'm still confused as to why it wasn't a touchback), putting the Packers in a rough spot, backed up against their own endzone. Tight end Richard Rodgers got stood up like Raggedy Ann on the subsequent play, leading to a safety for the Lions. In a just unlucky way, the Packers getting that turnover hurt them, which doesn't happen too often.
I'm not saying that it's not the Packers' fault they lost, but it also kinda
stinks that the Lions ended up benefiting from a turnover.
Randall Cobb took a lot of the blame himself, calling his play "embarrassing" and saying that he didn't get the separation he should have. Detroit's secondary has been decimated by injury and should have been easy pickings for Green Bay's receivers. Props to Detroit's defensive backs, but Cobb, Jarrett Boykin, Davante Adams, Andrew Quarless, and Richard Rodgers all need to step up.
You don't need to change. Not ever.
Oh, and Clay Matthews is injured again. Sigh
Detroit linebacker Stephen Tulloch, whom I'm actually a big fan of and who I think is underrated, had a terribly embarrassing and devastating moment when he injured himself trying to do Rodgers' belt celebration after a sack. He tore his ACL and is out for the season. I don't think the following GIF is funny because I feel bad for Tulloch and it's not funny that he got hurt, but still, you shouldn't try to do the belt celebration if you're not Aaron.
Tulloch's injury is right up there with quarterback Gus Frerotte, spraining his neck when he celebrated a touchdown by headbutting the wall....
...and, of course, kicker Bill Gramatica tearing his ACL jumping up and down celebrating a meaningless field goal.
Okay, not really related to football in 2014, but while searching for that Gus Frerotte GIF, I came across his high school yearbook photo, which is awesome. I like that he has to specify that he likes Mom and Dad. I'm also a bit perplexed by the need to list out all his friends, as if proof that he does indeed have them. That shadow on his lip that is trying to pass as a mustache is also a bit creepy.
But I'm sure Cara likes it.
I swear he reads O&E and is just trolling me every week!
Devin Hester set the all-time record for punts returned for touchdowns on Thursday with 14! He also has five kick returns and one blocked field goal return. And he's

happier away from Jay Cutler

.
Who wouldn't be?
Call me childish, but this could keep me entertained for hours:
A note to the Jacksonville Jaguars: sending out a letter scolding the very few enthusiastic fans your team has for

standing too much

at games might not be your best PR move.
Take what you can get.
Tom Brady has a cold heart. Ahead of the Patriots-Raiders game, he posted his

"favorite Patriots vs. Raiders,"

with a picture from the infamous "Tuck Rule" Game. I really hoped Charles Woodson not only would force a fumble from Brady, but I was desperately hoping he would have an interception returned for a touchdown so he can finally break that NFL record.
My life won't be complete until Charles holds that record!
Because NFL stands for "No Fun League," Miami's Brian Hartline was penalized for this touchdown celebration.
DeAndre Hopkins of the Houston Texans had an incredible one-handed catch!!
...too bad it didn't count because of a penalty. =(
I'm so glad that a backup quarterback on one of the historically worst teams in the league leading a play that ends up not counting is now deemed a "highlight."
But it's Johnny Football, dude! He's so awesome, bro!
The Pittsburgh Steelers lost three key defensive players to injuries in their loss to Carolina, and nearly lost a coach when DE Cameron Heyward tried to celebrate on the sideline.
Soooo Jared Cook, a tight end on the Rams, was mad at himself for dropping a fourth-down touchdown, so he decided to take out his frustration on the sidelines by shoving his quarterback, Austin Davis. Not the best strategy if you ever want to get the ball again. Good for defensive end William Hayes stepping in to set Cook straight. You don't

ever

shove your quarterback,* particularly when he's a third-stringer called into duty and should be getting extra support from his teammates!! (I've very protective of third-string quarterbacks.)
*I would probably make a Jay Cutler exception here.
HOW did the Cowboys win that game? The Rams jumped out to a 21-point first-half lead before Dallas tore off a 34-3 run to take a 10-point lead. The Rams answered with a touchdown drive. It's 34-31, Dallas up, with two minutes to go. What would be more Cowboysian than to overcome a 21-point deficit just to lose it on the final drive (and Tony Romo would be blamed)? I thought it was in the books, but St. Louis threw an interception to effectively end the game. Very disappointing.
Excuse me, Mr. Lynch, you seemed to have lost a dreadlock.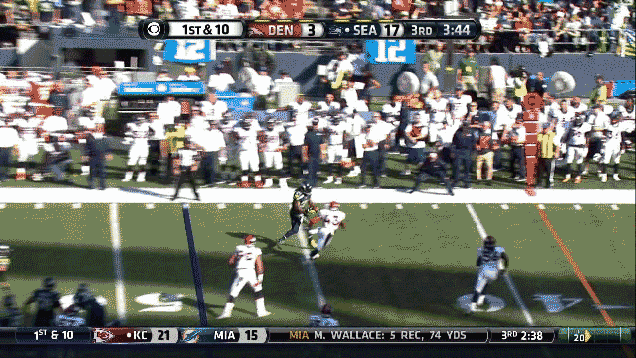 The Eagles-Redskins fight the most predictable thing in the world. Two loudmouth division rivals with a lot of trash talkers get into a brawl? Color me surprised. Philadelphia lineman Jason Peters has to be ejected for throwing a punch, but he also has to make sure defenses that are trying to take out his quarterback know that that isn't going to fly. Unfortunately, Peters' ejection left Philly with only one starter left on the offensive line and no backups!
Philadelphia fans got a taste of their own medicine with DeSean Jackson being his usual self, just on the other team now.
Stats against Jacksonville shouldn't really count, but Andrew Luck was 31-of-39 for 370 yards and four touchdowns.
Denver came

sooooooooo

close to beating the Seahawks. Imagine how good it would have been for the country for Pete Carroll to have this look stuck on his face for a whole week?!
Chew your gum now, Petey!
Andy Dalton scored a touchdown, which isn't that notable for an NFL quarterback, except this one was a

receiving

touchdown! He actually didn't have any passing touchdowns on the day.
The San Francisco 49ers lost again this week, which should make me happy, but doesn't. As much as it churns my stomach to cheer for that Jim Harbaugh and his khakis, the truth of the matter is that the road to the Super Bowl goes through the NFC West, and anyone's better than Seattle. Maybe Arizona can win the division!! Go (*pauses to Google the Cardinals' quarterback*) ...Drew Stanton!
Serious question: will Tampa Bay win a game this year?
Chicago won a close Monday night game against the New York Jets, aided in large part by the officials. Late in the first half, Jay Cutler was sacked (of course) and fumbled (of course). The Jets recovered the fumble and ran it in for the touchdown, but were S.O.L because the refs had blown the whistle, thinking Cutler had been down by contact. Replay showed that the Cutler had indeed fumbled and the ball had been recovered by New York, but that didn't give them their touchdown back.
Chicago tight end Martellus Bennett had two touchdowns on the night, inspired, he said, by the disrespect from Jets head coach Rex Ryan not being enthusiastic enough when he talked about Bennett prior to the game. "I feel like when somebody talks about me," said Bennett, "they should use some enthusiasm." He went on to compare himself to a car tire (not the spare!) and imply he was a genius, since "[a] lot of people who are geniuses, they really didn't realize it until they were dead." (I'm going to assume he meant that the world didn't realize they were geniuses, rather than the geniuses themselves discovering they were geniuses postmortem.)
"Now excuse me, I have a Mensa meeting to attend."
The Bears again suffered a number of injuries to defensive players during the game, particularly in the secondary. I just hope Bears safety Chris Conte is back by next week when Green Bay plays Chicago. We sure could use him.