How we all felt on Thursday.
So the Green Bay defense got leveled, Aaron Rodgers looked average, we lost our third starting offensive tackle, replaced him with a turnstile, and our star running back got a concussion. Not the most productive day at the office, boys.
There wasn't really a lot to like in this game, but the biggest problem seemed to be running game, both sides. Seattle had 207 rushing yards to Green Bay's 80. Marshawn Lynch alone ran for more yards (110) than the Green Bay offense.
He's absolutely nutso, but pretty amazing nonetheless.
Packers' fans were worried about how rookie center

Corey Linsley would perform

, but he was fine, for the most part. It was Derek Sherrod, the third-string right tackle, who caused the most problems.
You aren't able to see just how badly Sherrod gets beat by Seattle's Michael Bennett on this sack, but

look how far behind

Bennett he is!!
I hear that Brian Bulaga's injury isn't that serious (MCL sprain), but I heard the same thing about B.J. Raji's injury, too, so I am choosing to take a dour, pessimistic view of his situation until he returns to the field. ALSO, there were several reports that center J.C. Tretter would be out "about a month," but the Packers have

put him on temporary IR

, meaning the earliest he could return would be Week 9. I don't know why sports writers are trying to get my hopes up, but no more. I will never again believe hopeful reports about the severity of Packer players' injuries.
Seattle safety Earl Thomas' fielding of the first punt was incredibly dangerous, and it was no surprise when he muffed the second one. His decision-making aside, why on earth is he even on the field for punts? As frustrated as I get when I see Randall returning punts, this may be worse. What the HECK is Seattle thinking having their star safety returning punts???
(Wait, is that Richard Sherman, too? Why are their two best defensive players playing special teams??)
There are a lot of players on other teams that I have a great deal of respect for, and then there are a few players that just

scare

me whenever Green Bay has to play them. Percy Harvin is one of the latter. (See also: Patterson, Cordarelle.)
You know how the play stops immediately if a player loses his helmet? They should
have a rule that the play stops automatically if AJ Hawk is covering a skill
player, and the whole game should be aborted if Hawk is ever covering Percy Harvin.
Seattle's so good it's really hard to tell how concerned Packer fans should be. Green Bay's never been particularly talented at run blocking, but Thursday night was worrisome. They struggled mightily to manage a measly 3 yards a run, and sometimes it looked like poor Eddie Lacy was completely on his own.
Just look at the way Pete Carroll chews gum. No one who chews gum that way is a good human being.
I get weirdly attached to certain players, and they often are not good players. Brad Jones is one of them, but even I have to wonder, when do you cut this guy?? Dude is in his sixth year. When has he done anything beyond show some potential? Whenever he looks halfway decent for a thirty-second stretch, someone stares at him too hard and he gets injured.
"Please, sir, slow down."
"No, no, no, don't catch that!"
But he also seems nice and funny and hardworking...
...and now I feel bad for being mean. See? Weird attachment.
Speaking of "when is enough enough?", how does linebackers' coach Winston Moss still have a job? He's been the linebackers' coach for 8 years, and, outside of Clay Matthews, what has that unit done?? I don't know how much of the blame belongs to Moss, how much to defensive coordinator Dom Capers, and how much to GM Ted Thompson, but there's been a consistent problem at linebacker, particularly on the inside.
The only good news is that Seattle's likely the toughest opponent the Packers will meet in the regular season and they were playing in the toughest environment. It's just one game and it's too early to freak out.
Uh oh. As excited as I was for the return of football, I overlooked the fact that it also meant the return of the smug, condescending, insufferable Mike Pereira and his

the-refs-are-never-wrong wisdom

.
Just shoot me now.
Let's just assume Cam Newton has a broken rib at all times.
Being a punter is more hazardous than you might think; you never know when someone will level you with a Mortal Kombat flying kick to the face. Just ask Cleveland punter Spencer Lanning, who learned the hard way.
Chris Conte is so bad. I really should be nicer to him, since he was the one who allowed Green Bay to make the playoffs last year, but he really is a marvel. Watch how the league's oldest running back throws Conte off of him with one arm

.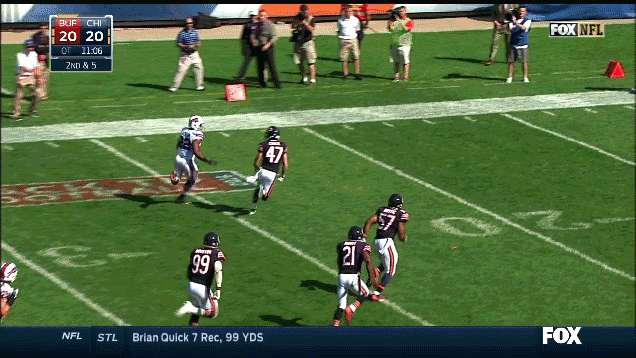 As bad as that was for Conte, it's nothing to what Ravens' receiver Steve Smith did to Pacman Jones.
Jay Cutler, for his part, had a pretty balanced line: two interceptions and two sacks.
Missed ya, Jay!
Since when is Carson Palmer a mobile quarterback? Never thought of that as a strength of his, but he managed to escape what seemed like sure sacks more than a few times against San Diego.
I'm somewhat perplexed by Bud Light's Mayor of Whatever campaign. It's as if they did a focus group and asked, "Which of these people seems most likely to get caught watching you from outside of your bedroom window ?"
We have a winner!
The Cowboys finished 30th in defensive DVOA last year. That was with DeMarcus Ware and Jason Hatcher, who left in free agency for Denver and Washington, respectively. They had 17 of Dallas's 34 sacks. That was with Sean Lee, who is out for the season with a torn ACL. That was with Orlando Scandrick, who is suspended for the first four games. And their top defensive draft pick, defensive end Demarcus Lawrence, is on the IR-return list and won't be around until Week 9 at the earliest. This, impossibly, is who the Cowboys are likely to start in their base defense against the 49ers in Week 1:
DE George Selvie,

DT Henry Melton,

DE Jeremy Mincey,

LB Bruce Carter,

LB Rolando McClain,

LB Justin Durant, ,

CB Brandon Carr,

CB Morris Claiborne,

S Barry Church,

S J.J. Wilcox
That's not just the worst starting defense in football. It's miles away from anybody else's D for the worst in football. Dallas almost definitely has the worst set of defensive linemen and the worst linebackers, along with one of the five worst secondaries.
My sister does not follow football at all, but I guess she walked by a tv this weekend, because I got this text from her: "Tony Romo must be the king of interceptions!" Yes. Yes, he is.
Muhahahaha! How does it feel to have a losing record, Bill??
Whoa, whoa, is that Aaron Rodgers giving an American Family Insurance-sponsored press conference?? How does State Farm feel about that?
Hope he discount double-checked his endorsement contract.
The Browns came

thisclose

to winning! The Steelers were up 24 points before the Browns came roaring back. The most impressive feat was that Cleveland did this with Brian Hoyer playing quarterback and without their top receiver (because Josh Gordon really likes smoking pot), their top running back (Ben Tate got injured in the first half),

and

their top tight end (Jordan Cameron also got injured during the game). Alas, they're still Cleveland, so Pittsburgh was able to seal the game with a field goal as time expired.
Carolina kicker Graham Gano must have forgotten to use the signup sheet to reserve Tampa Bay's field for practice. (He

apologized

and gave tickets to the very focused trombone player he shoved.)
After signing a $100 million contract extension, Houston defensive star JJ Watt said he Googled

"What do rich people buy?"

but didn't see anything he liked. Sigh. I need to marry this guy. And no, the $100 million has (almost) nothing to do with my love for him.
Looks like Eli had a bit of a rough game on Monday.
It's kind of anticlimactic when the number one draft pick doesn't even play one full NFL game before being sidelined 4-6 weeks with a knee injury. While we're on the subject, somebody in Houston might want to take a look into

the quality of their field

.
I can't imagine an NFL player runs into his high school principal

on

the field that often, but Doug Martin's old principal was on hand to referee his game on Sunday. I guess he was substituting for the math teacher that usually refs.
Awww!
I'm confused by the outrage over the latest Ray Rice video that was released. It was known before that Rice had hit his then-fiancee hard enough to knock her unconscious. He admits that he punched her hard enough to knock her unconscious. There was a video of Rice dragging his unconscious-from-his-punch fiancee out of an elevator. He was suspended two games because he knocked his fiancee unconscious. Now, we have the actual video of him knocking his fiancee unconscious and people are all outraged anew? Did people who saw the video of him dragging his unconscious fiancee out of the elevator think that they would see the video from inside the elevator and think,

This video of an NFL player punching a woman unconscious really isn't that bad

? It seems a little silly to be aghast at a video that depicts exactly what was said to have happened. As it is, Rice has been cut from the Ravens and is suspended indefinitely.
Don't want to count any unhatched chickens, but I am excited for the New York Jets and their cornerback issues next week.