Seattle is no longer the "automatic win" they used to be for opponents. Though perhaps not overloaded with talent, they have a lot going for them.
Seattle has a great, rowdy crowd that can make things difficult for opposing offenses. CenturyLink Field can get

loud

. This is the crowd that technically caused an earthquake when Marshawn Lynch upset the Saints in last year's playoffs. Also the West-Coast-plus-having-10-days-off thing can be challenging for a road team.
Lynch is the guy with the cool Skittles shoes.
Seattle doesn't have a real premiere name on defense, but they do have a young and athletic defense that can make things happen if it gets going. Also, the Green Bay offensive line has been terrible the first two games.
Marshawn Lynch (who is a bit overrated in my humble opinion) can absolutely go into Beast Mode. Considering how weak the Packers' run defense can be (

*cough* A.J. Hawk)

, this is the most worrying aspect of the game. Last week's beatdown of the Bears didn't have a lot of running by Chicago after Matt Forte went down, so it's hard to gauge exactly where the Packers' run defense is.
No matter how many times I watch this clip, my jaw still drops:
Somebody in Washington featured the Beast Mode in a corn maze, which might be more impressive than the actual TD run.
I'll bet these guys can mow those fancy diagonal lines in their lawns, too.
Russell Wilson looks pretty talented. I'm still really sad for Matt Flynn and want to give him a hug, but Wilson is an exciting player. Now, being athletically talented is not the same as being a talented quarterback. I think the hype around Wilson will die down a bit as he struggles more into the season, but he has shown that he has the ability. Wilson struggled against the blitz in Week 1 against Arizona's defense, and Green Bay certainly has the ability to bring that type of pressure. If the Packers can keep Wilson in the pocket for the majority of the game, they should be able to cut down his opportunities for big plays. The Packers' defense is not an easy one to read, especially for a rookie.
Seattle's left tackle, Russell Okung, missed last week's game with a knee injury and his backup, Frank Omiyale, replaced him competently. Still, it's hard not to salivate at the prospect of a weakened offensive line after the Packers recorded 7 sacks and 2,428 quarterback hits last week. Seattle will kind of be forced to throw everything at Clay Matthews to keep him off his 48-sack-season pace, opening the door for the rest of the Pack's line to grab some stats.
Poor Greg Jennings reaggravated the groin injury that kept him out of last week's game! Stop getting hurt, Greg! Jennings admits he's not 100%,

but he did practice a bit and plans on playing.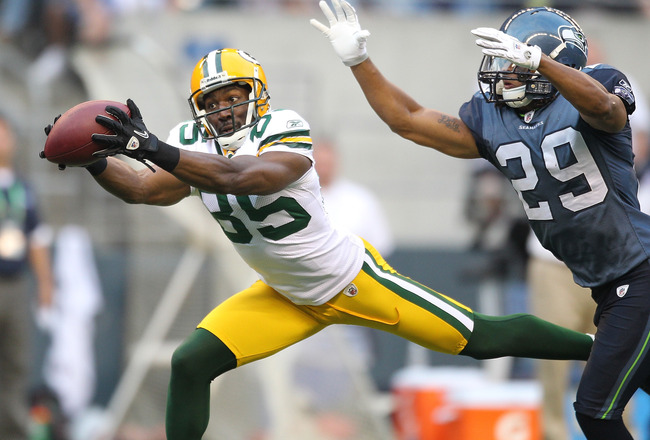 You're so tough. And adorable. Really, a perfect match for Cathy.
So, while Seattle has good things going for them, so does Green Bay. They are: Charles Woodson, Jordy Nelson, Tramon Williams, Clay Matthews, Greg Jennings, Randall Cobb, Jarrett Bush not playing, Donald Driver, Tim Masthay (yeah, that's right, I named the punter!),

and B.J. Raji, among others.
And Aaron Charles Rodgers.
How did I not know his middle name was Charles? I'm so disappointed in myself.