Actually, it really wasn't much of a battle as the Green Bay Packers easily defeated the Tampa Bay Buccaneers 20-3. It didn't feel like a very good offensive game for Green Bay, but Aaron Rodgers was 31/40 for 318 yards and a touchdown. Randall Cobb had 131 receiving yards, Jordy Nelson added 113 yards and a touchdown, and Eddie Lacy ran for 99 yards.
It's hard to feel too excited about the win, because Tampa Bay is bad. Tampa Bay quarterback Josh McCown is

very

bad. The Green Bay defense had an interception, seven sacks and 12 QB hits on McCown.
The Buccaneers put up 109 yards of offense. Total. In a professional football game. The putridness of the Bucs is what makes Sunday's win a little concerning. For the second straight week, the offense looked out of rhythm, at least in the first half. Honestly, the Packers should have been up 20-3 by the end of the first quarter!
Here's McCown getting sacked after running 20 yards backwards.
Not sure which time this is, because that happened a lot.
Rodgers, who was already under the weather coming into the game, strained his calf, leading to some tense moments when I feared backup Matt Flynn might have to play meaningful snaps. One more time: #ActivateTolzien
I believe in you, Scott! Even if your coaches don't.
McCarthy named playoff captains earlier this week before Green Bay had even clinched a spot, which was a nice swagger move, reminiscent of when he had the players fitted for rings before they played in the Super Bowl.
O captain, my captain.
I'd think it'd be really hard for a center to be the dirtiest player in the league, but Detroit Lions center Dominic Raiola gets my vote. On Sunday, Raiola jumped on the ankle of a Bears' player. Raiola has a history of doing this crap, which is likely the reason he was given a one-game suspension (rather than just a fine), but Chicago wide receiver Brandon Marshall doesn't think

it's enough

for a guy he calls "a dirty player and a worse human being." (Seriously, he's taunted Marshall on the field about his mental health issues). This is Raiola sixth violation in the last four years, and that doesn't include when he

went after

a New England Patriot's knees while the Patriots were in victory formation.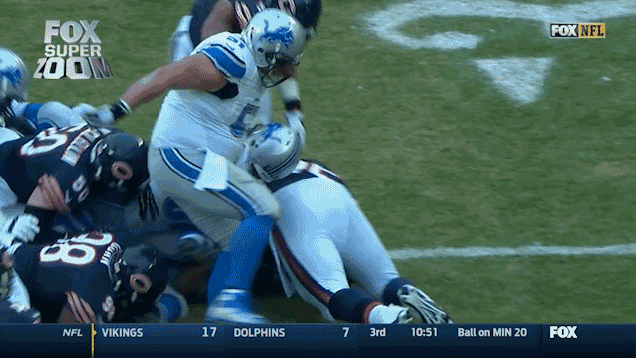 What is it about Detroit players stomping on opponents?
The Miami Dolphins won a surprisingly entertaining game against the Minnesota Vikings on a blocked punt safety!!
A lot of NFL teams do great charity work and invite sick children to practice to be a part of the team, meet the players, hang out on the field, &c. The Oakland Raiders recently invited a four-year-old girl named Ava who has a heart condition and did the whole thing for her. After the team had met and played with her, offensive lineman Menelik Watson went over to Ava's father and turned over his

game check

to the family.
Awww, nice move, Menelik!
Chicago Bears safety Chris Conte made some waves last week when he said he's willing to trade an

earlier death

for playing in the NFL. Ummm, isn't that what every NFL player is implicitly saying when he decides to strap on a helmet and run full-force into 300-pound monsters? You may have also noticed that most athletes are not great long-term thinkers.
His job is to hit people. Don't ask him to do too much more.
Here's a funny (well, not if you're a Jacksonville fan) screenshot of how little help rookie quarterback Blake Bortles gets from his offensive line. The arrows are his lineman, the men in purple are the ones about to crush him.
The Chicago Bears' free fall continued. After the disaster of the offensive coordinator publicly trashing quarterback Jay Cutler, head coach Marc Trestman chose to bench Jay in favor of Jimmy Clausen, who was 1-10 coming into Sunday in career starts, which seemed more of a frantic

try-not-to-get-fired

move than anything. Cutler has been terrible, but so has the playcalling. What exactly Chicago thinks benching Cutler would achieve is unclear. They are are not able to get rid of Cutler in the offseason without taking a $15.5 million hit, so I don't see a purpose in ticking off your already moody quarterback. Clausen is not good and it's not like there's NFL-ready quarterbacks walking around on the street. Jay Cutler is the best the Bears can do, and I can't see how benching him does the team any good.
An interesting twist is that Clausen suffered a concussion this Sunday, meaning next week's starter is… Jay Cutler! Welcome back, Jay! Sorry about that whole benching thing last week! (Again, why go back to Cutler? Why not see what they have in rookie quarterback David Fales? Does anyone on the coaching staff or the management know what they're doing??)
Grantland has a good

assessment

of the whole situation, pointing out Cutler's terrible numbers, but also rightly calling out the coaches and management for knowing what they were getting with Cutler and failing to help him be successful.
It's funny and ironic to me how well Cutler has handled
the last couple of weeks, at least in public.
The Arizona Cardinals had the gargantuan task of facing the Seattle Seahawks with a third-string quarterback, Ryan Lindley. It didn't go well. The Cards lost 35-6 and had 64 total yards in the first half. Seattle finished with a franchise record 596 yards on offense.
Coming into Sunday's game against the Seahawks, Lindley had the dubious distinction of holding the NFL record for most pass attempts without a touchdown at 181. After Sunday's game ... he still has that record; now it's for 225 attempts without a touchdown.
I imagine this as his "before" picture. I wonder what he looked like after he
went 18/44 for 216 yards and an interception while getting sacked 7 times.
So now the only hope of preventing the Seahawks from getting the number one seed -- and thus homefield advantage throughout the playoffs -- is for the 6-9 St. Louis Rams to go to Seattle next week and beat the Seahawks, and for the Cardinals to defeat the San Francisco 49ers on the road. I'm not terribly optimistic.
ESPN

journalist

...

analyst

...

commenter

...

personality ... person ... employee, Skip Bayless, is an idiot, we all know, but he also is a liar. The first tweet below is from July; the second is from Sunday.
You should actually follow Skip on Twitter. It's very amusing.
Marshawn Lynch has gotten into trouble for refusing to talk to the media after games, so now he talks. He just doesn't

say anything

. Here's the transcript from Sunday's interview, in which he answered, "Thank you for asking," to every single question.
At first I thought Lynch's media holdout was petulant and immature, but
now I find it pretty funny (which maybe means I'm petulant and immature).
The New Orleans Saints have a legit complaint about the Jimmy Graham touchdown-oh-wait-it's-a-fumble call, but you can't have four turnovers and five sacks against a terrible, terrible defense like the Atlanta Falcons and deserve to win. The controversial call came when Graham caught the ball close to the goal line, where he was met by several Atlanta defenders. The ball appeared to just cross the plane of the goal before a defender stripped it and recovered the fumble. Here's the GIF ...
And here's an enlarged screen capture:
That's a touchdown.
Again, as unfair as that might have been, the Saints eliminated themselves from the playoffs. They looked to be the comfortable favorites to win the pathetic NFC South, but then proceeded to drop their last five home games. The division will now come down to the Carolina-Atlanta game next Sunday.
No one except Miami Dolphins fans can complain about their team's offensive line ever again. Ever.
The Packers have made it into the playoffs, as have the Lions, but the division title -- and a first-round bye -- will be decided when the two meet at Lambeau next week.