The Green Bay Packers 30-16 loss to the Dallas Cowboys was not pretty. At all. From the Packers giving up their first opening drive touchdown to the Cowboys putting up more rushing yards than the Packers have allowed in the previous four games combined to the increasingly normal impotence of the offense, it was a rough day for the Green and Gold.
Ugh and you just know that, somewhere, Jerry Jones
was grinning like the creepy emperor from Star Wars.
As much as I like to blame all passing game ills on Davante Adams and Richard Rodgers, the truth is Aaron Rodgers is obviously struggling. Set aside any drops by the receivers, any bad play-calling, and Rodgers is still just missing things he very rarely misses. His interception into the guy of Barry Church was a perfect example of Rodgers, whose field vision is usually spectacular, failing to see Church coming off the outside receiver.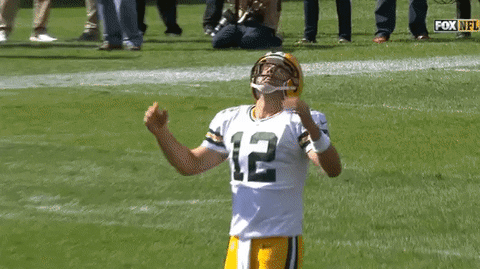 And while I'M TOTALLY NOT WORRIED, and I'm sure Aaron will get out of his slump soon, and I don't want to pile on to the guy, I also have to admit that I'm less than impressed with his attitude. He seemed to think he only had a couple of bad throws. Said Rodgers:
We were close tonight. I missed a couple, possibly the one to [Richard] Rodgers down the middle, and I obviously threw it right to Barry [Church]... Other than that, I mean, there were multiple times when we had to extend plays because guys weren't open on the normal timing or even slightly later than normal timing.
Are those really the only times you can think of, Aaron? Not throwing a sure-touchdown six feet too high to Cobb? Or leading Jordy Nelson into crossing defenders? I understand you're not getting the help you need from your receivers or your playcalls, but I'm going to need a little more abjection from you than a dismissive, "I gotta play better, for sure."
More like this.
I'll say the same thing to Mike McCarthy as I said all of last season: "DO SOMETHING!!!!" Now, to his credit, he's using more personnel, working in receivers Ty Montgomery, Trevor Davis, and Jeff Janis. But he's still not doing a whole lot to help those receivers as far as pre-snap formations, picks, or creative routes. After Nelson and Cobb, there's little evidence to believe that the Green Bay receivers can out-and-out win individual match-ups. That makes it easy for teams to focus on Jordy and Randall since neither Adams nor Montgomery nor Janis nor Rodgers nor anyone else has proven that he warrants extra defensive attention.
This is not the facial expression of defensive coordinators who play the Packers.
The ailing Green Bay secondary did not help matters. Already without top corner Sam Shields, the Packers lost Quinten Rollins and Damarious Randall. This propelled LaDarius Gunter into the lineup, who is, uh, let's just say not ready for prime time. The coaches are (were?) high on Gunter last season and I'm certainly not going to give up on him, but he was absolutely undressed on nearly every single snap he played.
I remain very worried about Shields. I love him, but he needs to retire. Shields has been out with yet another concussion since Week 1 and he needs to start thinking about himself and his long-term health. It'd leave Green Bay up a creek, though. Maybe we can lure Casey Hayward back from the San Diego Chargers at a much-reduced contract. Think he'll go for it?
Remember all the good times, Case!
Eddie Lacy came to play, injured ankle and all. He only finished with 65 yards, but ripped off a couple of nice and surprisingly agile runs. What in the sam hill was McCarthy thinking, though, going into a game with an injured running back and no backup??
Yes, James Starks was out with an injury. Try to contain your surprise. Mr. Glass really wore himself out averaging 2.8 yards per carry last week and suffered a knee injury. It's rumored that Starks tore his meniscus and underwent surgery this week. He is not expected back for a few weeks at least. So I guess that leaves Green Bay with no healthy running back and two days until the next game. Here's hoping McCarthy decides to pick up a running back really soon. Like, today.
I'm sorry, James, for real. I hope you recover
quickly and find a nice home on some other team.
Green Eyes did notch a touchdown, his first of the season. The even worse stat is that it was just Rodgers' first second-half touchdown of the season.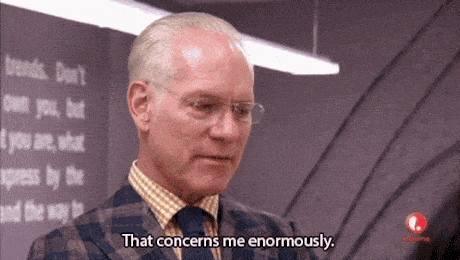 Besides Lacy, the only real positive was Montgomery. He didn't have a spectacular game, but had over 100 all purpose yards and got some good reps in.
It was another rough week for Jordy. He had five catches for 68 yards, but coughed up a fumble for just the second time in his career.
Don't worry, boo. We'll get 'em Thursday.
The biggest downer was the four turnovers. How can you win a game with four turnovers?! On the season, the Packers' turnover differential, which is my favorite stat, is a dismal -3.
One thing to look forward to is Tony Romo being able to return pretty soon. Jerry Jones, right on cue, has chimed in that Romo is

totally healed

and just needs to get back in shape. Jones has

recently backed off

his previously unwavering support for Romo to regain his starting job once healthy.
I keep going back and forth on the Pittsburgh Steelers, but I think they're not good. They beat the Washington Redskins, who aren't terrible. They beat the Cincinnati Bengals, who are terrible (2-4). They got trounced by the Philadelphia Eagles, then beat the Kansas City Chiefs who are so unthreatening that I'm not going to even bother looking up their record. (Fine, it's 3-2.) Then they beat the New York Jets, who are no good (1-5), and then lost to the

Miami Dolphins

(2-4) this week! Even if they weren't bad before, they certainly will be now that Ben Roethlisberger is out for at least a few games with a torn meniscus that required surgery.
Rough, rough no-call on Richard Sherman's obvious pass interference that stole the game from the Atlanta Falcons.
Why is it that the Seattle Seahawks are always,

always

on the winning end of bad calls?? No wonder Pete Carroll is so smug all the time.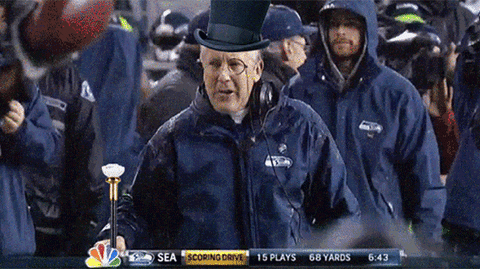 Tom Brady is now 49-1 at home against AFC opponents since 2007. Insane.
Check out this Vernon Davis touchdown. Watch it again. Did you see that egregious touchdown celebration?!?! Davis' jump shot cost his team 15 yards for "excessive celebration" since he used the ball as a prop.
I hate that I have an opinion on this, but I really prefer Carrie Underwood's old SNF opening.
Vontaze Burfict is the dirtiest player in the league and needs to be suspended every single time he gets a personal foul from now on. It's what he's known for and he does this crap week in and week out.

Here he is trying to injure Martellus Bennett:
— Will D. (@WAD1980) October 16, 2016
And here he is intentionally stepping on a New England Patriots player:
Video: From coaches film (courtesy NFL), watch Vontaze Burfict (55) deliberately step on Blount's leg after TD.

pic.twitter.com/wtTPqy3XHP

— Mike Reiss (@MikeReiss) October 17, 2016
Ugh the worst sounding injury and the one that makes my skin crawl just hearing it is "lacerated kidney." The Chargers' Keenan Allen had one a couple of years ago, Andrew Luck dealt with that last year, and now Cleveland Browns safety Jordan Poyer looks to be

out the rest of the year

with the same.
If your job were printing players' names on their jerseys, wouldn't you check the spelling before signing off on a jersey for someone named Prince Amukamara?
The NFL is a mean and petty little tyrant. The league has declared that

teams can no longer post their own highlights

on their social media channels. Some teams, like the Eagles and the Browns,

mocked the NFL

by posting claymation-type videos of their highlights, which, hilariously, have now been pulled.
Goodness gracious, the Indianapolis Colts had a 14 point lead with three minutes left and somehow lost! Much sympathy has been sent Andrew Luck's way as the quarterback tries and tries to lift his dismal team out of the muck. One person who doesn't have sympathy for Luck is Ryan Grigson, the Colts' general manager. Grigson, defending himself against the charges of completely failing to put any talent around his #1 pick,

blamed Luck's contract

, saying, "Once you pay Andrew what we did, it's going to take some time to build on the other side of the ball." Sorry, but uh-uh, Ryan. First off, boo-hoo, it's so tough having had the top pick in the draft! Second, other teams have the salary cap, too. Other teams have quarterbacks with huge contracts, too, and they manage to pick better players than you have. Luck, for his part, continues to be entirely endearing and

refuses to blame

his horrible offensive line.
Apparently,

things are no good

between Houston Texans head coach Bill O'Brien and quarterback Brock Osweiler, who reportedly had a blow up at a team meeting last week. It's hardly a surprise considering their mail-order bride courtship, but Houston sportswriters must be tripping over themselves to write their "Houston, We Have a Problem" headlines.
"Whaddya mean it's been used? This is gold, I tells ya!"
Ugghh the LA Rams not only lost to the Detroit Lions, but they also pulled my least favorite move during Detroit's victory formation, injuring the Lions center and nearly injuring the quarterback. Nothing says low-class losers like trying to injure opponents after the game is over. I hate, hate, hate this bush league move.
I have to end with some devastating news:

Green Eyes is engaged

and, no, not to me. It's a tough time, but I just want him to be happy.
We'll always have my near-constant Google Image searches of you.