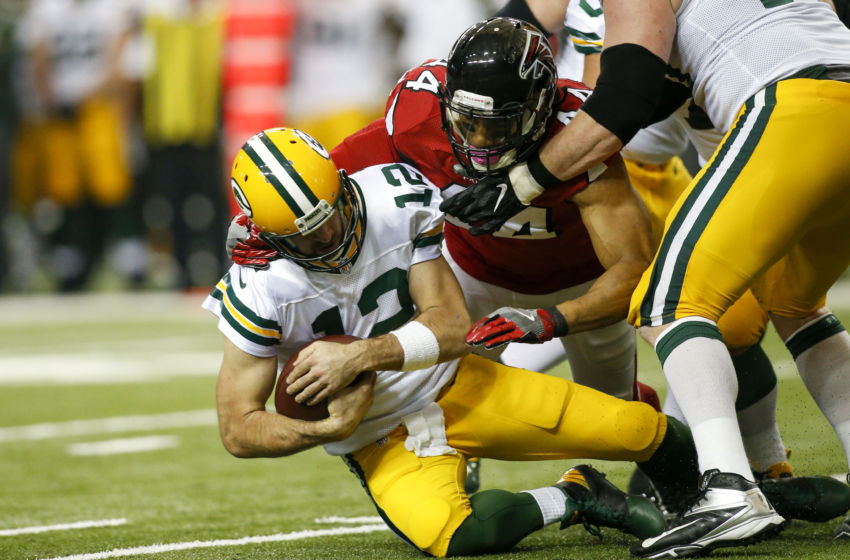 So the Green Bay Packers lost to the Atlanta Falcons by 23 points in the NFC Championship … and it wasn't even as close as the score suggests.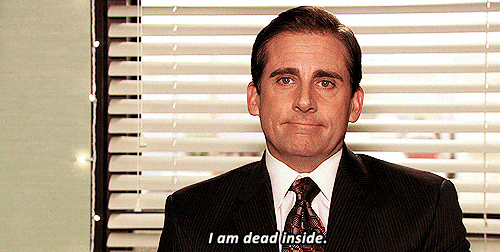 From the opening moments, the Atlanta Falcons had their way. The Packers defense wasn't even a speed bump to them. The Falcons' own drops were the best defense of the game. I'll make this quick, like ripping off a bandaid: Atlanta had 493 yards, six touchdowns, and no turnovers. They only punted twice the entire game. Matt Ryan completed 71% of his passes (really? Because it felt like

at least

96%) and finished with a passer rating of 139.4.
I feel bad for ripping our absolutely dreadful defense because they were such a ragtag bunch. They were pretty much already on their third-string before losing Micah Hyde, Kentrell Brice, and Jake Ryan. (Who was even in secondary for them with Hyde and Brice down?? They were already playing out of position because of injuries.) I don't have the heart to condemn players who were just out-talented by the Falcons' top-ranked offense.
Yes, he dropped this interception.
The injuries hit the offensive line hard, too. The Packers lost Lane Taylor (knee), TJ Lang (foot), and Bryan Bulaga (concussion). In the final series, the Packers only had four offensive linemen, and nose tackle Letroy Guion had to come in and play right guard, with the other linemen telling him what to do as the play unfolded. So that was depressing.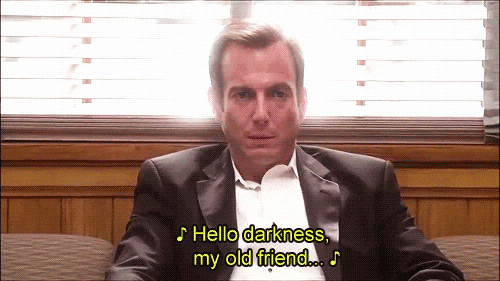 Poor TJ Lang! The guard, who broke his foot earlier in the season, missed several weeks, came back, played great, and earned his first Pro Bowl honor, broke the same foot on Sunday. Fortunately it was not a more serious injury, considering that he's now a free agent, but that's still a rough time to get hurt.
The Green Bay defense was numbing to watch, but it's not as if the offense did much with the few opportunities they had. Unfortunately, it's tough to find a rhythm when you're only on the field for 10 minutes in the entire first half. Seriously, the worst approach to playing the best offense in the league? Give them a two-to-one advantage in time of possession.
Dropping passes also did not help.
Look, I certainly am not shocked by Atlanta winning. That seemed like a very likely outcome going in. But watching the Pack get shut out in the first half? It was all a horrible nightmare. I couldn't believe my eyes.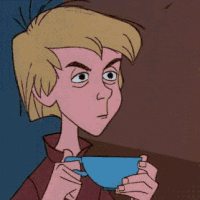 Then giving myself a pep talk all during halftime, telling myself the Packers could turn this around, only to watch Green Bay start the second half with a three-and-out and then allow a 73-yard touchdown within the first 70 seconds: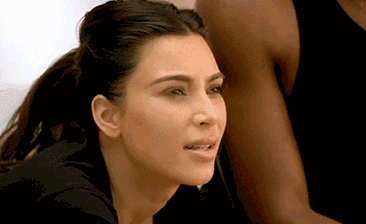 And slowly accepting that was literally nothing Green Bay could do to stop the bleeding:
The problem with a team like the Falcons is just a couple of errors, and the dominoes start to fall -- fast. It became abundantly clear fairly early on that Atlanta was going to be scoring on every single possession. The hope was to get the ball in Aaron Rodgers' hands as much as possible and try to limit the Falcons to field goals on at least a few of their drives. The wheels came off almost immediately, however: the Falcons scored on the opening possession, the Packers missed a field goal, the Falcons made a field goal, and the Packers fumbled just outside the redzone. Instead of 10-10, it was 10-0, and when the Falcons scored a touchdown on their next play, the floodgates were opened.
I really feel bad for all my Packers and I don't want to kick anyone when he's down and we win as a team, lose as a team, and all that, but if there's one person who maybe I feel just the slightest bit tempted to heap blame upon, I'm looking at you, Rip. That fumble was killer. In so many ways. You just can't do that in a conference championship,

Yukon

!
The biggest surprise to me besides, ya know, getting blown out of the water, was Atlanta's pass rush. Though they have some real playmakers -- including sack leader Vic Beasley Jr. -- the Packers' offensive line has been so impressive in pass coverage, I really wasn't worried. The Falcons got pressure on Rodgers all day long, though, while also keeping him in the pocket, which few other teams have been able to do.
The saddest part is that such a beatdown ruins the magic feeling of the season. If it had been a close, heartbreaking loss, we could all find solace in the incredible effort of the team, how many injuries they fought through, how they won

eight straight games

, how they started 4-6 and still ended up just one game from the Super Bowl. It was a crazy season with so many unbelievable plays and comebacks and wins! But alas, the ignominious exit mars that

.
Atlanta's head coach Dan Quinn must be part robot. He barely reacted to the Gatorade shower at all!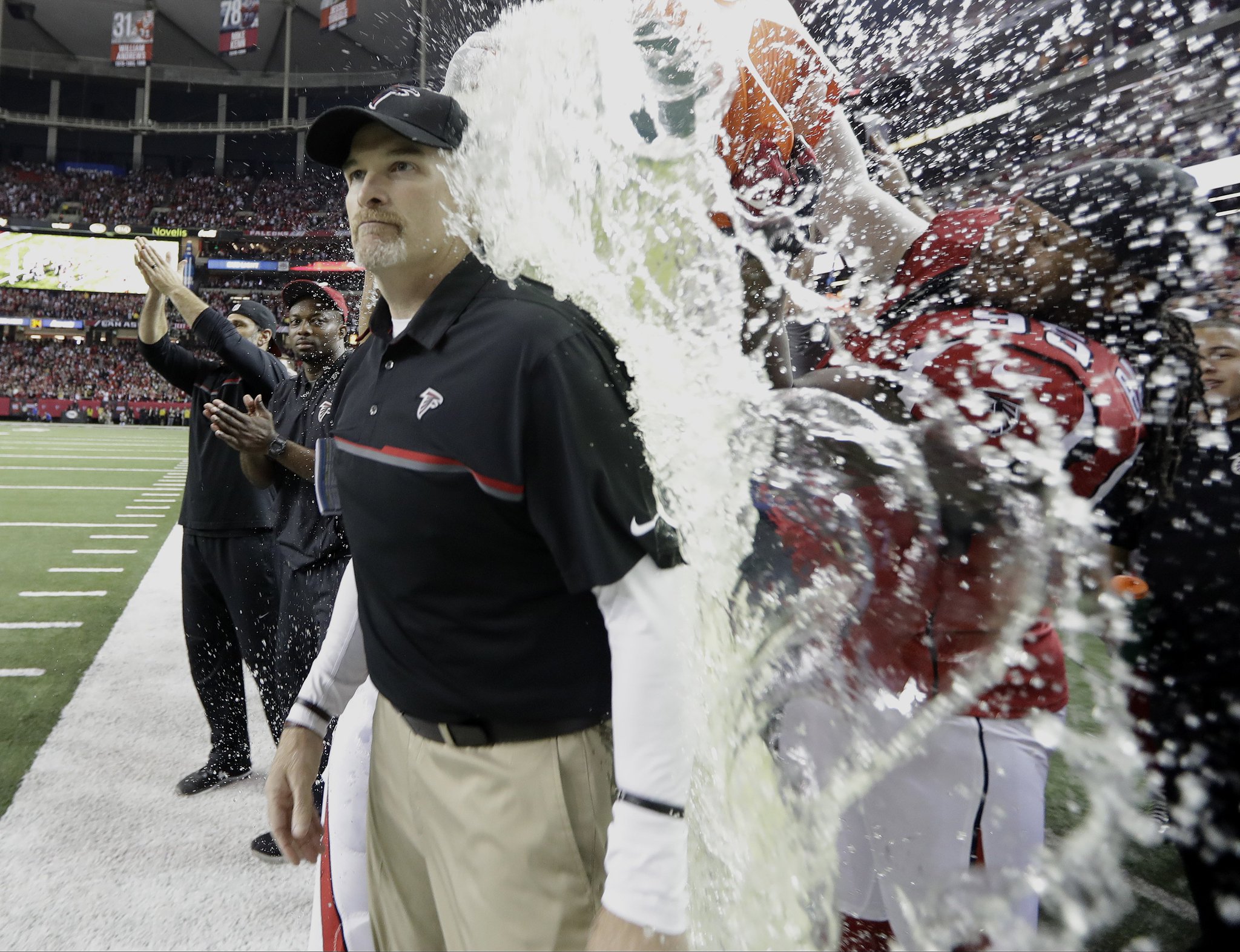 In his defense, he did slightly raise his eyebrows about 15 seconds after this.
There was only one small glimmer of joy this week and that was Jordy being an absolute beast and braving two broken ribs to play. He had six catches for 67 yards and a touchdown, but you can't quantify his toughness.
He had to wear kevlar padding to protect his ribs, but that still didn't stop him from playing.
What a man.
Sigh. All in all, I'm handling things well.
Seattle Seahawks corner Richard Sherman played the second half of the season with an MCL injury, which is impressive, but also confusing, because aren't NFL teams required to list injuries on their weekly injury report? When asked why this information had not been announced, head coach Pete Carroll responded "I don't know," and "Honestly, I didn't even realized we hadn't revealed it." (Hmm, which is it?) Anyway, I believe Pete. His shining character and forthrightness have certainly earned him the benefit of the doubt. I don't think he'd do anything underhanded or illegal to gain an advantage over an opponent.
The poor Pittsburgh Steelers got run over by the New England Patriots. Their worst fears were realized when Le'Veon Bell left the game in the first quarter with a groin injury. From there, the game got out of hand quick and New England cruised to an easy 36-17 win.
It was cold during the game, what with it being January in New England and all, but luckily Tom Brady was able to keep warm on the sideline by sitting inside a tent. (This is not photoshopped.)
There's obviously some cheating going on in there. He's get PED
injections or deflating footballs or having the purified blood
of small children put into him.
The playoffs have not been great entertainment for neutral fans. Aside from the Packers-Cowboys thriller and the Steelers-Chiefs game in the divisional round, all the playoff games have been decided by 13 points or more.
I don't usually like to cheer for teams that crush all my dreams, but I am happy for Atlanta. I like Matt Ryan and Julio Jones, and Quinn's done a great job with the defense. They've been good for awhile, but never could get things to click on all cylinders before. Plus, the franchise has never won a Super Bowl. And the New England Patriots are the worst, so I'll definitely be rooting for the Falcons.
The main thing we don't want is those cheating cheats up in New England to cheat their way to another championship. We as a country are pretty divided right now after a contentious election season, but I think the one thing that can bring us all together again is root against the Patriots. Even if you're on the fence about the cheating cheats, just imagine how awful all the Patriots fans squawking about Deflategate and Tom Brady in their monstrous accents for months will be if they win.
Who would you rather listen to all offseason: Patriots fans celebrating being
cheating cheats? Or happy Falcons fans celebrating their first-ever Super Bowl win?
It's tough to face the end of the Packers season, but at least we went farther than the Dallas Cowboys,

and at least we ripped out their heart and stomped on it a few times. It means it wasn't a totally wasted season.