It wasn't particularly pretty, but Green Bay finally won a game!! Yay! The defense, which has rightly been heavily criticized of late (they've allowed 107 points in the fourth quarter -- worst in the league!) pitched a shut-out in the second half. True, it was against a team that has won three games all season, but I'm not going to be too picky after a win.
And how unfair was that interception?? It got tipped near the line of scrimmage, went over John Kuhn, and appeared to hit the ground -- but it didn't! It was kicked up by a Falcons player to a luckily-placed teammate who ran it in for the slowest pick-six in history.
Now, the above is not John Kuhn's fault -- it was just a fluke play -- but bringing up his name reminds me of something: he needs to be cut. I know the fans love him and Aaron Rodgers loves him, but he really isn't that great. Most teams don't carry a fullback on their rosters, and with Eddie Lacy carrying the ball, they don't have a huge need for a fullback. He's not very good at special teams (remembered how he screwed up Green Bay's awesome blocked punt against Baltimore?), and he has perhaps the worst hands of any non-lineman in the league. He's seems super nice, though, and I would gladly wish him luck elsewhere.
Another player who seems nice, but whom I would also like cut is Marshall Newhouse. After being benched for a rookie last week, Newhouse missed this game due to the flu, and the offensive line was way better.
Feel better, Marshall -- but no need to rush back!
Let's put how bad the Packers' safeties are in perspective: Sean Richardson, a second-year safety who just returned to the lineup a few weeks ago after missing an entire calendar year with a herniated disc in his neck, and who has played in a total of seven NFL games in his career, replaced starting safety M.D. Jennings in the second half.
And of course there were injuries. And of course they occurred at the same position. The Packers only have one inside linebacker now, and he sucks.
I'm sorry, A.J, but it's true.
There's a sportswriter who is always railing against teams that run a meaningless draw play to end the first half. It's never successful and the only things that can happen are bad things ... cut to Eddie Lacy, who is essentially the sum total of the Green Bay offense until Aaron gets back, coming up limping on one such play. Thank goodness he was alright, but why don't you just take a knee there??
Jordy surpassed the 1,000-yard mark for the season. That deserves special acclaim because he's been catching balls from Seneca Wallace, Scott Tolzien, and Matt Flynn the last five weeks.
He's so ... sigh ... talented!
Argh! The same writer who was stupidly saying it was "too early" for the Packers to go for a two-point conversion against Minnesota came back with the same nonsense this week. What doesn't this guy get about two-point conversions?? The Packers scored a touchdown to make the score 22-21; they went for the two-point conversion and failed. The upside to trying a two-point conversion is a three-point lead, meaning if Atlanta were to kick a field goal, they'd tie and not take the lead. What, exactly, is the downside to going for two, hmmm? How is a two-point lead any better than a one-point lead?? Also, has this guy seen the Packers defense play the last seven weeks? You can't make your calculations on the assumption that the Packers will get the ball back two, three, four times in the fourth quarter.
That was totally the right call, Mike ... though the actual
play call could have been improved upon.
It was a bit nippy in Lambeau on Sunday: 9 degrees, with a windchilll of -1. It was so cold that the soda and beer lines at Lambeau froze, leaving cold Wisconsinites without their main source of sustenance.
One Packer defender had to come out of the game at one point because his facemask shield had iced over and needed to be scraped off!
The weather was a factor in a lot of games, but nowhere more so than Philadelphia.
It was so bad that Nick Foles threw his first interception of the season.
Despite the snow, there were eight touchdowns scored in the game, though zero extra points. Only one was attempted, and it was blocked and returned for ... nothing! Apparently in the NFL, you can't score points off a blocked Point After Touchdown (in college, it gets you two points), which is absurd, since it's one of the coolest and rarest plays in all of football. What's the deal with that rule, NFL?
You know who I'm really sick of? Jeremy Ross. Dude cost the Packers at least two games this season because he couldn't hang on to the ball, and now he's lighting it up in Detroit. He returned both a punt and a kickoff for touchdowns on Sunday!
I'm quite glad Detroit lost, but it's pretty shocking how they've failed to take a strong lead in the NFC North. Chicago and Green Bay have lost their starting quarterbacks, Minnesota never had one, and Detroit's stayed healthy. While the Packers have been floundering the last six weeks, Detroit has lost to Pittsburgh, Tampa Bay, and Philadelphia. Instead of running away with the division title, Detroit is tied with Chicago (but hold the tie-breaker) and has only a half-game lead over Green Bay.
I just pray that the Lions continue to drop the ball -- literally and figuratively -- over the next few weeks. The Packers need Detroit to lose at least one of their next three games against Baltimore, New York Giants, and Minnesota.
Stafford apparently was not expecting this snap.
There were a ton of great games this weekend, but none better than Minnesota-Baltimore. A minute into the fourth quarter, the Vikings led 12-6 at the start of the fourth quarter. Fast forward to the last 2:05 of the game. Baltimore scores what looks like will be the game-winning touchdown, taking the a 15-12 lead. Forty seconds later, backup running back Toby Gerhart broke away for a 41-yard Minnesota touchdown -- looks like Minnesota will win. But wait! The Vikings allow Jacoby Jones to return the ensuing kickoff 77 yards for a touchdown! Baltimore leads 22-17! Then rookie sensation Cordarelle Patterson scored a 79-yard touchdown for a four-point Minnesota lead! But wait! The Ravens coming marching back and, with four seconds left, Baltimore scores the final touchdown. A 29-26 Baltimore victory!
Five touchdowns in two minutes!!
The game was awesome to watch, but the only reason I couldn't totally enjoy it is that Baltimore's final drive benefited from a phantom pass interference call on Minnesota. Without that call, the Vikings would have won. The loss was insult to injury after Adrian Peterson went down with an foot sprain.
Speaking of terrible pass interference calls that decided games ... Cleveland was about to beat New England when the refs bailed the Patriots out by putting them on the one-yard line with under a minute left in the game.
First off, this clip is a little unfair because just before it starts, the defender, Leon McFadden, does jerk Josh Boyce's shoulder down and slow him down a bit. That said, there are a lot of reasons I hate this call. 1) Even the jerk on the shoulder is too ticky-tack to call, particularly at this point in the game. 2) If you must call that, it should have been defensive holding, as the most physical part of the defense occurred before the ball was in the air. 3) The "interference" didn't seem to affect the play, since the ball went right through Boyce's hands; it wasn't too far in front of him to catch. 4) The ref throws the flag way too late. He does not throw the flag at the time of the "interference," but after the ball has fallen incomplete, bringing me to my last point.... 5) No other team would get this call. (Well, maybe New Orleans.) The officials will always defer to Tom Brady, especially during a last-minute drive. This call put Brady & Co. on the one-yard line with a fresh set of downs. (And don't give me any nonsense about the final play in the Carolina game. For every one call that goes against the Patriots, there are 10 calls in their favor.) Boo.
Another exciting (almost) finish was in the Pittsburgh-Miami game. Down six with two seconds left, the Steelers had one last chance. Here's what followed: a long pass up the right sideline, then FIVE successful (um, well at least four) laterals, the final one to Antonio Brown, who races in for a touchdown!!
BUT NO! Brown barely stepped out of bounds on the sideline before he reached the endzone. Seriously, it was less than an inch. I don't have any feelings towards Pittsburgh and I'm not a fan of theirs, but my heart was wrung in sympathy for them!
At this point, should that still count??
So Washington's a disaster. Not content to let Tampa Bay and Miami wrestle for most dysfunctional locker room, the Redskins responded to a report that coach Mike Shanahan was on the chopping block (or quitting block?) over owner Daniel Snyder's "coddling" of quarterback Robert Griffin III by lying down and losing by five touchdowns to the Kansas City Chiefs. RGIII has made things worse and caused the media to question his leadership over the last few weeks with his passive-aggressive and sullen press conferences in which he has made it clear that he thinks he's done all that he can.
Who do you think is more apathetic? The players or the fans?
Patriots tight end and professional bro Rob Gronkowski, who missed the first six weeks of the season due to multiple injuries, was lost for the season on Sunday when he tore his ACL and MCL.
Some guy on Reddit has been keeping track of all the torn ACLs this season, and the list is crazy!
Alshon Jeffrey is continuing his fantastic receiving streak for Chicago, including this ridiculous catch in the very, very corner of the endzone. The much-heralded San Francisco-Seattle rematch was nothing to the melodrama between the sidelines. It was entertaining to see Jim Harbaugh and Pete Carroll each react as if he just saw his grandmother shot in front of him every time a call went against him.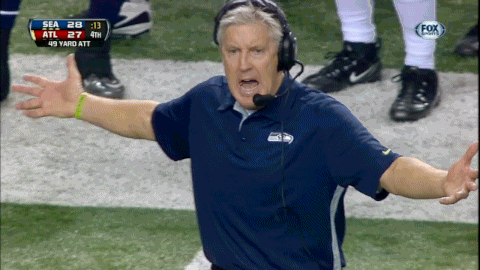 Nice job by Matt Prater, who set a new NFL record with a64-yard field goal. That's very good and he's an awesome kicker, but I kinda feel like there should be an asterisk for all kicking records set in the Mile High City. I mean, three of the longest five NFL field goals were kicked in Denver. BUT, in Matt's defense, cold weather makes kicking more difficult, and it was cold on Sunday, so we'll reduce the asterisk by half.
Darnell Dockett (Arizona player on the left) should be suspended a game for this crap. He stepped on this St. Louis dude's hand just to be a jerk!
Danny Woodhead already looks like some superhero sidekick because he's so short (sidekicks are always short, right?), but he really put his stamp on it after this first down:
Lightning Boy to the rescue!
Every weekend, I'm always dumbfounded about how the NFL can even be considering getting rid of kickoffs! The impact they have on games shouldn't be underrated; more so than even turnovers. Within a few seconds the tables can be completely turned. Look what Jacoby Jones did this week, or how Jeremy Ross kept the Lions in the game. It is the ultimate wildcard play, and it would severely lessen the fun and excitement of the NFL if they were to do away with it. Don't do it, Roger Goodell!!
The San Diego Charger fans have not forgotten the tantrum that Eli Manning threw when he was slated to be picked by the Charges with the first pick in the draft. Manning stamped his feet, crossed his arms, and said he wouldn't play for San Diego, forcing the Chargers to trade their number one draft pick.
This is totally juvenile, but still makes me giggle.
After Thursday night's win over Houston, Jacksonville was the proud owner of the longest win streak in the AFC (after Sunday, they share that streak with three other teams). The Jaguars have more wins that Atlanta, Houston, Washington, and Minnesota.
Who's worse at tackling: Pittsburgh?
Before losing to New Orleans on Sunday, the Carolina Panthers had won eight in a row! They're 9-4! I knew they were on some sort of streak, but I never took them seriously after their 1-3 start.
Peyton Manning is as sick of the Peyton-can't-play-in-the-cold stories as I am. "Whoever wrote that narrative," he said, "can shove it where the sun don't shine."
How long before Papa John figures out how to work
that catch phrase into a commercial?
You know what would make the Super Bowl even more fun? Banning tailgating and making it impossible to get to the game. If you want to get to the actual stadium for the game, you have a few options. You can take a $51 shuttle (the "Fan Express"!). Or you can purchase an outrageously-priced parking pass (there's about 13,000 parking spots for the 80,000 attendees). You cannot, however, be dropped off, unless the car has a parking pass and stays on the premise the whole time (... which means you are parking, not getting dropped off). Oh, and don't even think about parking elsewhere and walking to the stadium: "Fans who had considered parking farther from the stadium and getting there on foot will not be allowed to enter." This sounds like a logistical success already!
Uuuugggghhh the Cowboys are so bad! The Bears knelt down on their final possession in their 45-28 victory on Monday night, but scored on every other possession! They didn't punt once! Stupid, awful Cowboys. Serves me right for cheering for Dallas. (But the Packers need the Bears to lose, so it's acceptable for me to cheer for the Cowboys. And, really, I was cheering against Chicago, not for Dallas.) Still, I feel like I should shower or go to confession or something.
Though cheering for the Cowboys is really penance in itself.