If I have to suffer through a weekend without the Green Bay Packers, I sure hope Aaron Rodgers, TJ Lang, Morgan Burnett, Datone Jones, and Sam Shields are all getting healthy! The good news is that all except for Lang participated in Monday's team workout.
I'm glad the Dallas Cowboys didn't play Tony Romo, but the fact that they were even considering it is ridiculous. You have your franchise quarterback, who had back surgery in the offseason, suffer a back injury. He's down on the turf for a while before heading to the locker room for 20 minutes. Then Jerry Jones appears on the sideline -- that's always a good sign, right? Not too much later, Romo is put back in the game against a defense that had been bringing pressure all game long.
"I don't care if he can't walk! I said play him!"
Poor beleaguered puppet coach Jason Garrett tried to sell the line that Jones came down to the sidelines to say Romo could go back in because it was the

fastest way to communicate

. Yes, the fastest way is to have the owner of the freaking football team leave his luxury box and relay a message from the doctor in the locker room to the coach on the field. I'd be willing to be Jerry Jones doesn't answer his phone for himself, so I'm surprised that he's so willing to be a messenger boy. I guess he just loves the team that much.
AND THEN, Jerry Jones says publicly that "

the main thing is [pain] tolerance

." That is an [expletive] move right there, Jerry. You go on the radio and say, "There is nothing to his injury that won't function … this is a function of pain tolerance." That is pretty much calling out your quarterback and saying if he doesn't play it's because he's a wimp. Say what you want about Romo, but he has earned a reputation as a tough player, having played through multiple injuries. Jones was pretty much trying to force Romo into playing.
I hate the Cowboys. Why am I more concerned
about their quarterback than their owner is??
AND THEN, it was revealed that Romo suffered two small fractures to his back and was a "game time decision." Again, franchise quarterback coming off offseason back surgery, suffers back fractures in a game because his line was not able to handle pressure, now scheduled to play the Arizona Cardinals -- who blitz more than any other team in the league --

and he's a game time decision???

That's unconscionable.
The Cowboys should keep Romo out for at least the next two weeks. Next week they play the Jacksonville Jaguars in London. I'm no doctor, but I suspect that a 16-hour round trip flight is not advisable for those with back injuries, plus the Cowboys' bye is the following week. I know backup Brandon Weeden doesn't inspire a ton of confidence, take the loss to the Cardinals, take a loss to the Jaguars if you have to, but don't jeopardize your quarterback's season because the puppet master has ordered it.
"Dance, boy! Dance!"
Cornerback Jumal Rolle was on the Green Bay Packers practice squad until the Houston Texans signed him in October. On Sunday, he had two interceptions. I'm always happy to see former Packers do well, buuuuuut it'd be more fun if he were succeeding in the Green and Gold.
Yikes, the San Diego Chargers had a tough time against the Miami Dolphins, getting shut out 37-0. I have long told myself never to trust the Chargers. They're always somebody's sleeper pick to win it all, and everyone is always enamored with Philip Rivers and his talent, but they

always

disappoint! Last year, they won a playoff game, and they've looked so strong at times this season, so I started to let myself think,

Hey, maybe it's San Diego's time

. You'd think I'd have learned. Every team lays an egg every once and a while, so I'm not writing off the Chargers completely, but no more believing in them!
That's three losses in a row, Phil.
Last week, Grantland's

weekly wrap-up

was singing the praises of Pittsburgh Steelers receiver Antonio Brown and included this line:

"Antonio Brown continues to be a superhero. With Calvin Johnson and A.J. Green hurt, and both Jordy Nelson and Julio Jones slowing down, it's safe to say he's been the best receiver in football." Whoa, whoa, whoa. I'm not denying that Antonio Brown is a fantastic receiver. I don't even take issue with the author saying he's better than Nelson. But what the heck is all this "slowing down" business? Jordy's on pace to set career highs in several categories. "Slowing down"?! What is he talking about??
C'mon, son. Sideline Ninja slows down for no one.
I'm not above smiling when bad news hits the Cowboys, like

losing their leading tackler

for the year, but it feels a little unfair when the Dallas defense has already way outperformed expectations.
Carolina Panthers receiver Kelvin Benjamin claims that he

purposely ran a slow 40

at the combine so that he could be drafted by the Panthers. Okay. That's sweet, but if he can slow himself down to the appropriate hundredth of a second that would increase his chances of availability as the 28th pick, then he is wasting a brilliant mathematical mind and should quit football.
Marshawn Lynch really does have a Beast Mode. Holy cow.
I was always a big Ryan Pickett fan. The Packers don't like to re-sign older players, so I understood why they released him this offseason, but when BJ Raji went down for the season, I hoped and prayed Green Bay would bring Pickett back in. Alas, no. Now I get to read articles about how

Pickett is great at stopping the run

while my Packers wallow in 32nd place as a run stopping defense.
Kansas City Chiefs tight end Anthony Fasano lucked into a goofy touchdown against the New York Jets on Sunday.
Washington Redskins cornerback Deangelo Hall is one of my least favorite players, but I feel for him. His season already came to an end when he tore his achilles tendon last month. He had surgery on it, but then

slipped at home

and re-tore it this week. That's rough.
Wait, is Miami Dolphins quarterback Ryan Tannehill for real? I generally don't bother remembering Miami quarterbacks' names because they're usually gone after a season or two, but he's put together a nice stretch. Over the last five games, Tannehill has completed 69% of his passes for ten touchdowns and and a 4-1 record.
This, however, was not his best moment on Sunday, as his expression clearly indicates.
Ben Roethlisberger has 12 touchdowns in the last two games. Wow.
Whenever announcers say New England Patriots linebacker Rob Ninkovich's name, I always think they're going to say "nincompoop."
St. Louis' Daren Bates was serious about trying to block this field goal, and was unsurprisingly flagged for jumping offsides. The crazy/awesome thing is he's not

that

offsides.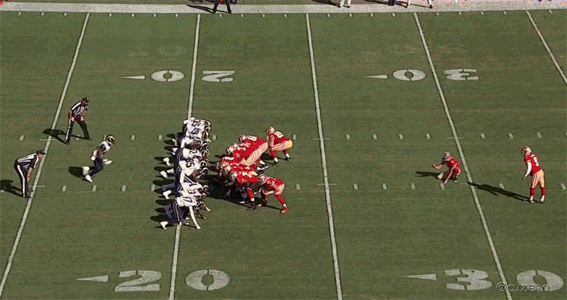 Cowboys running back and MVP candidate DeMarco Murray had a streak of eight 100-yard rushing games snapped in Dallas' loss to the Arizona Cardinals. (He still had 79 yards.)
St. Louis had six sacks on the season coming into Sunday's game against the Niners. Then they had eight sacks against the Niners. San Fran might want to do something about that.
Rob Gronkowski might be the biggest tool off the field, but he's darn near unstoppable on the field. This catch is crazy!
The San Francisco 49ers had a tough break in their loss to the St. Louis Rams. Niners quarterback Colin Kaepernick was ruled to have fumbled on the goal line, though Kaepernick believed he crossed the goal line before the fumble. There's no way you can overturn the call on the field since you can't get a conclusive angle here, but that stinks to lose when it's

so close

to being a touchdown. (I personally think it was a touchdown.)
Who'd have thunk that halfway through the season, Arizona would be leading the NFC West, much less the league? I'm still way more scared of the 49ers and Seahawks, though.
The Houston Texans-Philadelphia Eagles game was littered with injuries. The Texans lost both of their starting cornerbacks in the first five minutes of the game. Then the Eagles lost starting quarterback Nick Foles to a broken collarbone, then left guard Todd Herremans, then linebacker DeMeco Ryans. And the Texans lost running back Arian Foster to a groin injury. Yeesh.
Green Bay

released former first-round pick Derek Sherrod

. Sherrod, who is an offensive tackle, played sparingly his rookie season, lost his entire second season to a gruesome leg injury that required two surgeries, and was a total disaster when he was forced on the field earlier this season due to injury. The cut made room for injured center JC Tretter to return to the roster.
This can't happen when you're protecting the franchise.
In other Packers news, coach Mike McCarthy

signed an extension

that is said to be through 2018. Yay!
OH MY GOSH. Apparently there was some sort of charity function involving Jordy Nelson and Randall Cobb walking down a runway wearing suits. Why was I not invited??? Does whatever charity that hosted this have any idea how much debt I would have gone into for this?? I SHOULD HAVE BEEN THERE.
The restraining orders may have caused complications, but I feel
confident we could have worked around them.