So, that was fun. There were so many wonderful moments from Sunday's game. I don't know which were my favorites.
How 'bout JORDY?!?! My boo had six receptions for 152 yards and two touchdowns! Nelson has a 50-yard reception in every home game this season, and he has five touchdowns of 40 or more yards this season, including this beauty.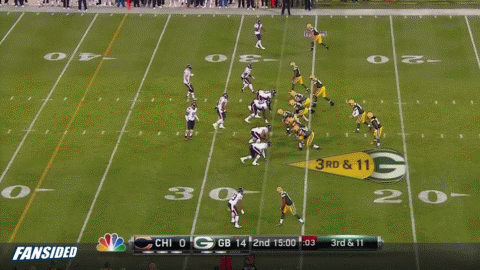 Randall Cobb was also super fly. I was momentarily a bit miffed at him for fumbling late in the second quarter, but he made up for it with this incredible one-handed touchdown on the next series.
The crazy thing about Aaron Rodgers' 315 yards and six touchdowns in the first half is that it didn't really look like it was that difficult for the Packers. I don't think I've ever seen a team as broken as early in a game as the Chicago Bears.
Playing inside linebacker looks good on Clay Matthews. With the run defense unable to stop Red Rover from sending someone on over, Green Bay decided to move Matthews from the outside to the inside, and Matthews had a pretty stellar game. (I also credit the fact that he finally shaved his horrible beard.) That said, let's wait till they play well against a real NFL team. I don't like all these sportswriters declaring the Packers' rushing defense woes over. Considering how fast the game got out of hand, Chicago didn't really have the chance to rush the ball much. Still, Matthews had some really nice plays. This was my favorite.
Aaron Rodgers liked it, too.
I LOVED the blocking by Cobb, Davante Adams, and Nelson on the Eddie Lacy touchdown. Look at how Sideline Ninja comes blazing up the sideline to make sure Eddie gets his touchdown! How awesome is it to have receivers blocking that hard? That's what happens when you make a running back the wide receivers coach.
Even special teams were having fun (when not giving up kickoff returns). Mason Crosby nailed a 52-yard field like it was NBD, and Jarrett Boykin got in on the fun with a blocked punt! Well, actually it wasn't a blocked punt; it was ruled a fumble because Boykin got to the ball before the punter punted it.
I think it's really cool when a defensive player not only forces the fumble, but recovers it as well, as Julius Peppers did against his old team. Peppers was all over the field, using his crazy length to cause Jay Cutler (even more) problems.
Welcome to the winning side, Julius.
There was an odd moment late in the game when Mike McCarthy challenged a three-yard reception catch. No one really understood why McCarthy challenged, including AJ Hawk.
I say it every week and I'll say it again: #ActivateTolzien!
Aaron's the first player with 10 touchdowns and no interceptions against the same team in a season.
Jay Cutler has never won at Lambeau Field.
Rodgers now holds the NFL record for most touchdowns of 70 yards or more with 16. (At least 14 of those have to have been to Jordy, right?)
Aaron Rodgers has not thrown an interception at home since December of 2012.
The Bears had 11 penalties that cost them 163 yards.
The Bears set a franchise record for most points allowed in a half

in consecutive games

. That's really sad.
In their past two games, the Bears have been outscored 80-7 in the first half.
Sigh, if only we could play the Bears every week. As for the rest of the league....
Whoa, wait. What?! The Browns are 6-3??
Listen rookie, you can think you're the better team. You can believe that with all your heart. But after you've been shellacked 24-3, you don't get to go on to the media about

how much better a team

you are and how your opponents are even "worse than [you] thought," as Cincinnati Bengals running back Jeremy Hill did after Thursday night's loss to the Cleveland Browns.
Andy Dalton was 10-for-33 for 86 yards and three interceptions on Thursday night. Just let that sink in.
Note to Colin Kaepernick: this is much more effective when you let your fans post it. When you post it yourself, it's kinda pathetic.
The New Orleans Saints lost to the San Francisco 49ers, putting them at 4-5. And they still lead their division. Ew.
Dez Bryant, human highlight reel.
Man, the Arizona Cardinals have had very bad luck with injuries. They lost their starting quarterback, Carson Palmer, after Week 1. Then he got injured again in Sunday's game. The Cardinals have lost seemingly

half their roster to injuries

, yet keep on winning. Somehow, someway, the Cardinals have the best record in league.
Things will get a lot tougher for Arizona, as it turns out Palmer tore his ACL, which really sucks for him, but the good news for him is that he signed a contract extension two days before he got injured.
The Seattle Seahawks ran for 350 yards, with 140 coming from Marshawn Lynch and another 107 coming from quarterback Russell Wilson. Their opponent, the New York Football Giants had 54 rushing yards.
Eli's Manning Face shone in all its glory throughout the 4th quarter.
Keep your chin up, high school boys around the country. You, too, could grow up to be an amazing quarterback with a supermodel wife, no matter how gawky you look and feel at your prom.
Just ask Tom Brady.
I'm sick of the stupid Detroit Lions winning on ridiculous last-minute plays. But this Matthew Stafford throw to Theo Reddick was sick.
Detroit had TWO fake punts, so I do have to give them props for that, too.
Even though the stupid Miami Dolphins let the Lions win, they kept the game close and had this crazy awesome interception in the endzone by Brent Grimes.
The Dolphins may have completely let me down by failing to beat the Lions, but at least their special teams is pretty good. They've blocked two field goals and two punts already this season!
Keep your eye on Denver backup quarterback Brock Osweiler in the background. He thinks he's finally going to get in the game, but Peyton has absolutely no intention of letting him play.
Check out this clip.

The New York Jets were in victory formation when Pittsburgh Steelers safety Mike Mitchell decided to go bush league and leap over the line to try to hit the quarterback. Center Nick Mangold saw him coming, though, and gave him his just desserts.
Announcers always laugh about players who act or flop on a push, but when you're running full speed and a very large man gives you even a slight push, you're going to fall over pretty easily. P.S. Jimmy Graham definitely pushed off and deserved an offensive pass interference penalty.
You can't extend your arms when you're pushing off, Jimmy!
Colin Kaepernick's arm strength is incredible! On a 4th-and-10 play, with the game on the line, he tosses this 50-yarder like it's nothing!
This poor Raiders offensive lineman has no idea what to do with the ball when it is thrown to him (which was an illegal pass). So he did the most Oakland Raiders-y thing he could think of and fumbled the ball away.
The Oakland Raiders are now 0-9, ruling out the snowball's chance in hell that they had for a winning record. The last time Oakland had a winning record? The same season they went to the Super Bowl … 12 years ago.
Umm, would the league like to investigate what sort of voodoo is going in with New Orleans?? Seriously, the ball takes a sharp right as it goes through the posts. That's not natural.
Michael Vick passed

6,000 rushing yards

for his career on Sunday, the most ever by a quarterback.
Talking heads seemed to think that because Ben Roethlisberger threw for six touchdowns in back-to-back weeks that he was going to keep up the pace, despite the fact that he have averaged 1.4 touchdowns the seven previous weeks.
The Jets forced four turnovers against the Steelers, which is pretty good, especially when you consider that they had only forced three turnovers THE OTHER NINE WEEKS. With the Jets' 2-8 record, you didn't have to tell me they were very bad, but seriously three turnovers in nine weeks????
A lesson to the Steelers: don't let horrible little punk
teenage popstars into your Bible study meetings or God
will smite you with a loss to the Jets.