Aaaahhh!!! It all comes down to next Sunday night!! Green Bay kept their division title hopes in play with a 38-25 Christmas Eve victory over the Minnesota Vikings.
Jordy Nelson continued to light it up on the field. He had 119 yards and two touchdowns … halfway through the second quarter. He finished with 154 receiving yards.
Nelson and Aaron Rodgers now have the most quarterback-receiver touchdowns in Packers franchise history! Aaron also completed his 3,000th pass! Great job, boys!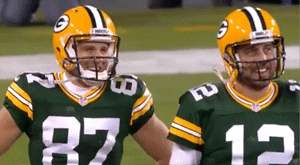 As awesome as Jordy was on Saturday, I did have one problem with him on Saturday: he knocked over a cameraman on a play, and didn't even help him up!! 😲 Maybe he's taken his new alter ego a little too far. That's not the Sideline Ninja I know!
Perhaps the Minnesota defensive backs should have stuck to the game plan instead of

deciding to do their own thing

(for at least the first series). Typically, the Vikings' DBs stay on their own sides of the field, but head coach Mike Zimmer wanted their top corner Xavier Rhodes to cover Jordy for the game. The DBs, however, did not like that call, and decided to do what they normally do. Said Rhodes: "Us as DBs felt like we could handle [Nelson]. That's how we felt as DBs, that we could stay on

our side and cover him. In the beginning, we'd always played against them and played our sides, we never followed, so that's what we felt as DBs. That's what we went with."
Did you know that Sam Bradford has the highest completion rate in the league this season?? I'm really happy for him because he's clearly not the best at anything, so I'm glad he at least has this to hang his hat on.
The Vikings' plane skidding off the runway in Green Bay and

getting stuck for five hours

somehow seems like a metaphor for their futility in the state of Wisconsin. Actually, I think the plane debacle is the best thing that could have happened to them -- it gave them a flimsy excuse for getting owned by the Packers once again. SNAP!
One of the many things I hate about the Minnesota Vikings is the asymmetry of the numbers on their jerseys. It's ugly and there's no reason for it.
It wasn't all bad for the Vikings. Receiver Adam Thielen had an absolutely monster game with 202 receiving yards (Packers secondary = eek!) and two touchdowns. As my brother said, it was a banner game for white receivers.
In all honesty, if they weren't the Minnesota Vikings, I'd have some compassion for a team that lost its starting quarterback in the preseason, mortgaged its future to trade for a middling quarterback, started 5-0, raised all of its perpetually depressed fans' hopes, was leveled by injuries, and then lost eight of its next 10 games to miss the postseason. But they

are

the Minnesota Vikings, so, no, I don't feel bad for them. At least they'll get a good draft pick, right?
I need to go back and delete some of the previous posts this season where I fretted over Aaron Rodgers' play. (Jk, he was really concerning.)

In the last six games

, Rodgers has completed 70% of his passes for 1,700 yards, 14 touchdowns and zero interceptions.
Makinton Dorleant?? Who the devil is Makinton Dorleant?!? Apparently he's a rookie corner for Green Bay, who was pressed into service when LaDarius Gunter left with an elbow injury. I kind of hope he gets good and starts playing more because I like saying "Makinton Dorleant."
Davante Adams only had

one

big drop this week, so… improvement!!
It was nice to see Clay Matthews making a mess of the Vikings' offensive line. Matthews has been gutting through a bad shoulder injury and has been unusually quiet in the last few weeks, but had a couple of deflected passes and a strip sack.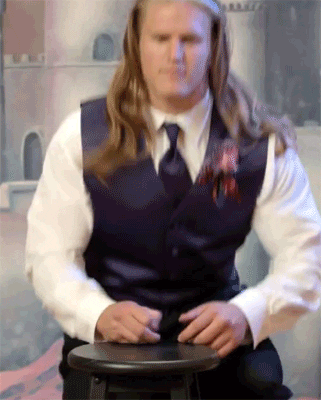 The Packers wisely sat Randall Cobb to rest his ankle. Hopefully, he'll be ready to go next week. I missed seeing Green Eyes on the field, but here's a video of him that I've been watching on a loop. *dreamy sigh*
— Green Bay Packers (@packers) December 26, 2016
My head's spinning from trying to figure out all the playoff permutations for the Packers to get the wild card. Let's cut all that and just win next week! Here's how Packers head coach Mike McCarthy ended his post-game presser: "We're planning on going to Detroit to win the division. Merry Christmas." Boom!
The Cleveland Browns won a game! The Cleveland Browns won a game! A blocked field goal helped seal the Browns' victory over the San Diego Chargers, the first Cleveland win in more than a calendar year.
Their fans, however, will not be winning any spelling bees.
It was a very merry Christmas for Cleveland not just with the win, but the San Francisco 49ers' win kept the Browns in position for the first pick in the 2017 draft. San Fran was down 14-7 to the Los Angeles Rams until Colin Kaepernick hit Rod Streater in the endzone for a score with 31 seconds left in the game. Instead of kicking the extra point to tie the game, the 1-13 Niners thought, "Eh, why not?" and went for the two-point attempt instead, which they converted for the win That's the 2-13 Niners to you!
Two

quarterbacks broke their fibulas on Christmas Eve! I feel so bad for poor Marcus Mariota and Derek Carr. The Tennessee Titans were eliminated from playoff contention this week, so Mariota's injury is less crushing to his team. Carr's injury, however, is a devastating blow to the Oakland Raiders' postseason hopes. They've already punched their ticket to the playoffs, but the up-and-comers' success is due hugely to Carr's fantastic play this season. He was even a trendy dark horse pick for MVP for much of the season. The Raiders can't feel too optimistic about their chances with Matt McGloin at the helm.
"McGloin" is one of those names where I would keep my last name if I married him.
The always super-positive Carr is in good spirits, at least.
It's been a wildly disappointing season for the 6-9 Carolina Panthers, but Greg Olsen has been one bright spot. On Sunday, Olsen became the first tight end in NFL history to have three consecutive seasons with 1,000 yards. (And before you ask, no, not even Anthony Gonzalez ever matched this feat.) Congrats, Greg!
Props to Kirk Cousins' wife for her sartorial taste. Cousins' wife, apparently, packs his bag for him each week and he just grabs it, so it was only after the game that he discovered that she had

packed him a Christmas suit

.
He later donned the matching pants and tie. The real question is whose holiday suit is better, Kirk's or Jordy's?
Normally when a team loses a game on a missed extra point, I feel at least a little twinge of sympathy, but on Saturday it happened to the Seattle Seahawks,so HAH! Down 31-18, the Seahawks finally woke up and scored a touchdown with a little under three minutes left in the game. The Cardinals did their best to keep Seattle in it by going three-and-out on the next possession, having a terrible punt, and committing a penalty on the punt. The Seahawks made quick work of the short field and scored a touchdown … but failed to take the lead by missing the extra point! The Cardinals got the ball back with 55 seconds and one timeout. A 29-yard throw to running back David Johnson helped put Arizona in field goal range, and as time expired, the Cardinals knocked down a 43-yard field goal for the win. HAH!
The Pittsburgh Steelers and Baltimore Ravens played on Christmas and at stake was the AFC North division title and a trip to the playoffs. With 1:18 left, Pittsburgh was down three with two timeouts and 75 yards to go. The Steelers

marched steadily down the field

, picking up 6, 8, 10 yards at a clip and using both timeouts. With 14 seconds left, the Steelers spike the ball to stop the clock. They're four yards away from a touchdown, but if they fail to get the touchdown, it'll be very difficult for them all to get back to the line of scrimmage, lineup, and spike the ball to stop the clock to bring the field goal unit on, so they either have to score or throw it incomplete. Roethlisberger takes the snap, looks, throws it to -- who else? -- Antonio Brown at the two-yard line, and the Steelers have cast the die; they

need

to score on this play right now. The Ravens defense is all over Brown, with three defenders keeping him from the goal line, twisting his face mask, and yet,

somehow

, Brown keeps fighting and is able to reach his arms over the plane for the touchdown!! The Steelers win the division and the Ravens miss the playoffs.
The Denver Broncos lost to the Kansas City Chiefs on Christmas night, meaning that neither of last year's Super Bowl teams even made the playoffs this year, which is absolutely crazy to me!
On Thursday night, Eli threw at least three interceptions

for the 22nd time

in his career, which is seven more times than anyone else has ever done it. And people still try to say he's elite. Lolz.
The second best part of every Eli interception is the succeeding Eli Manning Face.
The first half score between the Detroit Lions and the Dallas Cowboys was 21-21. The second half score was 0-21. Yeesh, Detroit. I guess I'm glad Detroit lost (even if it did mean Dallas won), but I'm always wary of playing teams coming off of big losses since they so often seem to come out the next week with a little something extra to prove. And it's not as if the Lions need any more motivation. And they'll be at home. Eek! I'm so nervous! I can't wait for next Sunday night for the Packers to take their rightful place atop the NFC North!!
Hope you all had a very merry Christmas! Happy new year!