Aaaaaahhhhhhhh! Oh my gosh! That was

way

too close! The last-minute heroics of Jordy Nelson and Aaron Rodgers in the Packers' 30-27 victory over the Chicago Bears are certainly a cause for celebration around the globe, but they also have the effect of covering how bad the Green Bay defense -- and offense, at times --- was on Sunday.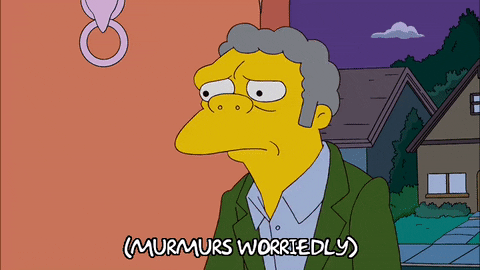 The defense played pretty well for three quarters, forcing four turnovers (yay! Great job!), but then allowed Chicago to score 17 straight points in the fourth quarter!!! (Booo! Not a great job!) Green Bay allowed the Bears to gain nearly as many yards in the fourth quarter (216) as in the other three quarters combined (233). It wasn't a pretty second half, in general. Just when things were looking pretty bleak, and I was starting to advocate letting Chicago score, the defense stood the Bears up on the 4-yard line (featuring a beautiful pass breakup by Micah Hyde on third down) to force the Bears to kick the tying field goal instead of the possibly go-ahead touchdown.
Ha-Ha Clinton Dix grabbed two of the interceptions on Sunday, bringing his season total to five.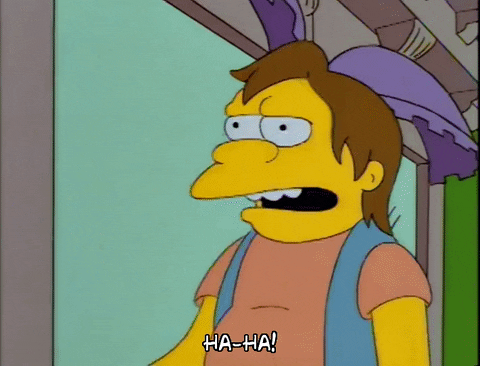 (Yes! Two Simpsons gifs in a row!)
The offense also struggled. They scored a touchdown on the opening drive and managed a field goal on their last drive of the first half, but in between that, their possessions were punt, punt, downs, punt. And while Chicago was scoring touchdowns in the fourth, Green Bay went three-and-out on consecutive drives that allowed the Bears that opportunity to score. They had -3 yards in the third quarter! And they struggled again on third downs, converting a measly 3-of-10.
Now that I've gotten my scolding out of the way, I can go back to being ecstatic about the win and glossing over all the flaws. Woo hoo! How 'bout that Jordy Nelson, right? After the first two plays of the drive resulted in -1 yards, with the clock ticking and no timeouts, I wasn't feeling too good about the Packers' 3rd-and-11 with 31 seconds left. After all, the Packers hadn't scored in a quarter and a half. But then -- who else but Jordy? -- Rodgers threw an absolute bomb to Nelson for a 60-yard gain, putting the Pack in comfortable field goal range.
(Remember when the big knock on Rodgers was that he wasn't clutch in late-game situations?)
Green Bay ran the clock down to :04 before clocking the ball. Mason Crosby lined up for the 32-yard field goal and made it -- but Chicago called a timeout first. Lolz, you don't ice Mason Crosby. He came right back out and drilled the same kick for the win. I love it when kickers get some love.
Let's talk about Ty Montgomery

. The wide-receiver-turned-running-back rushed for 162 yards and looked good doing it. It's very, very exciting for Green Bay fans to have something to be happy about in the running game!

Lil Wayne -- a huge Packers fan -- also approved of Ty Montgomery's game.
With the victory, Green Bay tied the all-time series at 93-93-6, thus destroying the last, puny shred of pride Chicago Bears fans could clutch at when encountering Green Bay fans. They even suck at trash talking:
When you're talking about how you're more evolved than others,
try to keep your spelling mistakes to under three.
Christine (still pronounced "Kristen") Michael got his first touchdown as a Packer on a

purty 42-yard run

! Yay, Christine! Now you're really part of the team!
Chicago backup quarterback Matt Barkley has played pretty well in Jay Cutler's stead. Barkley very well may be a nice guy, too (though I doubt it -- he went to USC), but he has an eminently punchable face.
Uh oh. The old Davante Adams appears to be rearing his head. Adams dropped not one, but

two

touchdowns! In both cases, the Packers had to settle for field goals on the drive. Don't revert to your old self, Davante!
In case you hadn't heard, it was pretty cold in Chicago.
Can we stop acting like Rodger's "I think we can run the table" comment was bold or at all noteworthy? And that means stop mentioning it in every freaking Packers article. Please? What else was he supposed to say? "I don't think we're good enough to make the playoffs"?? Geez, I haven't seen the sports media this enamored of a meaningless quote since Rodgers said "R-E-L-A-X."
Beating the Bears was a lot of fun, especially with such a thrilling ending. Still, it felt like something was missing. Can't quite put my finger on it…
And with his return to Chicago next year unlikely, the Packers probably
won't get to destroy Jay twice a year anymore. *Sniff*
I would 100% subscribe to this magazine.
On the opposite end of the quarterback spectrum from ol' Jay, Aaron Rodgers could throw

72 straight interceptions

and still have a higher career passer rating than Tom Brady.
Tom Savage sounds like an 80s singer.
Doesn't look like one at all, though.
I feel like his looks should match his name more.
Better.
Richard Sherman is

absolutely right to complain

about having to play Thursday night. It's a legitimate complaint for any team, but especially for the Seahawks this week. They played the late afternoon game, which didn't end until 7pm-ish. After doing post-game media and the like, they had to gather up all their stuff and fly 2,000 miles from Green Bay back to Seattle, not returning, as Sherman noted, until about 1:00am Monday morning. And they're supposed to be able to recover, install a game plan, and be ready to play by Thursday night? "Poopfest," indeed.
One of the benefits to being Odell Beckham Jr. is that people are so used to you making ridiculous catches that they just assume that you can now catch footballs with your legs. Yes, this was ruled a catch.
Jaguars fired head coach Gus Bradley almost immediately following Jacksonville's loss in Houston. My first thought:
A lot of other were people concerned, too.
I don't want to rub salt into Gus' open wound here, but Bill Belichick could go 0-16 for

41 consecutive seasons

and still have a higher win percentage than Bradley.
Everyone who like sports

hates Skip Bayless

, so we all got a good laugh when he was caught posing as a fan commenting on how great his own show is.
Dallas Cowboys owner Jerry Jones was profiled in the Wall Street Journal this week, and the subject of how he

always seems to be undermining his team

came up. As far as stirring up quarterback controversy -- like when he hinted that he might pull MVP contender Dak Prescott for Tony Romo after the Cowboys lost to the Giants last week -- Jones admitted that when he does these things, it "probably is intentional." Why on earth would someone do that to his team, his coaches, and his players, one might wonder. Said Jones, "That's one of the things that makes sports interesting. I do feed that." Never change, Jerry.
New England tight end Martellus Bennett doesn't add layers, no matter the weather. Probably as a ball-security thing, right? Or maybe to prove his toughness?
The New Orleans Saints came

thisclose

to catching Cardinals running back Kerwynn Williams, but only got his shoe. That didn't seem to slow him down.
— NFL (@NFL) December 18, 2016
Detroit lost, Minnesota lost, Chicago lost -- and Tampa Bay came within a quarter of making it a perfect weekend, but unfortunately they couldn't hang on against the Dallas Cowboys.
The Detroit Lions losing was huge. Now Green Bay's only a game behind Detroit with their season-ending rematch coming up in a couple of weeks. The Lions play the Cowboys next week, which means we all have to -- gulp -- cheer for the Cowboys and hard. It'll be awful, but these are the sacrifices true fans have to make.
The Vikings are an absolute mess, but so are the Packers, so, again, the trap game must be avoided next week. It's hard not to look ahead to Week 17, when everything will be decided, but we must handle Minnesota first. We can do this!