The Green Bay Packers lost to the Washington Redskins 42-24 on Sunday night.
In other NFL news, the Dallas Cowboys continue to -- oh

fine

, we can talk about the Packers game, though "game" implies there was some sort of competitive spirit involved. Once again, the Packers came out slow, by which I mean barely with a pulse. They went three-and-out, three-and-out, and three-and-out to start the game. How, I don't know. If you've lost three in a row and your chances at making the playoffs are rapidly dwindling, wouldn't you come out with some fire? Given our defense, I thought the game was going to be tight, but I would have put money on the Packers offense coming out sharp, given what was at stake. But no, guess not.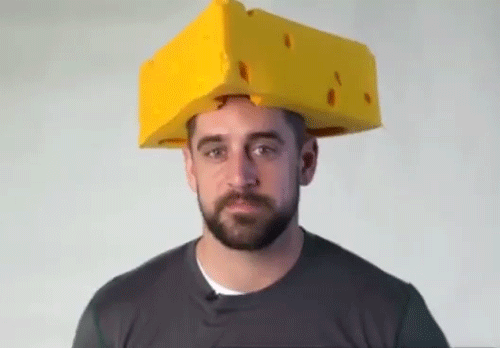 THIS GIF WAS MEANT TO BE USED HUMOROUSLY DURING THE GOOD


TIMES, NOT TO DEPICT YOUR ATTITUDE TOWARD PLAYING TERRIBLY.
The poor got poorer, or, in the case of the Green Bay defense, the bad somehow got even worse. Already without top defensive backs Sam Shields and Damarious Randall, the paper-thin secondary also lost Demetri Goodson (to a

gruesome looking knee injury

-- seriously, don't click on that unless you're okay with seeing a man's knee go 90 degrees in the wrong direction) and, later, his replacement Kentrell Brice. Already without leading tackler Jake Ryan, the never-been-good linebacking corps also lost linebacker Nick Perry (returned) and Blake Martinez.
Here's a sad little clip of linebacker Kyle Fackrell (#51) racing onto the field to help "defend" and … well, he doesn't ever really get the chance.
The offense was okay in spots. James Starks -- credit where credit is due -- I thought had some nice plays, but didn't get many opportunities in the second half, what with Green Bay getting the snot beat out of it.
"Oh gosh, what do we do??"
"Maybe. But maybe we should let him pick up an extra yard or 10 first."
And Jared Cook, in his first game back since injuring his ankle in Week 3, played

so well

-- until. Oh, Jared. The tight end had 105 yards on six catches and provided a spark the Packers sorely needed, and I was

so

happy for him -- until. It doesn't really matter, anyway. By the time Cook fumbled the ball, the Packers were down 11 with under four minutes to go, so it was a long shot anyway. But it was a painful nail in the coffin for the Pack. It was disappointing to see Cook's strong night marred by a turnover, but in his defense, this is a pretty bad-ass move by Josh Norman.
Yes, Cris Collinsworth, we understand that it is windy. Truly, we believe you.
The offense, in increasingly typical fashion, kind of loafed about before coming alive for stretches. They put up 424 yards, which is pretty good until you consider that the Redskins put up 515. More damning was the Packers' 50% success rate (or, as I like to call it, their 50% fail rate) in the redzone. Washington, meanwhile, scored touchdowns on four of their five trips to the redzone, and a field goal on their fifth.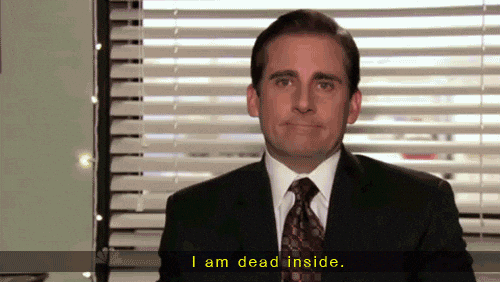 In the offseason, Kirk Cousins wanted a long-term deal that paid him like a top NFL quarterback. Washington wasn't so sure that that's what he was, so they offered him multi-year contract at about $16 million per year. Cousins said, "thanks but no thanks," and the Redskins signed him under the franchise tag. That means that Cousins is

the

highest paid quarterback (in base salary) this season at just under $20 million, but he's got no deal after 2016. As it turns out, betting on himself this year has gone pretty well so far, and on Sunday night, he had just one question for Redskins general manager Scot McCloughan:
That's a little uncomfortable. But while

I do kind of like Cousins because he's such a odd little goofball, the answer, Kirk, is that I do not like you very much right now.
In other news, I was shocked but pleased that Packers picked up with former Seahawks running back Christine Michael off of waivers. The Minnesota Vikings also put a claim in, but we have a worse record so we got him. (Hah! Take

that

, Minnesota!!)
But now that he's ours, we can't tease him about having a girl's name anymore.
You wanna know something weird? In 2016, NFL kickers have missed just one field goal from 32-33 yards out. But they've

missed 48 extra points

from the same distance.
If you needed another reason to like Cris Collinsworth (which you don't), you have it in his Twitter takedown of perma-man-boy Bill Simmons. Simmons, though generally a fan of Collinsworth, occasionally has

gone after him

in his petty little way. When Simmons posted a condescending tweet about Collinsworth's commentary last week, good-natured Cris took a shot at Simmons' erstwhile TV show, which was cancelled due to poor ratings:
Zing!
Man, whenever I get down, I just think about the Cleveland Browns. This weekend Ben Roethlisberger won in Cleveland, and he now has

as many wins in Cleveland as any Browns quarterback

has in the last 17 years. In his career, Roethlisberger has faced 12 different Browns quarterbacks.
And now their current quarterback, rookie Cody Kessler, just got his second concussion of the season, which

puts his season in jeopardy

and maybe even more.
Josh McCown is set to start in place of Kessler, but watch him get destroyed by Stephon Tuitt and tell me how he doesn't also have a concussion!?!? Seriously, I don't think he should be playing anytime soon.
Normally, the Chicago Bears falling to 2-8 (tee hee) would make me happier, but people who live in glass houses shouldn't throw stones. The Bears were always on the hook for Jay's salary this year, but not so next year, and it's becoming increasingly difficult to envision him being in a Chicago uniform in 2017. This week, Cutler had to deny that he's "

lost his teammates' support

."
"Nonsense! I never had their support."
Awww, now I feel bad because I just read that

Cutler's season may be over

after he suffered a shoulder injury on Sunday. Sorry, Jay! I hope you heal up quick!
Nooo, Luuuuuuke! Poor Luke Kuechly suffered a concussion on Thursday night in the Carolina Panthers' 23-20 victory over the New Orleans Saints. It's particularly worrisome because Kuechly missed three games last season due to a concussion. Presumably he'll miss at least some time (

please

, Panthers, make him miss time, even if he clears protocol), which is a huge blow to the Panthers, for whom he has played 99.3% of defensive snaps this season. It was a

heartbreaking

and

disturbing

scene to see one of the game's best players sobbing on the field.
I know the Carolina Panthers' motto is #keeppounding, but tweeting that right after your star player gets concussed and when you lead the league in most concussions, you might want to leave off that hashtag.
The good news is that Kuechly's teammate did

post a photo

of a much happier looking Luke the next day.
So

meone take pity on Cam Newton and tell him to do something about that nasty goatee. it looks like he accidentally dipped it in some honey mustard.
The Tennessee Titans' center is such a teacher's pet. In the Titan's loss to the Indianapolis Colts, a penalty flag was thrown, and the referee announced the penalty: "

False start … everyone but the center.

" I'll bet his mom was always yelling, "Why can't you be more like your brother?" at his siblings, too.
The Minnesota Vikings have a terrible offense that is very bad at scoring. As such, they should have lost to the Arizona Cardinals, but the Arizona Cardinals declared with one voice, "Not on our watch!" And so they allowed not one, but

two

100-yard non-offense touchdowns. One was a 100-yard pick-six from Xavier Rhodes and one was a 104-yard kickoff return from the terrifying Cordarrelle Patterson. The Vikings won by six. Argh!
But the NFC North gods were not yet done smiting the Green Bay Packers because then there was the Detroit Lions-Jacksonville Jaguars game. The Lions had the ball, up 26-19 with 8:19 and are dragging out the clock as much as possible. Seven plays and five minutes later, they're facing 3rd-and-6 and midfield, but the Jaguars stick 'em! Woo-hoo! Now, they'll force a punt and have about three minutes two-and-half minutes left with two timeouts and the two-minute warning left to score. But first, Detroit insists on trying that silly we're-going-to-pretend-to-go-for-it-on-fourth-down-even-though-everyone-knows-we're-not-really-going-for-it "trick" that never works.

And the Jaguars jumped!

Incredibly, eight-year veteran Sen'Derrick Marks jumped offsides, giving the Lions a whole new set of downs that allowed them to take the clock down to 22 seconds. Detroit won by seven. Argh!
Poor Andrew Luck inevitably has a concussion and looks unlikely to be ready for Thursday's game against the Pittsburgh Steelers. The upshot is we'll get to see some Scott Tolzien action!
Look, I like the Oakland Raiders a lot, but the Houston Texans got royally worked over by the refs on Monday night. On the opening drive, Texans receiver extraordinaire DeAndre Hopkins would have had a touchdown if the refs hadn't blown the play dead,

thinking he had stepped out of bounds

when he hadn't! Then, in the fourth quarter, Houston CLEARLY had the first down (see below), but the refs spotted them short and the Texans went for it on 4th-and-inches and again got the first down, and the refs again spotted the ball short! I'm so furious on behalf of the Texans!
Baltimore Ravens wide receiver Steve Smith caught his 1,000 career catch

, which is pretty awesome. He celebrated by

flirting with Dallas Cowboys head coach

Jason Garrett, who bashfully turned away and blushed demurely.
All I want for the next 10 Christmases is for the Dallas Cowboys to trade away Tony Romo and then see Dak Prescott experience a Colin Kaepernick-like free fall. (Nothing personal, Dak.) Pleeeeeeaaaase, Santa, I've been

such

a good girl.
The Cowboys won defeated the Ravens for their ninth straight win. The real highlight of the game for most of the internet, it seems, was Dak Prescott proving himself to be a polite young man who picks up after himself.
Ugh you guys just don't understand how rough it is to be a Green Bay fan in Dallas these days. These disloyal bandwagoners who will turn on Dak the second he loses a game, have 20 years worth of unsupported trash talk that they can finally spew without the entire world mocking them. And I have to sit in the middle of it all and listen to it because we've entered some sort of Twilight Zone where the Cowboys are good and the Packers are bad!
I suppose there's one person in Dallas who has it slightly worse than I, and that's Tony Romo. His teammates have moved on without him: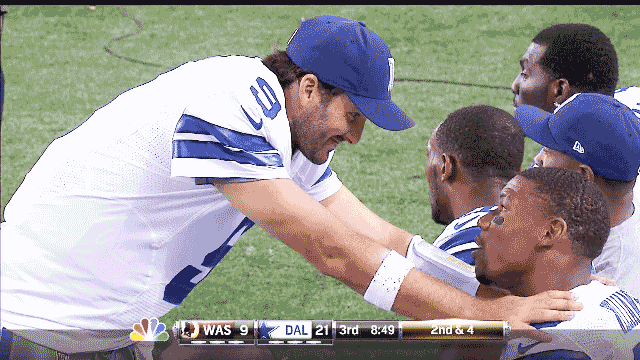 "If Coach asks if you like me or Dak better, I need you to
say me, okay? Please? No, I need you to promise."
His coach stopped listening to him ages ago: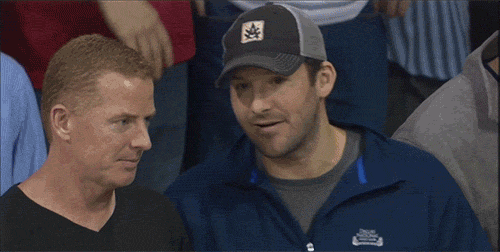 "But you see, interceptions actually help us because they make our defense better, you see?
Plus, when I throw it over there, and the defender picks it off, all the offensive
guys have to get back to defend, too, so it's actually sharpening their skills, too!"
"Uh huh."
Now he has nothing left to do except sit on the bench and look through the scrapbook he made of the good years:
And remember when he was king.
Up next: the Green Bay Packers will help the 5-5 Philadelphia Eagles get back on track next Monday night by making their rookie quarterback look like Tom Brady.
The defenders are so far away that they're blurry.